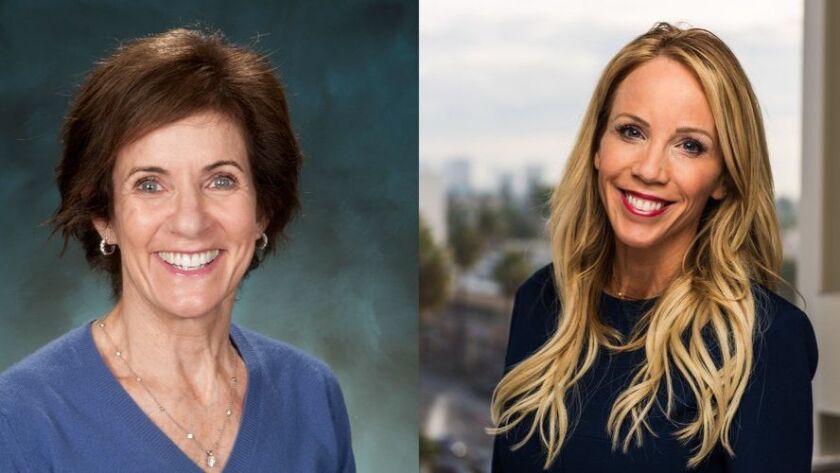 The contest between two Newport-Mesa Unified School District board candidates is becoming increasingly heated and personal in the election's final days.
Area 4 incumbent Karen Yelsey, a board member for 12 years, is being challenged by Gina Nick, who owns a medical practice.
While Yelsey has made public statements calling out Nick's history of personal bankruptcies, Nick has lodged claims of her own, including that Yelsey is breaking "a promise" to limit her terms on the board and is somehow connected to the online publication of her daughter's personal information.
Documents show Nick filed for Chapter 7 bankruptcy in 2009 and again in 2017. The first, which was jointly filed with her ex-husband, showed more than $785,000 of general unsecured debt, while last year's showed more than $185,000 filed under her name alone.
Yelsey calls this "a red flag" for voters, arguing Nick would not be fiscally responsible in dealing with NMUSD's $300 million operating budget.
But Nick says she was advised by legal counsel to file for bankruptcy during divorce proceedings "to provide a clean break" from her ex-husband.
"I have been the sole breadwinner for many years and was involved in a complicated financial divorce," Nick told the Daily Pilot via text message. "… It is disappointing that my opponent has chosen to engage in a low-level smear campaign to redirect our voters' attention away from her promise to only serve 12 years."
Though Yelsey admitted that during her first campaign in 2006 she advocated for 12-year term limits, she said she never made a "promise" to leave after three terms.
"The longer I've been on the board, the less enamored I am by the idea of term limits," Yelsey said, adding that she'd be happy to "mentor" someone to take over her seat, but that no one has approached her with interest.
Nick's bankruptcy filings were passed onto Yelsey by one of her supporters, Suzanne Gauntlet, a heavily involved Parent-Teacher Assn. member.
Gauntlet said she conducted a web search on Nick to learn who she was after seeing one of her campaign ads on Facebook.
"I have deep roots in this community, and like everybody else, if you are involved in the schools, you're pretty passionate about it," Gauntlet said.
This passion also led Gauntlet to peruse Nick's social media pages, where she found information on where she lived and where her 6-year-old daughter attended school.
She said she shared this information with other parents via an email, which then ended up on a community news website without her consent. The information was later redacted.
Nick, however, said she believes Yelsey was behind the release of the information about her daughter, and rejects the notion that it was found online, arguing that a school official had to have accessed her daughter's records.
The school district looked into the claim after an attorney brought it forward during the Sept. 11 board meeting.
"After researching this matter, our findings have determined that no NMUSD employee or official disclosed private student information," district spokeswoman Annette Franco wrote in a Sept. 13 email.
Nick said she has since contacted officials with the California Department of Education, "who have expressed concern."
Attorney Steve Baric, Nick's spokesman, raised a separate concern about Yelsey Thursday, claiming that video endorsements from teachers posted on her candidate Facebook violate a government code that prohibits the use of "public resources" for campaign activity.
A complaint on the matter was filed with the Orange County district attorney's office, Michelle Van Der Linden, a spokeswoman for the D.A., confirmed Friday.
"No filing decision has been made at this point," Van Der Linden said.
According to Yelsey, the videos were "taken during non-school hours, when no students were on campus."
Attorney Dan Shinoff, who has served as legal counsel for school districts in San Diego and Orange counties, said that Yelsey's videos don't contain "anything even close to a violation."
"I don't know how you'd put a monetary value on being inside a school building," Shinoff said.
Yelsey, whose top campaign priorities are academic excellence, safety and fiscal responsibility, said that she has to take Nick as a serious threat in this race.
"When I do something, whether it be as a school board member or something else, I put my whole self into it," she said.
Nick said she hopes to bring leadership, mentorship, honesty and collaboration to the school board, if elected. In a text message she said she had no other comments that could be "used to promote more unnecessary divisiveness."
"I have no problem with Karen. I am sure she has done great things," Nick wrote. "I am simply here to take the seat with additional fresh ideas after her 12-year term."
Twitter @CharityNLindsey
---