O.C. Fair applies finishing touches to open 'Acres of Fun' in Costa Mesa
Nabeel Meyer directs a forklift as a large Ferris wheel is set up for this year's Orange County Fair in Costa Mesa, which will run from Friday to Aug. 11.
(Gary Ambrose)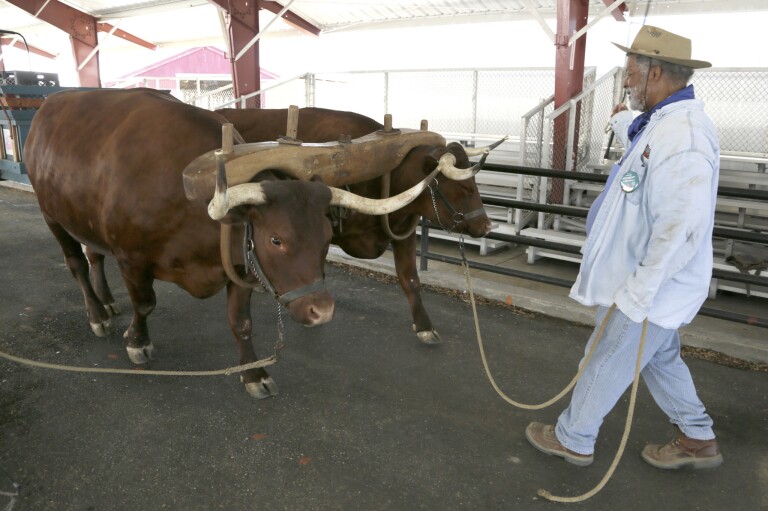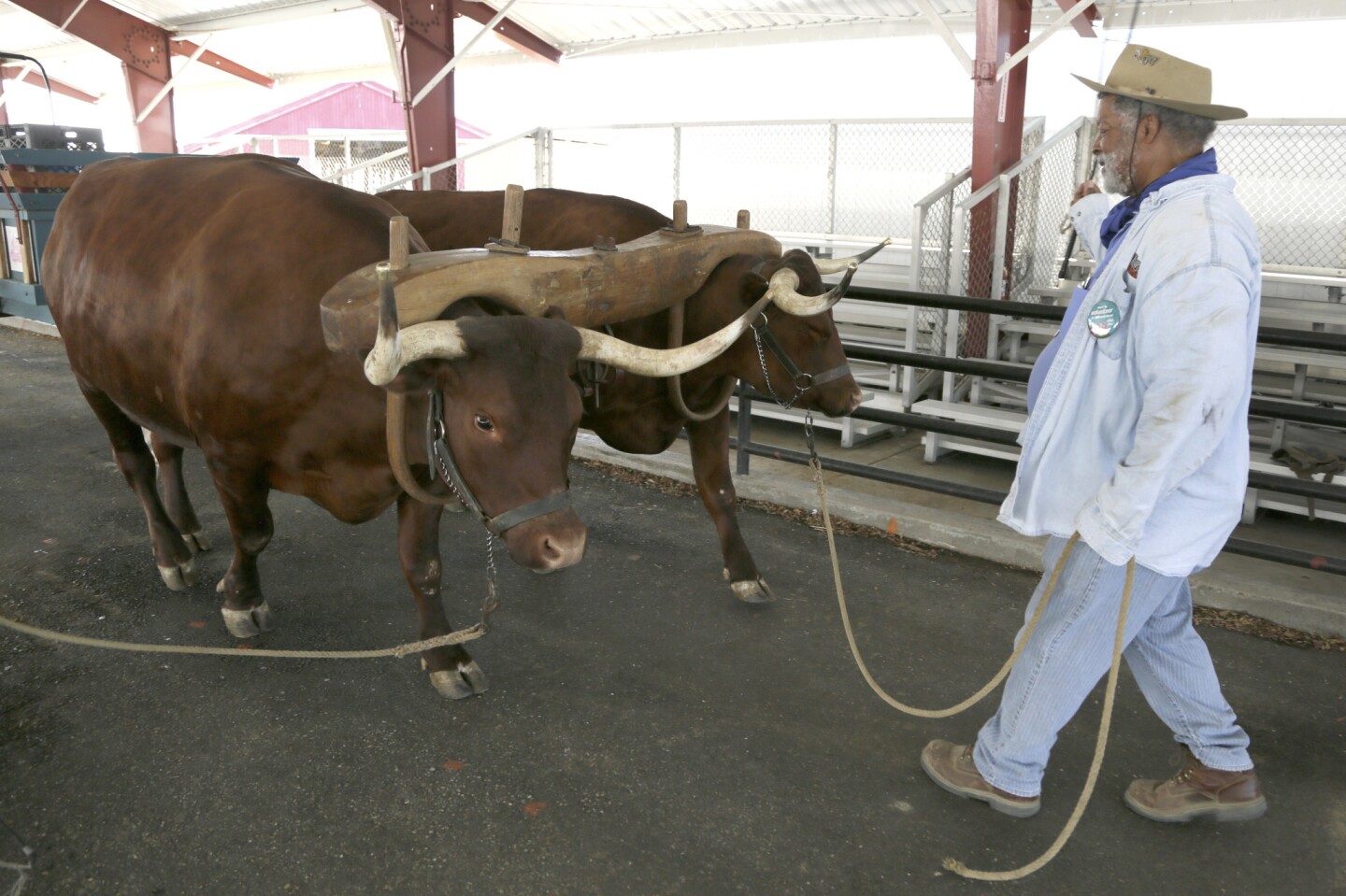 Bulls are put through their paces during setup for the 2019 Orange County Fair in Costa Mesa. This year's theme is "Acres of Fun."
(Gary Ambrose)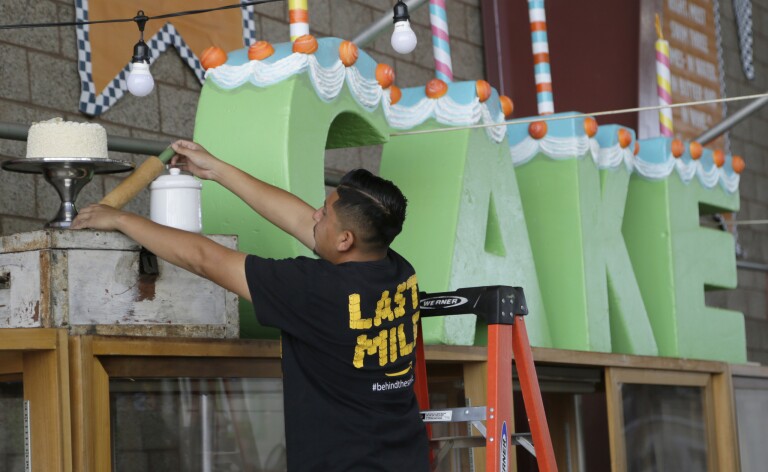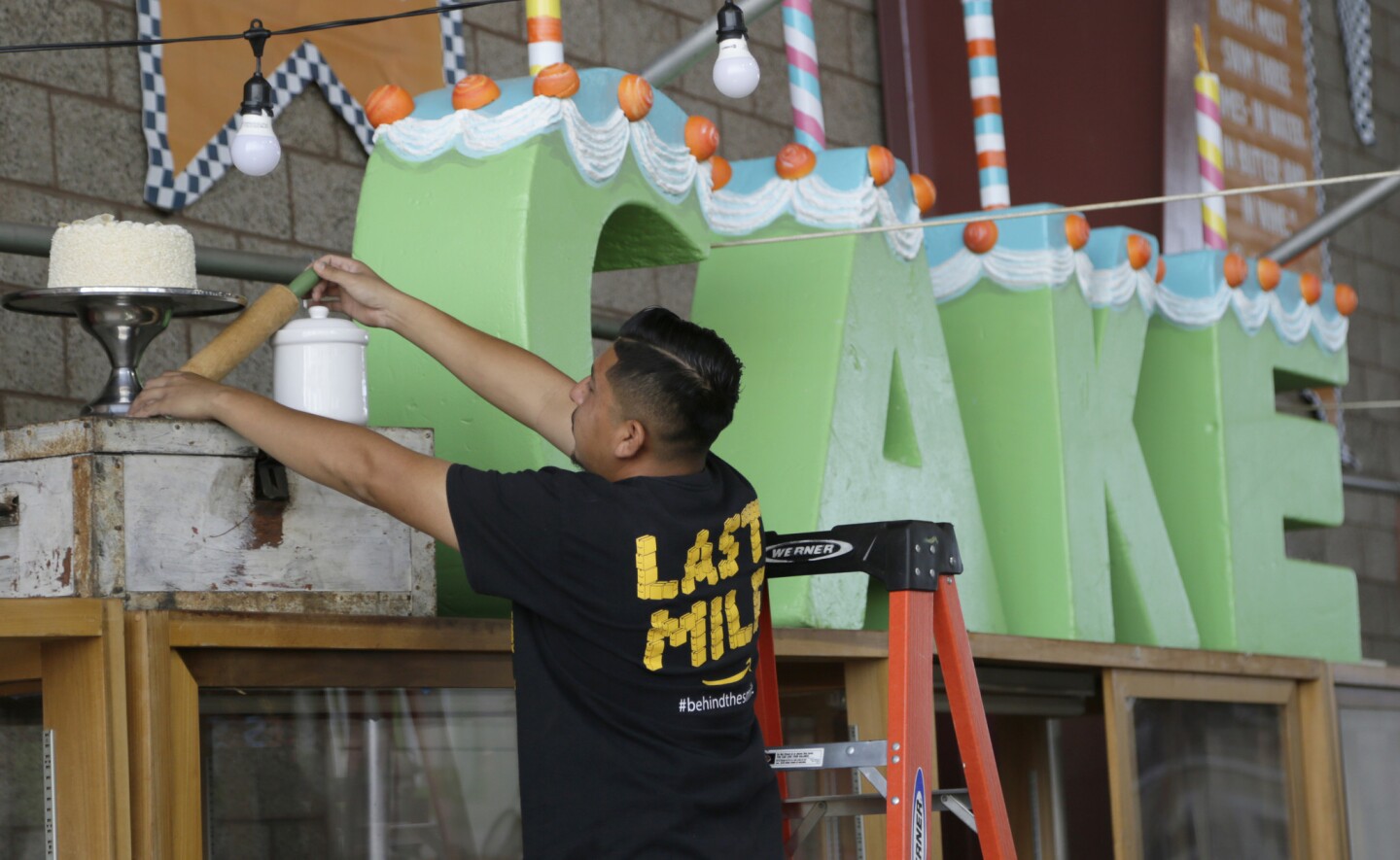 Roberto Perez sets up a display at the culinary arts building in preparation for this year's Orange County Fair, which opens Friday.
(Gary Ambrose)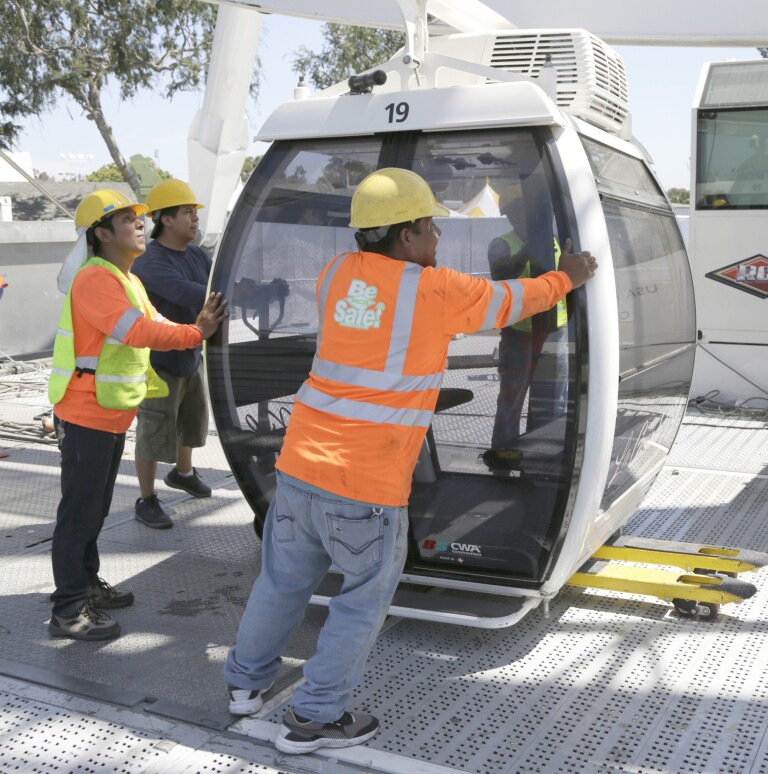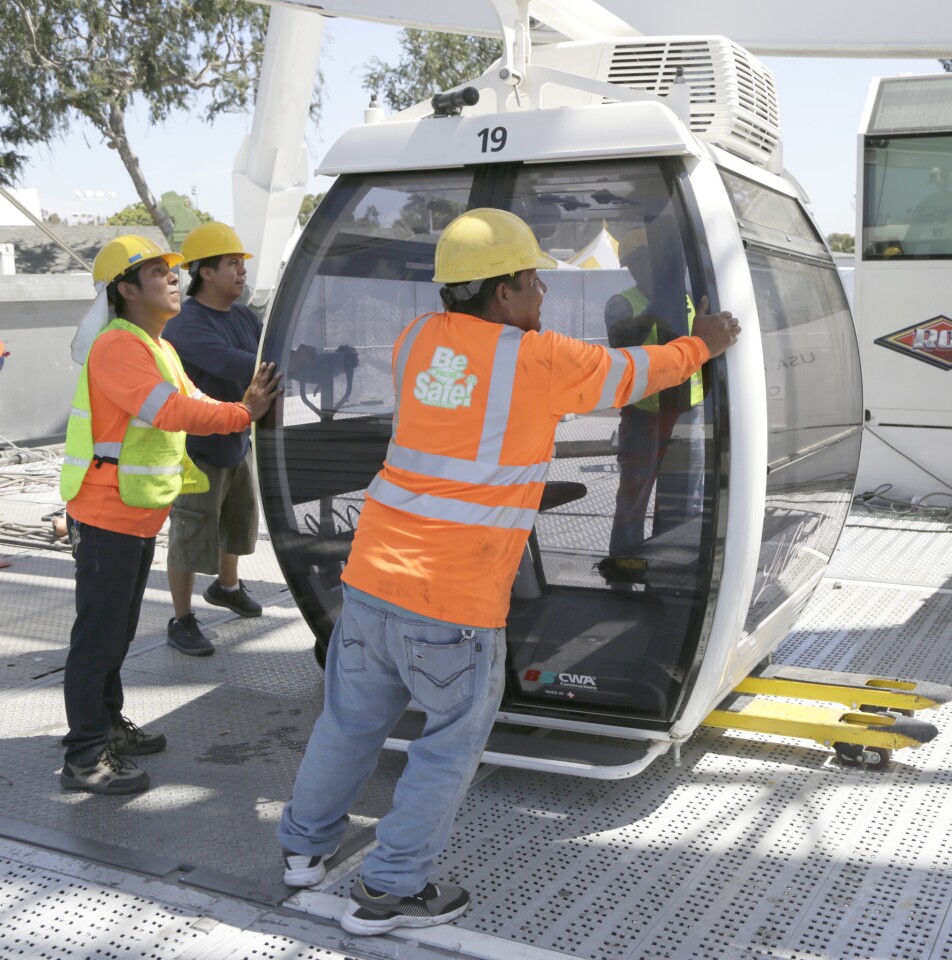 Workers push a gondola into place as they get a large Ferris wheel ready for this year's Orange County Fair in Costa Mesa.
(Gary Ambrose)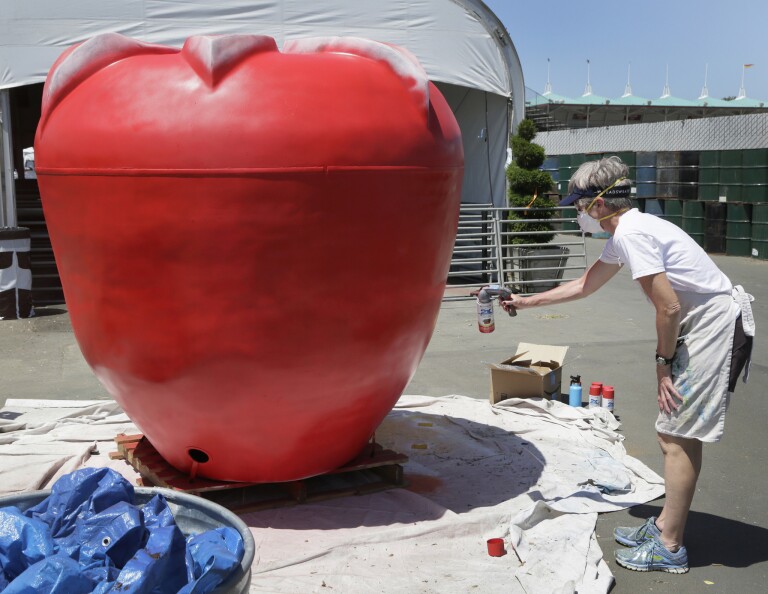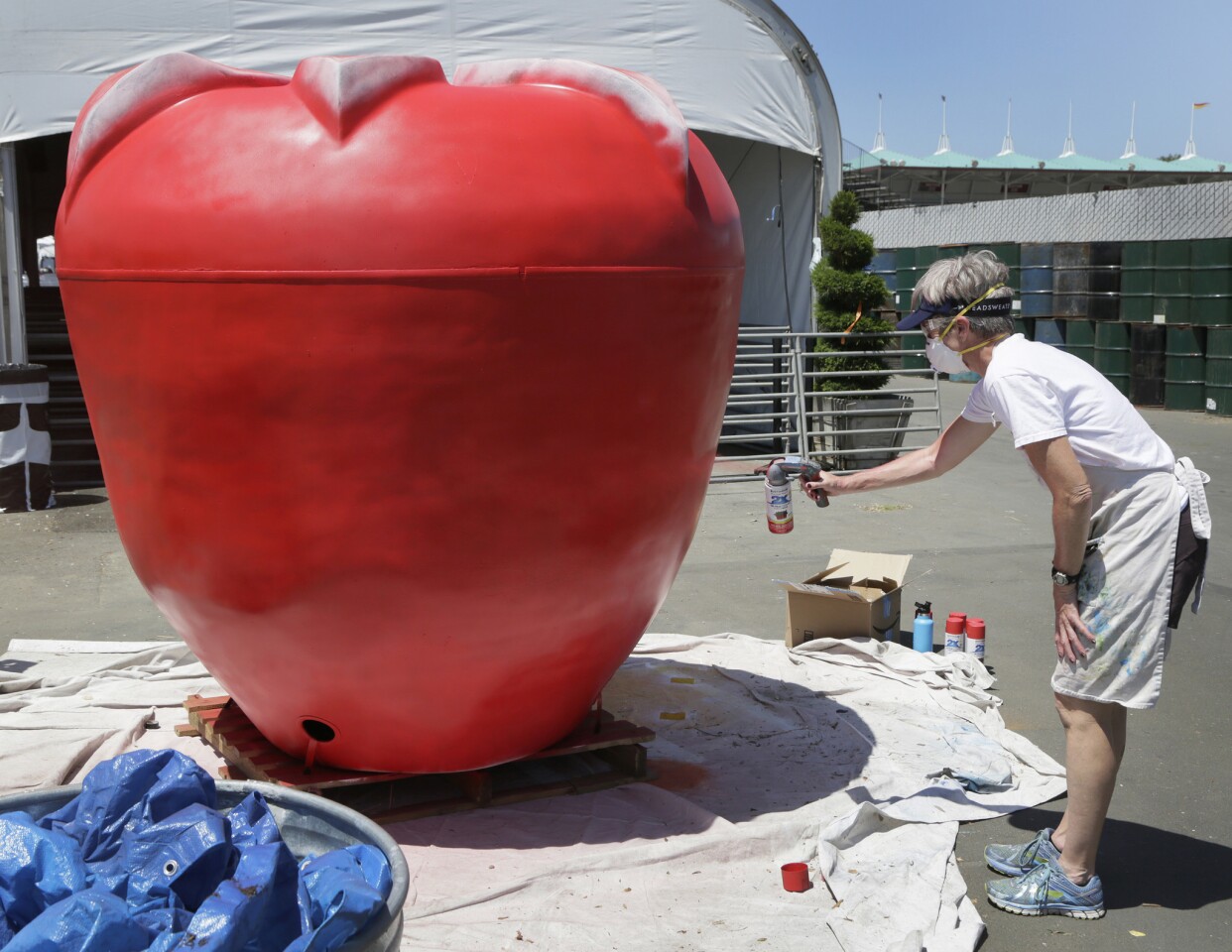 A large decorative strawberry gets a coat of red paint courtesy of Cath Lambert during preparations for this year's Orange County Fair in Costa Mesa.
(Gary Ambrose)
Workers apply fresh paint to help the OC Fair & Event Center get ready for the 2019 Orange County Fair, which runs from Friday to Aug. 11 in Costa Mesa.
(Gary Ambrose)
Workers are applying final coats of paint and adding last-minute agricultural-themed pieces to make sure that when the Orange County Fair opens in Costa Mesa this week, it'll be ready to provide guests with "Acres of Fun."
Friday will mark the beginning of the 129th annual fair and its last in a three-year series of agriculture-related themes focusing on land and the environment.
Gates will be painted with colors representing land, water and sun, and recycled O.C. Fair banners will be re-purposed as seat cushions at the Plaza Pacifica area.
Featured artist Narsiso Martinez will help exemplify the "Acres of Fun" theme with artwork that shines a light on farm workers. His portraits and landscapes will show how food makes its way to the table.
As always, this year's festivities will include ambitious food and new attractions, competitions and special events.
Culinary options will be heavily Latino-inspired. New food stand Papi's Puffy Tacos replaces Good Ol' Burgers with a variety of tacos, including Tacos Vampiros, consisting of a grilled concave tortilla with melted cheese, a protein of choice and guacamole topped with a second tortilla.
Visitors to Tater Twister can munch on gourmet tater tots covered with nacho cheese and fresh-cut corn with pico de gallo, spices, shredded Oaxacan cheese and jalapenos drizzled with spicy mayo, plus a lime wedge and Mexican crema.
For a heartier meal, there's the Elote Dog at Get Fried, which contains most of the same ingredients but replaces the tater tots with an all-beef hot dog on a toasted bun.
There also are Bacon-A-Fair's Salvadoran pupusas, "an O.C. Fair twist on the national food of El Salvador" — masa grilled with cheese, beans and bacon, topped with cabbage.
As for other additions to the fair menu, there are lasagna egg rolls, waffle pizza, Hot Cheetos caramel apples and Fruity Pebbles shrimp po' boys.
And vegetarians and vegans can rejoice with options that go beyond french fries, salads and fruit. Avocado toast, gluten- and dairy-free Dole pineapple and strawberry whip and the Beyond Burger will be available this year.
Children can stop by a free magic workshop July 27 and learn new skills from the OC Magicians' Club and the International Brotherhood of Magicians.
Those looking to win a prize for a special set of skills can participate in new competitions such as action figure modding, 3-D printing or metalsmithing. To view dates and deadlines, visit ocfair.com/oc-fair/competitions-contests.
Guests also can sit in on several workshops throughout the fair to learn, for example, how to make party platters and herbal bath bombs from scratch or how to use bugs as an ingredient in recipes.
At the Pacific Amphitheatre, more than 30 shows are on the schedule for the Toyota Summer Concert Series, which started Saturday and runs through Aug. 22.
Each of the fair's 23 days will feature concerts at the Hangar stage and events such as ATV racing, monster trucks, rodeos and demolition derbies at the Action Sports Arena.
And those heading to the carnival and midway area can blast off 17 stories into the air on Titan, a ride making its California debut, or take a spin on Ice Jet, a new snow-themed ride.
IF YOU GO
What: Orange County Fair
Where: OC Fair & Event Center, 88 Fair Drive, Costa Mesa
When: Friday through Aug. 11; noon to midnight Wednesdays through Fridays, 11 a.m. to midnight Saturdays and Sundays
Cost: General admission is $12 Wednesdays through Fridays and $14 on weekends. Single-day tickets are $7 for children ages 6-12 and senior citizens 60 and older. Children 5 and younger get in free, as do active and retired military service members with valid ID. Onsite parking is $10 for cars and $20 for buses and limousines. Several specials and discounts are available; for details, visit ocfair.com/oc-fair/discounts.
Information, including full entertainment schedules: ocfair.com/oc-fair
---
All the latest on Orange County from Orange County.
Get our free TimesOC newsletter.
You may occasionally receive promotional content from the Daily Pilot.