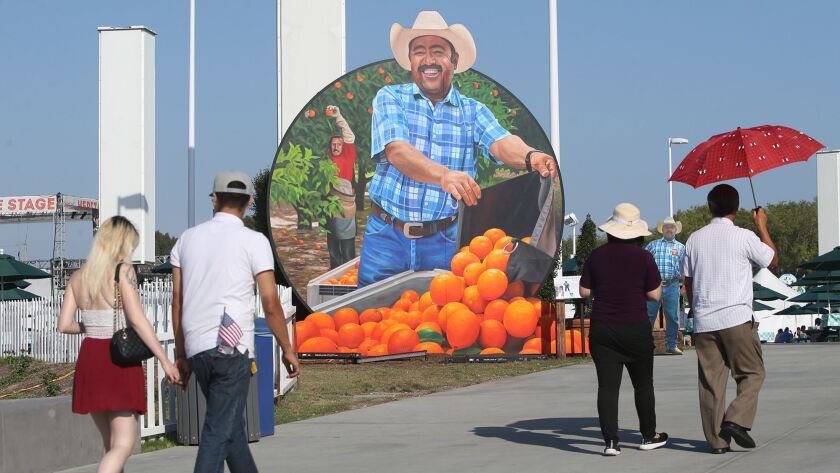 The OC Fair & Event Center covers a large chunk of land in Costa Mesa and, next summer, every inch of it will be used to provide "Acres of Fun."
That's the theme of the 2019 Orange County Fair, announced Thursday. It marks the finale of a three-year initiative accentuating the county's agricultural history and its continued importance.
The series began with 2017's "Farm Fresh Fun," which paid particular attention to agricultural products, and continued this year with "Free Your Inner Farmer," which saluted the people whose labor brings food from the farm to the table.
"Acres of Fun" will focus on land and the environment, Michele Richards, the Fair & Event Center's vice president of business development, said during Thursday's Orange County Fair Board meeting.
"In a world full of artificial experiences, where our human connections are threatened and the world seems to be permanently zoned out, the OC Fair calls to the community each year to come and experience real fun, pure fun, with no artificial ingredients," she said.
The 2019 fair will run July 12 through Aug. 11.
"We love showcasing agriculture and educating the public about our rich heritage — it's our mission and our passion," Fair & Event Center Chief Executive Kathy Kramer said in a statement. "I look forward to having a great fair that helps fund our community give-back programs and provides terrific family fun."
This year's fair set an attendance record with more than 1.47 million visitors.
The Fair & Event Center is at 88 Fair Drive. For more information, visit ocfair.com.
Twitter @LukeMMoney
---