Decor contestants help set the table for O.C. Fair opening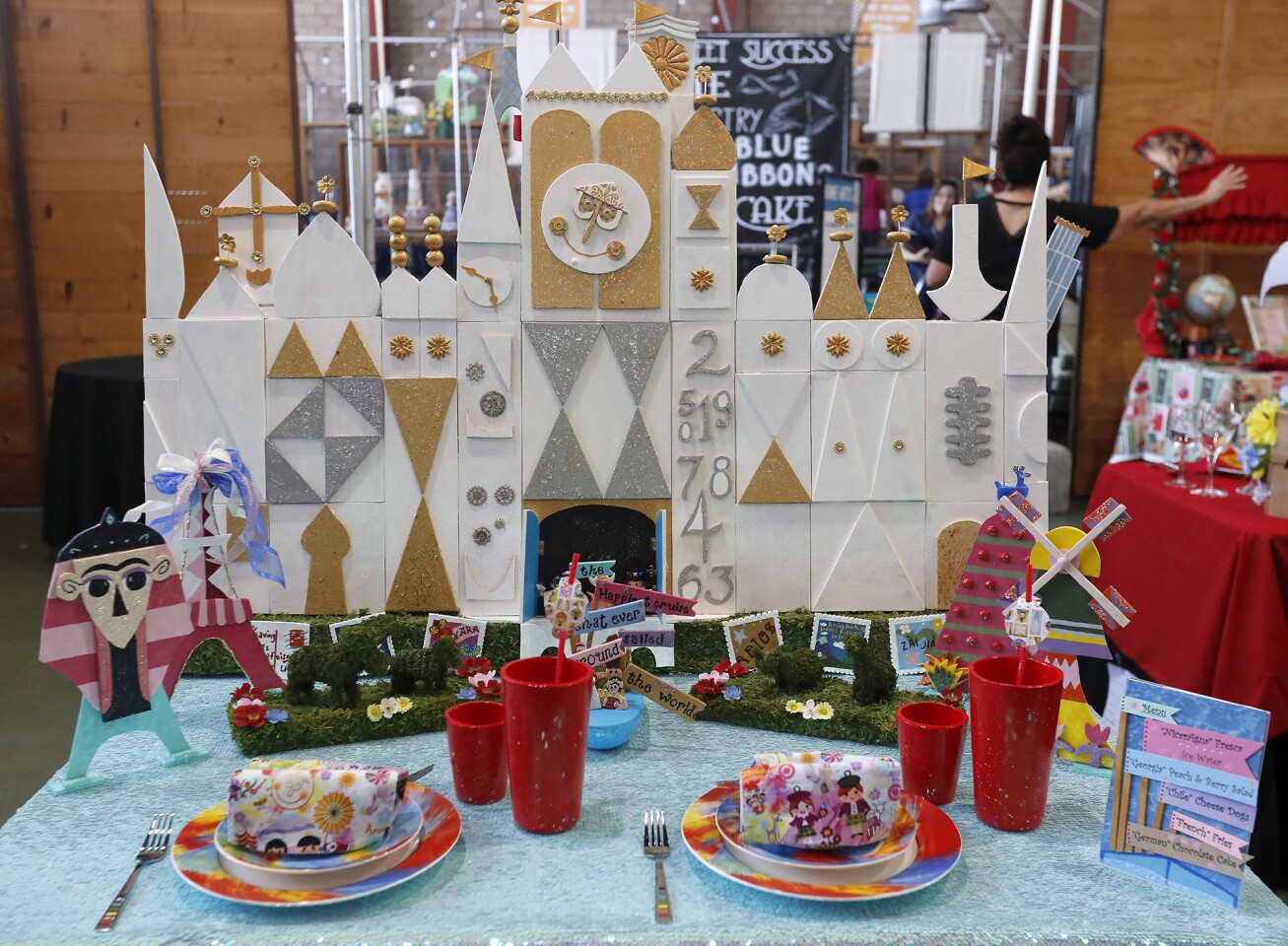 A travel-themed table by Christel Schoenfelder is displayed during the first round of the table-setting competition at the Orange County Fair.
(Kevin Chang / Staff Photographer)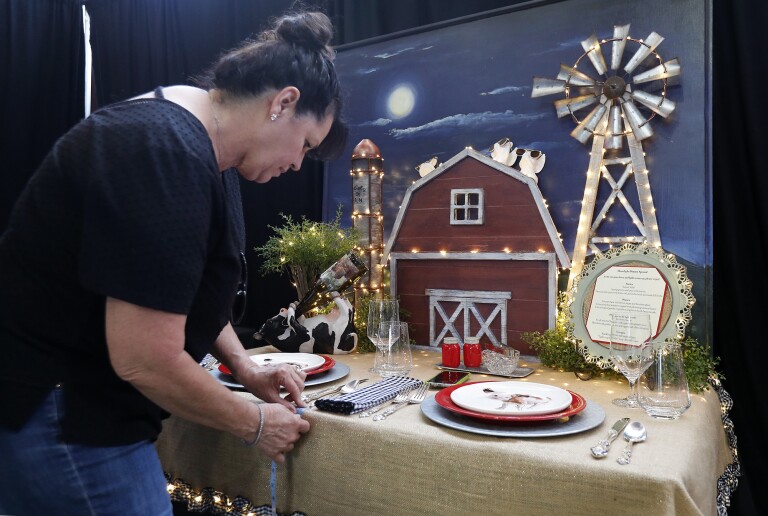 Crystal Young works on her "Outdoor Party" table Tuesday for the first round of the Orange County Fair's 2019 table-setting competition. She won the Best in Show ribbon in the "Light It Up!" category.
(Kevin Chang / Staff Photographer)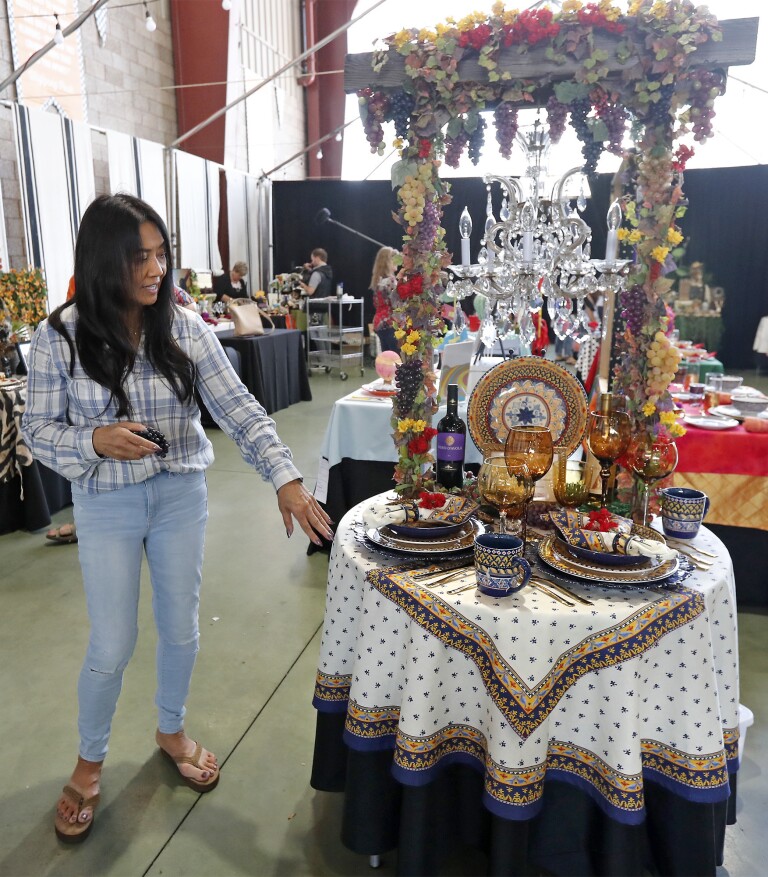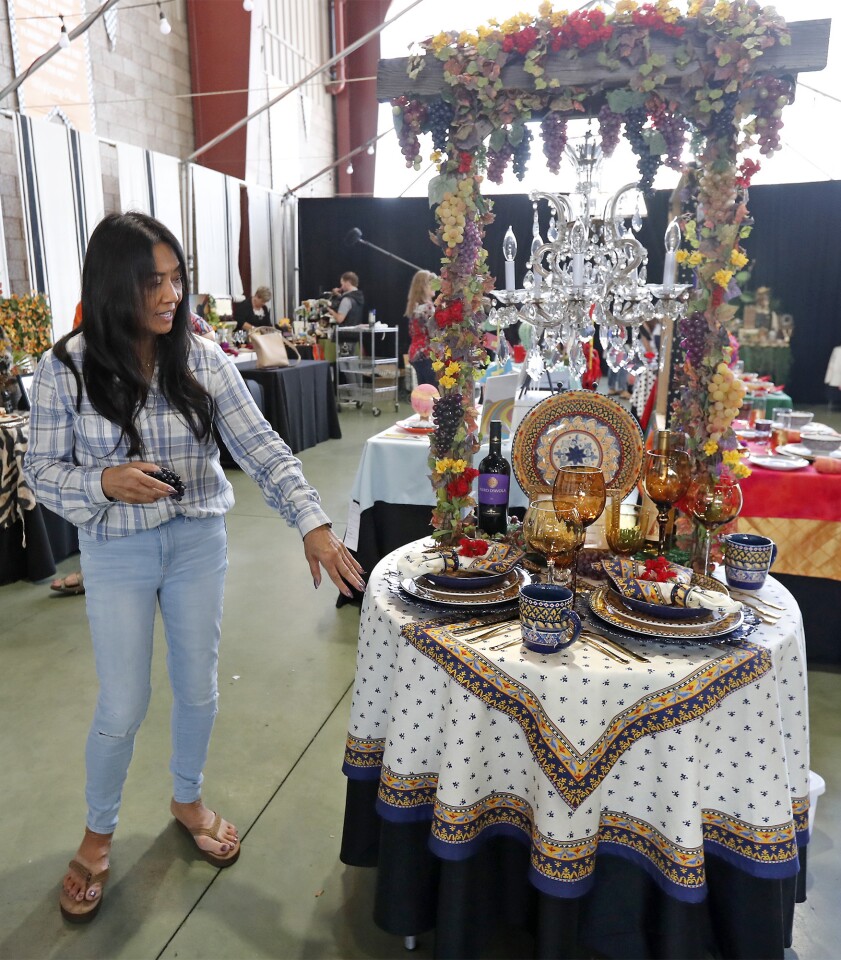 Janet Lew shows her Orange County Fair table-setting entry "Autumn at the Vineyard of Sicily" on Tuesday at the fairgrounds' OC Promenade.
(Kevin Chang / Staff Photographer)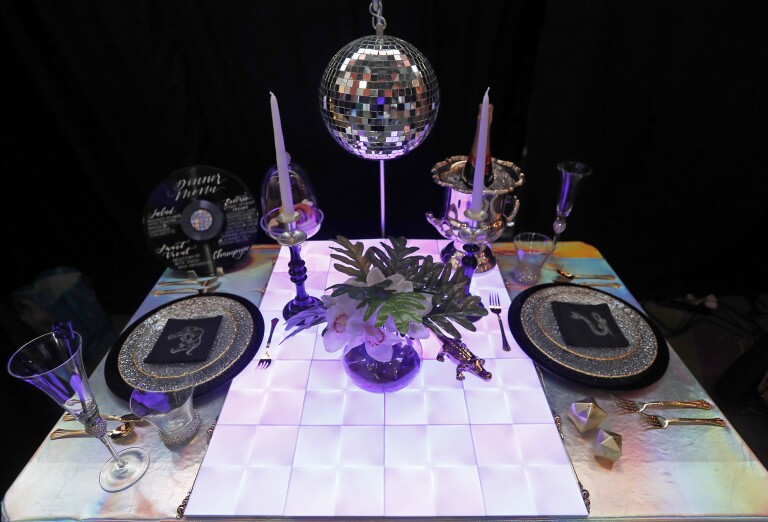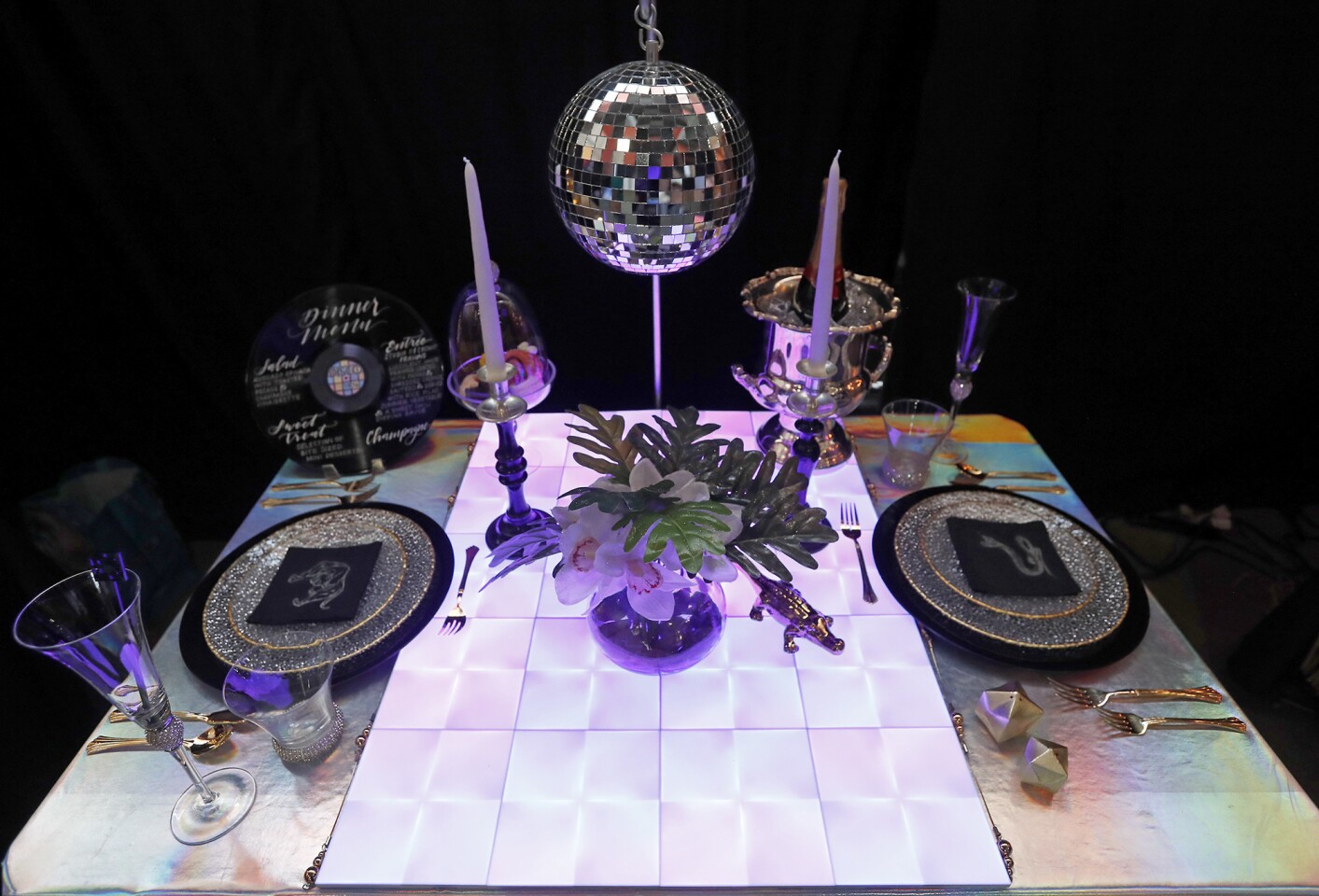 "Party at the Disco" by Mikii Rathmann is displayed during the first round of the table-setting competition Tuesday at the Orange County fairgrounds in Costa Mesa.
(Kevin Chang / Staff Photographer)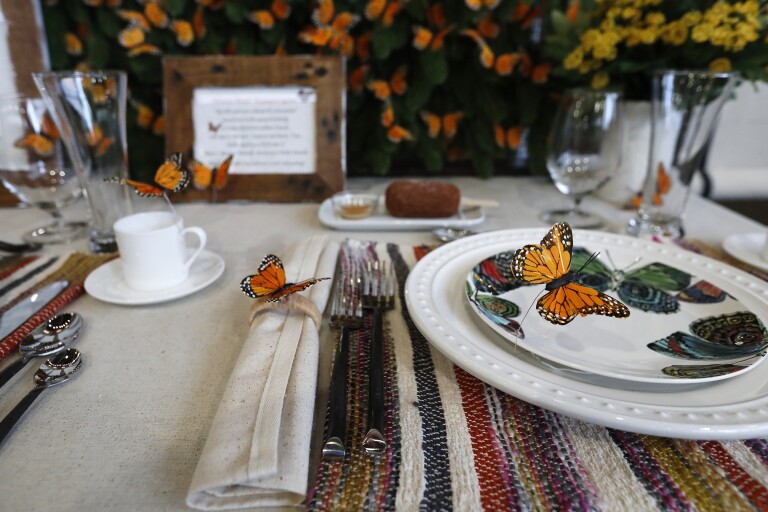 Butterflies decorate Terry Tripodi's entry in the first round of the Orange County Fair's table-setting competition.
(Kevin Chang / Staff Photographer)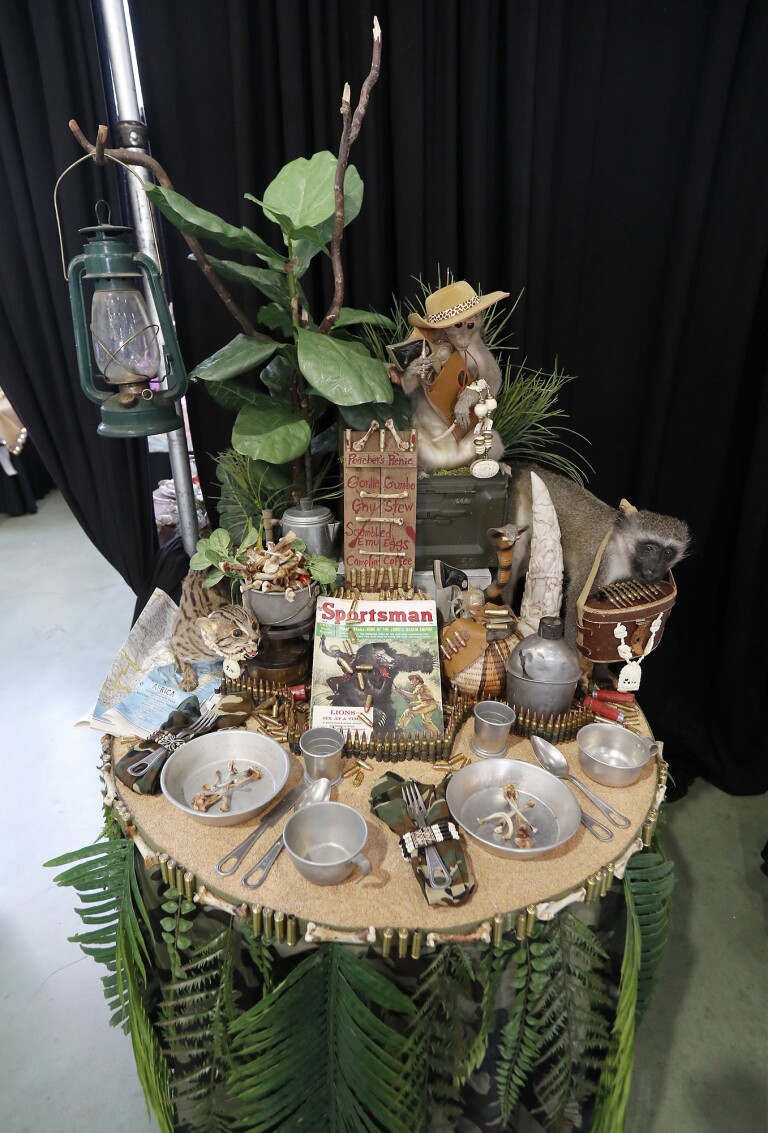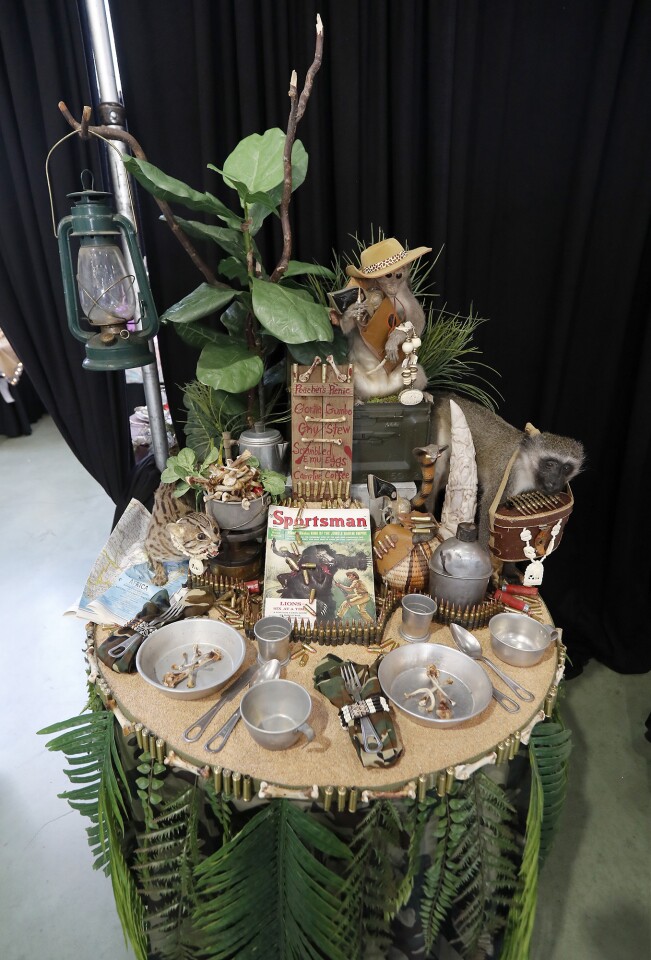 "Safari Picnic" by Hilarie Moore is displayed in the first round of the Orange County Fair table-setting competition Tuesday.
(Kevin Chang / Staff Photographer)
Exuberant and maybe a little stressed, new and longtime entrants filed into the OC Promenade at the Orange County fairgrounds, toting carts and wagons behind them. Boxes were piled high — some of them freshly shipped from Amazon warehouses.
The contestants in the fair's annual table-setting competition had been planning months for this.
On Tuesday morning, three days before Friday's start of the 129th O.C. Fair, it was finally time for the first round of the 2019 competition. Tables in the categories of "Baby Bump Party," "International Travel" and "Light It Up!" were set up and judged Tuesday and will be on display until July 29 at the OC Promenade.
The second round of the competition is July 30.
Entries are judged on everything from the way the napkins are folded to whether the plate settings are exactly one inch from the edge of the table. Creativity and decorations also are factors.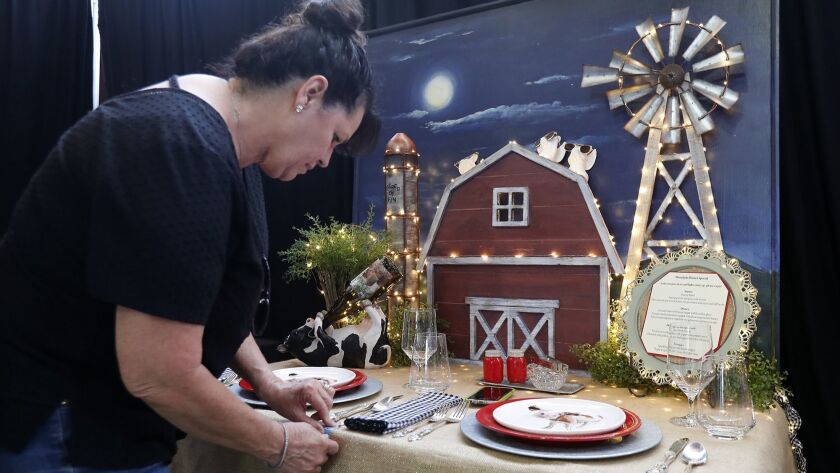 "You make yourself crazy, really, because you keep rethinking what you're doing and eventually you have to say, 'That's enough. That's as good as it's going to get.' It's not rocket science, but … I'm competitive," said Terry Tripodi, a six-time participant from Huntington Beach and a division winner in "International Travel." "We're all beautifully competitive."
Crystal Young of San Dimas, who competed in the "Light It Up!" category, won her third Best in Show ribbon, along with $150, for her table, "Outdoor Party."
She said she had been preparing since the themes were announced in February and that her table was inspired by a triad of ceramic flying pigs and a barn decoration she picked up. It also draws on the theme of this year's fair, "Acres of Fun," which she included on the silo of her tabletop farm.
She said the lights on the table were the biggest challenge, though she's a fan of lights of any kind, especially Christmas lights and twinkling lights, and entered the category for that reason.
"This is the most complex and intricate table I've ever done because of the lighting," Young said. "I wanted to hide all the lighting so it'd just kind of look like a natural setting. Piece by piece, everything had to be ... I did a lot of math, in other words."
Though it's a relatively uncommon hobby, longtime competitors said the competitions in table-setting — also sometimes called tablescaping — at the O.C. Fair have continued to grow and become more challenging every year.
"It's my 12th table over the years, and it's evolved technology-wise," said Michele Pribble of Santa Ana. "I'm so glad they did ["Light It Up!"] this year with the lighting. It's something different this year from the other years."
Shanna Rosa, who has competed for 12 consecutive years, said the tables when she started competing were simple compared with the ones this year.
Her table in the "Light It Up!" category, which drew inspiration from weddings, included a small working fountain.
"Everyone's just growing and getting better and better," she said.
Tripodi agreed, calling this year's first round the best since she began table-setting. She returned to the competition Tuesday following a two-year hiatus.
"It's come a long way from where it was when I started eight years ago, because people were just throwing glitter and Mardi Gras beads on a table," she said. "Now they're coming in with chandeliers and backdrops. … People are putting thought into it now and really putting a good show together."
IF YOU GO
What: Orange County Fair
Where: OC Fair & Event Center, 88 Fair Drive, Costa Mesa
When: Friday through Aug. 11; noon to midnight Wednesdays through Fridays, 11 a.m. to midnight Saturdays and Sundays
Cost: General admission is $12 Wednesdays through Fridays and $14 on weekends. Single-day tickets are $7 for children ages 6-12 and senior citizens 60 and older. Children 5 and younger get in free, as do active and retired military service members with valid ID. Onsite parking is $10 for cars and $20 for buses and limousines. Several specials and discounts are available; for details, visit ocfair.com/oc-fair/discounts.
Information, including entertainment schedules: ocfair.com/oc-fair
---
All the latest on Orange County from Orange County.
Get our free TimesOC newsletter.
You may occasionally receive promotional content from the Daily Pilot.