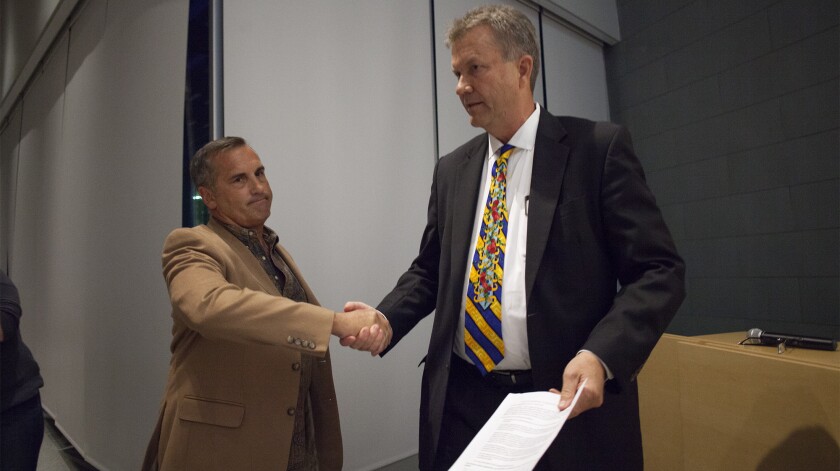 Detractors of Newport Beach City Councilman Scott Peotter cited a slew of policy and conduct issues Tuesday night in officially putting him on notice that they are seeking his ouster through a recall.
City Harbor Commission Chairman Paul Blank served Peotter with a written notice of intent to recall — the first formal step in the process as outlined by state law — as Peotter sat at the dais during a council meeting.
"When leaders don't listen to their constituents or treat them fairly and with respect, those constituents can easily turn into activists," Blank said. "Tonight, I have become an activist."
Blank, who lives in Peotter's Corona del Mar district, said his neighborhood isn't being properly represented. Then he listed several criticisms, including Peotter's opposition to municipal building projects.
"This is not about his free speech," Blank said. "It's about the standard of conduct we expect of our elected officials."
Peotter listened without interruption but requested a chance to respond. He approached the speakers' podium to accept the notice and shake his opponents' hands.
Peotter repeated what he has said before: Voters who disagree with him can express it at the polls during a regular election. His current term is up in 2018.
Peotter said he hasn't violated any laws and that he's being targeted for being "politically incorrect." He said a recall is a waste of taxpayer resources.
"I have no problem facing the voters over any of my votes," he said. "I'm glad to defend them, and if the recall is successful, I look forward to doing that."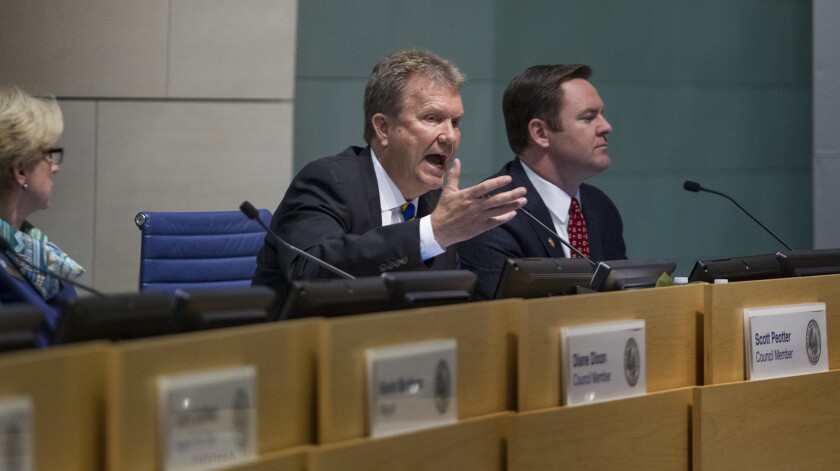 A list of reasons for Peotter's removal provided to the Daily Pilot by recall backer Susan Skinner includes his support of the Museum House condominium development, which most of the council — minus Peotter and Councilman Will O'Neill — voted in February to rescind approval of – and his opposition to civic projects like a new fire station and library in Corona del Mar.
Critics also took aim at Peotter's apology for disclosing confidential closed-session information in 2015 and his use of an image of the city seal on a newsletter that shares his personal perspectives. They also say he "failed to conduct himself in a civil manner," alleging insults against city leaders.
Peotter has the option to file a short reply.
Next, recall proponents will need to circulate petitions in favor of a special recall election. They will have five months to gather enough valid signatures — at least 15% of registered voters citywide, or about 8,500 names — to bring the matter to a public vote.
Peotter ally and Mayor Pro Tem Marshall "Duffy" Duffield said he was "aghast" that someone whom he called a hard worker who serves for "20 cents an hour or less" is being targeted.
Duffield said the Museum House proposal was a good project, and he ripped the opposition's arguments about the proposed Newport Center condo tower's height, traffic and precedent.
"You might as well just impeach me too," Duffield said.
"I'm emotional," he added. "I'm shaking up here. This is awful, just awful."
Twitter: @Daily_PilotHD
---