4 linked to Huntington Beach white supremacist group are indicted on federal conspiracy and riot charges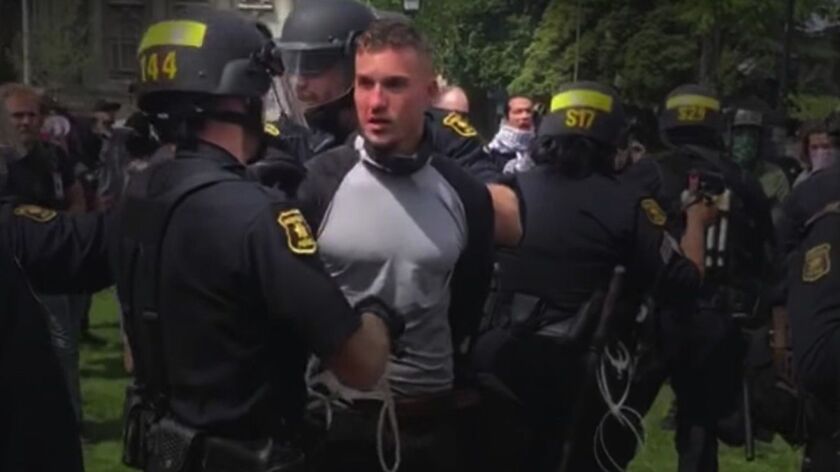 Four alleged members of a Huntington Beach-based white supremacist group were indicted on federal charges Thursday.
A federal grand jury returned an indictment charging the Southern California residents with planning and engaging in riots at political rallies across California and out of state, according to the U.S. attorney's office.
The four defendants are Robert Rundo, 28, of Huntington Beach, who authorities say is a founding member of the Rise Above Movement; Robert Boman, 25, of Torrance; Tyler Laube, 22, of Redondo Beach and Aaron Eason, 38, of Anza.
The indictment charges them with conspiracy to commit an offense against the United States and includes detailed accounts of 47 acts by RAM members or affiliates. It also accuses them of using interstate travel or commerce to organize, promote or participate in a riot.
The court documents enumerate social media posts and other communications that allegedly described the group's training plans and goals and boasted about its activities, including provoking and participating in violent confrontations at political rallies.
According to the indictment, the four conspired to "engage in recruitment of RAM members, coordinating and participating in hand-to-hand and other combat training, traveling to political rallies to attack protesters and other persons, and publishing photographs and videos of violent acts to recruit other members for future events," the U.S. attorney's office said.
Members of RAM attended a March 2017 rally in Huntington Beach where Rundo, Boman and Laube are alleged to have assaulted people. Soon after the event, court documents say, Boman shared a link on social media to an article on the Daily Stormer, a neo-Nazi website and message board, titled "Trumpenkriegers Physically Remove Antifa Homos in Huntington Beach," along with the comment, "We did it fam."
Boman also is alleged to have posted a photo showing himself, Rundo, Laube and other RAM members at the rally with the comment, "Hail victory and the alt-reich."
Text messages describing preparations to attend an April 2017 rally in Berkeley stated plans of "leaving in the morning, drive fast … hit it hard and skip town." Leading up to the rally, text messages among RAM members and affiliates included references to "hand to hand and formation fighting training" as well as "shield and stick training," documents say.
Rundo, Boman and Eason are alleged to have assaulted people attending the rally, according to court papers.
One co-conspirator referred to the group's combative tactics as "total Aryan victory," according to court papers.
At a June 2017 rally in San Bernardino, RAM members allegedly confronted people attending the event and smashed the windows of cars. Days later, a person identified as a co-conspirator sent a message to someone identified in court papers as an associate saying, "We smashed some antifa as they were leaving." The associate responded, "If it wasn't for the white nationalists, nothing would ever get done."
In December, Rundo posted a promotional video for the organization that the indictment says showed him, Boman, Laube and other RAM members assaulting people at the rallies in Huntington Beach and Berkeley, along with images of RAM members in combat training.
In April, according to the indictment, Rundo and other RAM members traveled to Germany, Ukraine and Italy, where they "engaged in combat training with members of European white supremacist organizations."
Rundo was arrested Oct. 21 at Los Angeles International Airport, FBI spokeswoman Laura Eimiller said. Laube and Boman were arrested Oct. 24.
Prosecutors said at a court hearing Oct. 24 that Rundo had taken several trips abroad, including one to Mexico. He was picked up in Central America before he was taken into custody at LAX.
Eason surrendered to the FBI on Sunday.
All four defendants are scheduled to be arraigned this month, beginning with Rundo on Nov. 9, the U.S. attorney's office said.
---
All the latest on Orange County from Orange County.
Get our free TimesOC newsletter.
You may occasionally receive promotional content from the Daily Pilot.