It takes a village: Laguna's Sawdust Art Festival readies for opening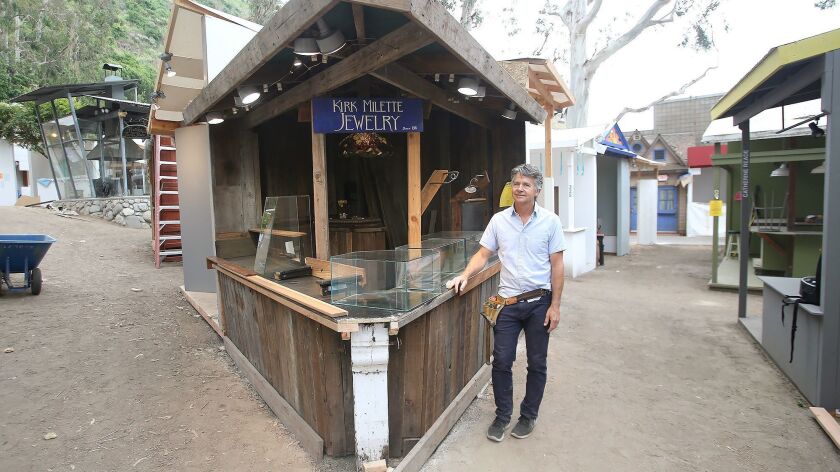 It's a quirky neighborhood, with trees poking through rooftops and the occasional dragon painted on a wall. Like any small community, neighbors call out to neighbors when passing by. Somewhere, someone is singing along to a radio.
In the days leading to the 2019 Sawdust Art & Craft Festival, a village has risen.
Laguna Beach's little city within a city of different-size booths in every kind of aesthetic tradition will open to the public Friday and run from 10 a.m. to 10 p.m. daily through Sept 1. About a month ago, the festival assigned 190 spaces, separated by white lines and wooden stakes, to exhibiting artists in Sawdust's lot along Laguna Canyon Road. Little by little, the place came to life.
"It's kind of a small town develops," said jewelry designer Kirk Milette.
On a recent visit to the grounds, the sound of saws buzzing cut through a chorus of birds chirping. Sawdust floated in the sunshine-filled air. A sign reading "Free" leaned against a pile of blue boards offered to artists.
In Milette's booth, the posts came first, then the floor, built atop a wood-chip-strewn ground. Then a medley of wooden beams collected during his 37 years as a Sawdust exhibitor.
"It's like building a treehouse," Milette said.
It's completed by a roof, countertops and, finally, the art. For Milette, that's everything from custom rings to silver fairies.
This year, about 200 local artists applied for the two-month, non-juried summer art show. All artists, from beginners to experts, can participate as long as they are Laguna Beach residents.
"There's definitely community that happens," Milette said. "Laguna in general is a little bit like that."
This year, 20 artists have come together for a collaborative work to represent the tight-knit Sawdust community. Three booths, ornamented with relics from the festival's 53-year history, will greet visitors walking onto the grounds.
There's a castle inspired by Ron Rodecker's "Dragon Tales" cartoon sitting atop one booth. In the adjacent booth, jeweler Greg Thorne designed a bench from sculptor Shamus Koch's donated marble tiles. An arch etched with the name of artist Douglas Miller covers a "well of creativity."
Sandra Weir, a nearly 30-year Sawdust exhibitor, said the idea for a collaborative piece was born during an evening of brainstorming at her home.
"We all decided that this is what we were going to do, a collaborative build that was sort of an inviting nostalgic remembrance," Weir said, pointing out different artists' contributions to a chandelier, window and mural.
"There's all these little nuances and paint textures, and everything is raw, old, reused lumber that's thoughtfully put together."
The well of creativity began as her idea, Weir said, but transformed under the hands of other artists. All the materials for the collection of heritage booths came from Sawdust artists.
"Since we're a collaborative group, we kind of just enjoy the process. We all honor each other in the process and realize that we're all creative beings," she said.
The community spirit runs deep at Sawdust.
Woodworker Shane Dunlap, 58, remembers when he started building for the festival — he was a high school student helping his artist mother. This is the first season he will show his own work. After a career of designing staircases, he decided to "give art a try."
Sawdust friends and neighbors have given tips to the first-year presenter, such as where to display his business cards and how not to overdo his booth design — "you don't want your wall competing with your art," he learned.
Dunlap reflected on how Sawdust represents the city's roots as an artists' colony. "This is still part of old Laguna," he said.
For some artists, Sawdust is the only show they do every year. For others, the festival is a side project supplementing their main work. Either way, there's ample mentoring and collaboration among the exhibitors.
Once the festival starts, the community expands. New visitors will wander through taking in new sights, while returning customers go straight to their favorite booths.
"People will go, 'Oh, I've never seen this before,' " Milette said. "Other people will go, 'Oh, they moved that from here to there.' "
Milette said he will happily show new customers around.
"[If] somebody's looking for something and I know another artist makes it or another jeweler makes it, I'll say, 'Oh, go up here, two aisles over, and talk to them, because they make it,' " Milette said.
The Sawdust community also seeps out of the festival grounds and into town. Some artists gather for regular potlucks. Weir meets weekly with a group of women to talk about art over coffee before heading to the festival for the day.
As the flurry of preparations at the Sawdust grounds winds down, it's almost time for festival season in Laguna Beach, which also includes the annual Art-A-Fair — also beginning Friday — and the Festival of Arts, starting July 5.
IF YOU GO
What: Sawdust Art & Craft Festival
When: 10 a.m. to 10 p.m. Friday through Sept. 1
Where: 935 Laguna Canyon Road, Laguna Beach
Highlights: Works of 200 local artists, live music, art classes and demonstrations, outdoor cafes
Cost: $9 for adults, $7 for senior citizens, $4 for children; $20 for a season pass
Information: sawdustartfestival.org
---
All the latest on Orange County from Orange County.
Get our free TimesOC newsletter.
You may occasionally receive promotional content from the Daily Pilot.