Kathryn Levassiur has become a familiar face to the Huntington Beach City Council the past two years.
The longtime local resident has spent some of the public comment period of several council meetings advocating legalization of short-term vacation rentals in town. Such rentals of rooms or entire homes — typically for 30 days or less — have boomed since gaining traction with online platforms such as Airbnb.
Sometimes she tells the council about a recent experience with a guest. Or she'll list ways such businesses benefit the city.
Levassiur has become the driving force of a growing group of voices calling on city officials to legalize short-term rentals following City Attorney Michael Gates' recent crackdown on illegal businesses in Surf City.
"There's always a chance they can come after me, but I feel that by speaking openly on public forums, they have respect for the effort," Levassiur said in an interview.
The Huntington Beach Short-Term Rental Alliance, a group founded by Levassiur and composed of 100 members, believes short-term rental businesses could benefit the city if regulated and taxed like hotels.
The group advocates for public hearings with city leaders to brainstorm the pros and cons of short-term rentals and to look to other cities for guidance in developing a plan in support of affordable lodgings near the coast while generating occupancy tax revenue for the city and maintaining the quality of life in neighborhoods.
The alliance also cites the California Coastal Act's Section 30213, which states in the public access chapter that "lower-cost visitor and recreational facilities shall be protected, encouraged and, where feasible, provided."
Levassiur said she tries to maintain good relationships with city officials and "takes the high road at every angle."
But, she added, "failure is not an option."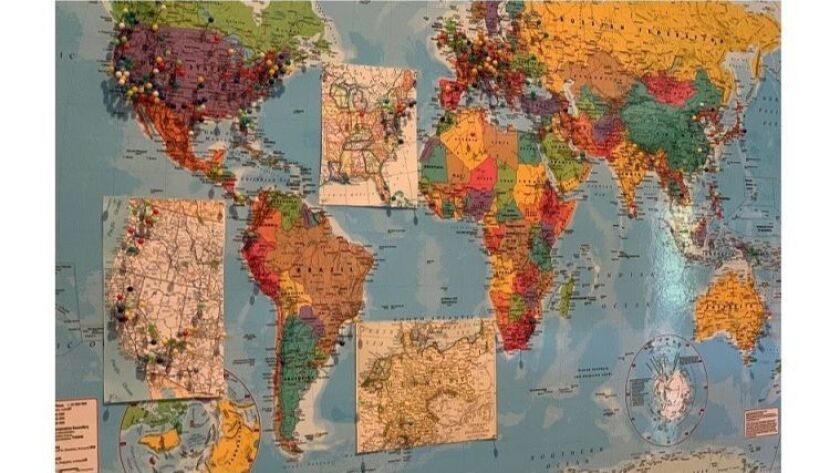 Officials estimate the city has 700 short-term rental operations.
Some critics contend such businesses damage neighborhoods' quality of life with party houses, loud noise, and traffic and parking congestion.
Maintaining quality of life for residents is "paramount," and anything undermining that concerns the city, Gates said.
However, "it's not black and white with rentals," he said. "It's very complicated."
Discussion of the topic may reach the council next year, according to Mayor Mike Posey, who declined further comment.
For about $135 a night, guests can stay in Pat Byers' Huntington Beach home a few miles from the beach. Amenities include a full kitchen, washer, dryer, WiFi, bathroom essentials, coffee maker, free parking on the premises and more.
Byers worked at a boutique earning minimum wage before she realized she enjoyed using Airbnb to rent out her home.
One of her favorite memories is of helping a guest propose to his girlfriend. Byers said she set up a reservation at Duke's restaurant, a short walk from the end of the pier, where the man proposed. Later, the couple — from Santa Ana — went back to Byers' home, where she had a bottle of champagne ready for them in front of the fireplace.
Byers, a widow who relies on income from Airbnb and Social Security, said she "wouldn't be able to stay in my house" if she couldn't rent it out.
Mary Franck of Huntington Beach rents out her detached 400-square-foot guest house for about $100 a night. She began offering it on Airbnb in 2015, a few months after she abruptly lost her job of 14 years.
She said the money she earns — about $25,000 a year — helps her keep up her house, put her son through college and maintain her lifestyle.
Councilwoman Barbara Delgleize believes Huntington Beach has been slow to join the conversation about short-term rentals out of "fear" of affecting its hotels.
She said she isn't sure how the city should proceed but is open to studying the issue and looking for guidance in neighboring cities like Newport Beach, which established a permit system.
"If do we this, it should be the same for a homeowner as a hotel," Delgleize said, referring to an occupancy tax. "I'm not trying to put a hotel out of business. Leveling the playing field is a must."
Councilman Patrick Brenden suggested using the Sunset Beach area as a test.
When Sunset Beach was annexed to Huntington Beach, Brenden said, community members were allowed to continue operating existing short-term rentals, though it isn't "official or formal."
"One thing we've talked about is potentially bringing forward an ordinance for that district to put structure to it and impose permit requirements, TOT [transient occupancy tax] and certain house rules and standards of operating," Brenden said. "It might be a test base for the city as it considers the bigger issue for the entire city down the road."
Advocates for the lodgings say they're ready for the long haul.
"We know it takes time for cities to adapt and make changes to ordinances, but we're passionate and we see it comes with benefits," Franck said.
Twitter: @vegapriscella
---