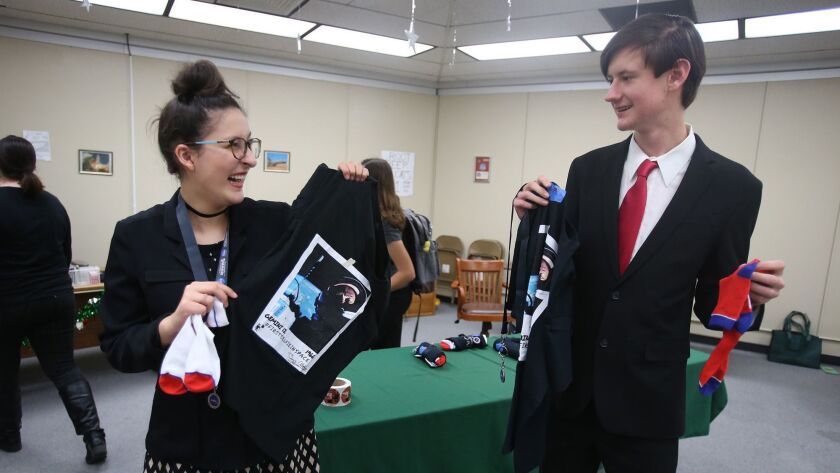 A science experiment created by Brethren Christian School students is scheduled to arrive at the International Space Station this spring.
The engineering club at the Huntington Beach school partnered with San Jose-based Quest for Space, an educational program that has launched more than 100 student-designed experiments since 2010, to send its project into Earth's orbit.
Brethren Christian's work will be included in a cargo vessel scheduled to leave West Virginia on an unmanned rocket in April. Astronauts aboard the space station will receive the experiment, execute it and then send data to the students about once a week.
The project features a camera and two clocks performing two tests.
One test is based on a crystal oscillator, which uses a vibrating crystal to create an electrical signal with an exact frequency. It will monitor that frequency to see how the clock is affected by the elements of outer space.
Additionally, the test will seek to reprove Albert Einstein's theory of relative time in space, comparing the performance of two identical clocks — one in space and one on Earth.
Their experiment will orbit for 30 days in space, and all of the data will be sent by astronauts aboard the International Space Station to NASA upon the experiment's completion. The students' equipment will be returned to Earth on a cargo vessel.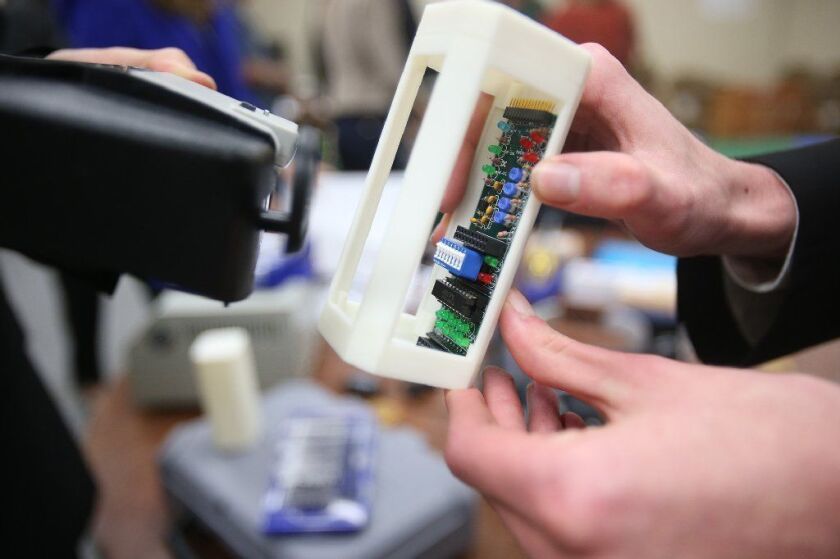 "We're expecting the clock to come back to be younger," said Rick Peterson, a parent who is helping with the project. "The time is going to be less on the clock coming back. It's just a fraction of a second, but it's large enough for us to measure with our equipment."
Some of the equipment needed for the experiment was donated by Biola University, and the club is running a GoFundMe campaign to raise money for other expenses, program mentor Mike Donahue said.
Before creating the actual experiment, club members formed a prototype on a breadboard. Once they had their design down, the students and their advisors soldered the wires.
Now all that's left is coding, said student Colby Peterson, a junior and the technical lead for the project.
"We've already figured out a way to have [the experiment] talk to our main computer so it sends data to us every week," Colby said. "We have to learn two different coding languages … to figure out how to get them to work with each other."
Colby has been coding since fourth grade, his interest beginning with wanting to create video games. This project has proven to be one of the most exciting because "it's building something with your own hands that's going into space," he said.
Jessi Diment, a sophomore, said that at first she wasn't keen on the project because math and science are not her strong suits, but after Donahue encouraged her to get involved, she greatly enjoyed it.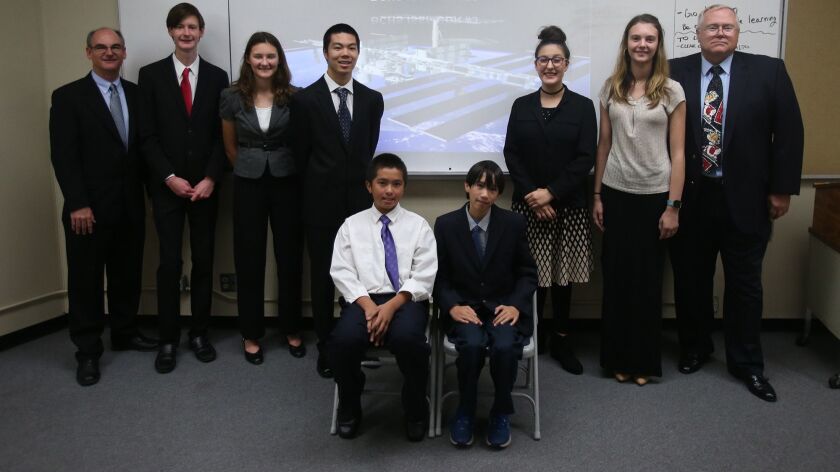 "It's been really fun to watch our team grow and mature and learn," Jessi said. "We're all very excited about this now."
On Tuesday, the students Skyped Andrew Aldrin, an associate professor at Florida Institute of Technology and president of the Buzz Aldrin Space Institute, which was formed to advance space exploration.
Andrew Aldrin, the son of the second man to walk on the moon, said that the skills learned in Brethren Christian's program — from engineering principles to teamwork and presentation — are preparing them to be leaders in science.
"We do a pretty good job in our education system of training really, really great engineers, but we don't do a very good job of training good leaders and managers," he said. "You need to be more than just an engineer. You need to understand business, you need to understand communication."
He added that the students are fortunate to be living in "an incredible period of time."
"Until very recently, if you wanted to talk about sending an experiment to the space station, you would have to have probably millions of dollars and it would take you years," Aldrin said to the students. "You are going to have opportunities throughout your life to get involved in space that just didn't exist before."
Twitter @CharityNLindsey
---