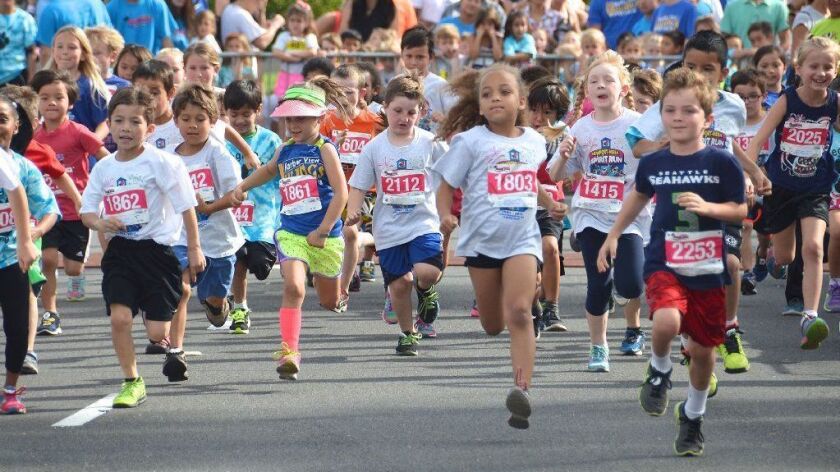 About a dozen races are available to runners and walkers of all ages and abilities March 18 during the 35th annual Newport-Mesa Spirit Run in Newport Beach.
Adult races include the 5K, 10K, 15K and three levels of 1-mile races (elite, open and dog). The dog mile is open to humans 13 or older with leashed dogs.
This year's event takes place at Fashion Island. The annual fundraiser benefits Newport-Mesa Unified School District educational and athletics programs.
There will be a family mile and a 5K family walk together, and children have a menu of their own races: 5K and mile runs for kids age 9 and up; a half-mile for 5- and 6-year-olds; a quarter-mile for 4-year-olds; and a toddler trot, inside a fenced turf area, for kids 3 and younger.
Prizes include a cash purse for the elite mile and non-cash prizes for the other races.
There will also be a youth and fitness expo, a "Camp Newport" expo that covers children's summer camps and activities, and a dog expo.
Former Olympians Steve Scott (1,500 meter in 1984 and 1988) and Julie Ertel (water polo in 2000, triathlon in 2008), will join the field, along with elite athletes from Newport Beach's Cal Coast Track Club, Mammoth Track Club, and the Bay Area's Strava Track Club.
The 15K is dedicated to longtime Spirit Run competitor Juan Ramirez, who was killed last year by a hit-and-run driver while running near Mile Square Regional Park in Fountain Valley.
For more information and to register, visit www.nmspiritrun.org.
Twitter: @Daily_PilotHD
---