'Surfing padre' Christian Mondor of Huntington Beach dies just before his 93rd birthday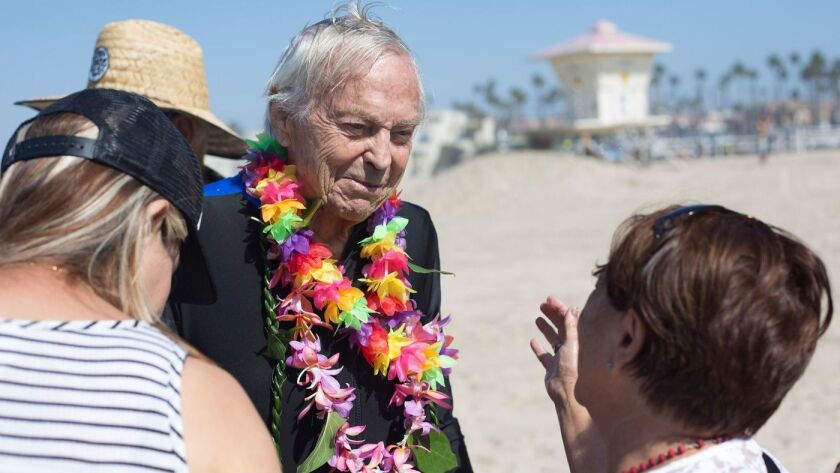 The Rev. Christian Mondor, a surfing priest who helped organize Huntington Beach's annual Blessing of the Waves, died of pneumonia Wednesday, two days before his 93rd birthday.
The pastor, who often was seen wearing Franciscan robes or carrying a surfboard, died at Hoag Hospital in Newport Beach after battling his illness for two weeks.
"Father Christian was a man for all seasons, for all times, for all places," said pastor Ryan Thornton, who worked alongside Mondor at Sts. Simon & Jude Catholic Church in Huntington Beach. "From the beaches to the boardwalks, from the church to the classroom, he had the rare gift of personability and intelligence; he could speak to surfers and scholars alike about the infinitude of God and the best spot to catch the next wave."
Sts. Simon & Jude told parishioners of Mondor's death via email Thursday morning, saying he "died with vision of mind and body unabated and with the holy oils of Mother Church still wet upon his forehead and hands." His final words were "Keep working," the email said.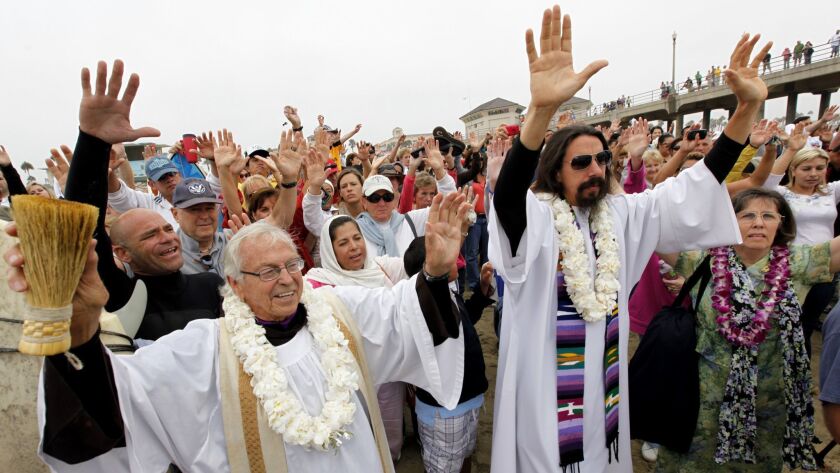 Mondor, who began his assignments at the local parish in 1990, delivered his last formal sermon March 29, Holy Thursday, an important day for Catholics that symbolizes Christ's Last Supper.
Mondor was best known for helping to coordinate the annual interfaith Blessing of the Waves, which was originally sponsored by the Diocese of Orange. The event has attracted surfers and tourists from around the world to watch spiritual leaders honor the ocean through prayer and song.
In 2013, Mondor was named a lifetime member of the Huntington Beach Longboard Crew and was inducted into the Surfing Walk of Fame Honor Roll in downtown Huntington Beach.
He also helped found the Greater Huntington Beach Interfaith Council, which promotes spiritual and cultural diversity.
Dave Garofalo, who was mayor of Huntington Beach in 1999, described Mondor as a beacon of peace and understanding for the city. The two met at Sts. Simon & Jude and eventually became friends as they organized the interfaith council.
"To the surfing community, he's the surfing padre," Garofalo said. "To the spiritual community, he's everyone's confessor and friend through the interfaith community. ... He was just a nice guy."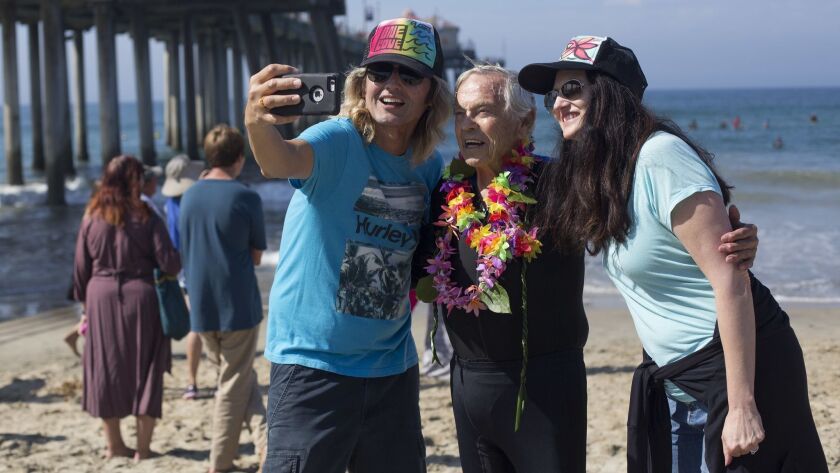 Current Huntington Beach Mayor Mike Posey described Mondor as a city "treasure" who "was always smiling" and would be missed during the annual blessing ceremony and invocations at City Hall.
"He really exudes warmth, friendliness," Posey said. "He was always there and was instantly recognizable by everyone."
The priest's favorite pastimes included longboard surfing and competitive swimming. He participated in local swim events and won medals in international competitions.
A viewing will be held from 4 to 6:30 p.m. May 10, with a vigil at 7 p.m. at Sts. Simon & Jude, 20444 Magnolia St.
A funeral Mass is scheduled for 2 p.m. May 11, with a reception at the church's Colman Hall.
Twitter: @vegapriscella
---
All the latest on Orange County from Orange County.
Get our free TimesOC newsletter, coming in August.
You may occasionally receive promotional content from the Daily Pilot.