Reporter's Notebook: What's it like in Lyft's 'Taco Mode'? Purple strobes and pink sunglasses on the road to Taco Bell
Everything I did, I did for tacos.
I spent my Thursday night becoming Person No. 5 — or so we think — in the entire world to partake in "Taco Mode," a new ride experience bringing Lyft users to Taco Bell for late-night munchies.
Taco Mode took the fast food world by storm this week by adding a whole new twist. Irvine-based Taco Bell announced that in Orange County, Lyft passengers could choose Taco Mode on the Lyft app, and within minutes a special car would whisk them away to Taco Bell.
It would be no ordinary car, however. It would be a taco car.
My Taco Mode experience started at one fast food joint to get to another. Around 9:30 p.m., I went to the In-N-Out Burger on West 19th Street in Costa Mesa, a location I knew in advance to be within the area Lyft and Taco Bell designated for Taco Mode.
I opened the app and saw the little car icons on the map transform into moving tacos. I was in luck — one of the taco cars was quite close, wandering around The Triangle.
I hailed it. Within a few minutes, driver Nizar Labidi pulled up in his sedan. He had placed a magnetic taco decal on the side of it. Labidi, an Irvine resident and Lyft driver since 2014, gave me the biggest smile I've ever seen from any driver anywhere.
I asked him if I was his first Taco Mode user. I was. History made.
Labidi's car had been decked out for Taco Mode. It had some purple lighting strips that lit the back seat. It had an iPad preset with music by Jacob Whitesides, who's reportedly a big Taco Bell fan.
Labidi encouraged me to use hashtags — presumably #TacoMode and #TacoBell — and to take a selfie for Instagram. But after taking notes during a 13-minute ride to go 3 miles, I didn't have time for any social media. I also don't have Instagram.
In any case, we pulled into the current, and only, Taco Mode Taco Bell at 1400 W. Coast Hwy. in Newport Beach. It's the one across from the Balboa Bay Resort along Mariners' Mile.
This Taco Bell went all-out decorating itself for Taco Mode. Purple and pink strobes lit up the hillside and the building itself. The drive-thru had a Taco Mode sign. The employees wore Taco Mode shirts, which read, "In the mood for tacos?" There was music. The mood was celebratory.
Labidi pulled into the drive-thru and allowed me to order some Cool Ranch Doritos Locos Tacos — which are free for early Taco Mode adopters at this point — and a new $1 promotional item, the Beefy Potato-Rito. It has beef, cheese, potatoes, nacho cheese and chipotle sauce. He also gave me some pink glasses that light up.
I then left Labidi's car and met Matt Prince, a spokesman for Taco Bell, who explained that Taco Mode has been in the works for about a year. It came from simple conversations from Lyft drivers who said they were taking passengers to Taco Bell and wondered if it was permitted.
Taco Mode makes it clear that it is A-OK and can be a fun experience, Prince said.
Or, according to a statement given by Taco Bell chief marketing officer Marisa Thalberg this week, "With the advent of this fantastic partnership with Lyft, we will erase any lingering uncertainty and celebrate the ability to 'ride-thru' in Taco Mode."
Taco Bell and Lyft had 15 taco cars out Thursday, the first day of the trial period. Prince surmised I was aboard the fifth taco car to pull in.
Though many reactions to Taco Mode have been positive, even ecstatic, it has received some negative feedback even before it started. A Business Insider story reported that Lyft drivers were worried about passengers eating food in their cars and making a mess, among other concerns.
Prince clarified that Taco Mode is completely optional for Lyft drivers, who will also set their own boundaries about passengers eating in their cars.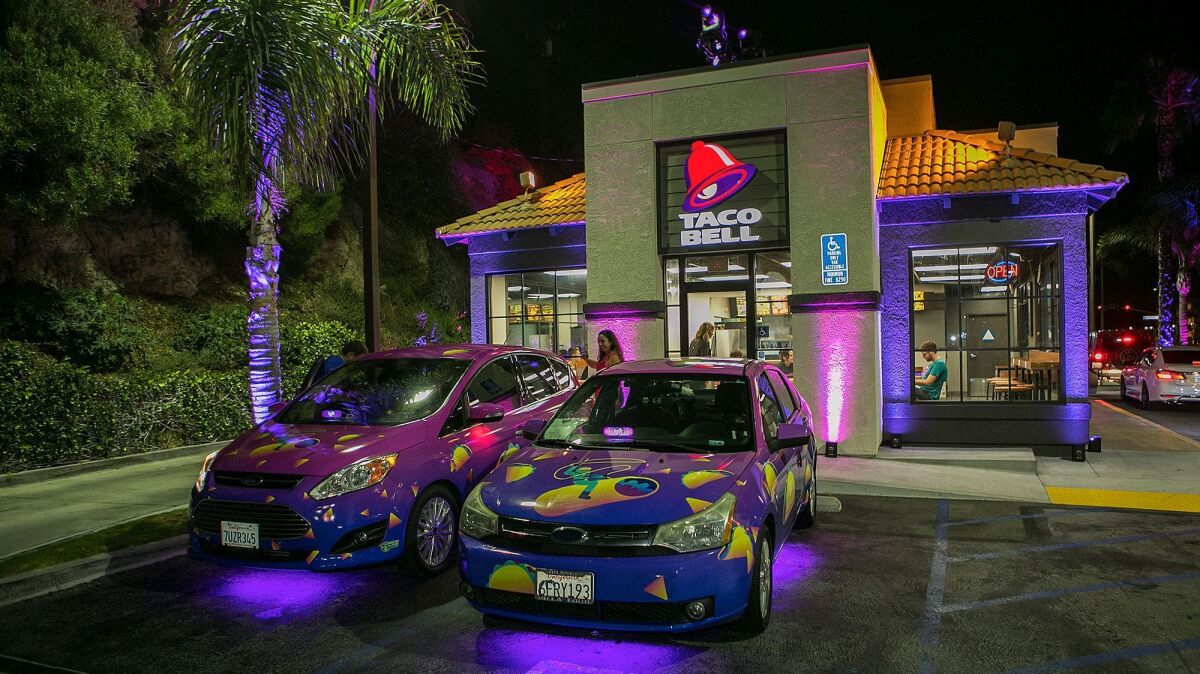 As the night carried on, a few more taco cars pulled into the drive-thru. One had four passengers all wearing the blinking pink sunglasses, including the driver. They hooted and hollered, ordered their food and took a group selfie. For the hungry passengers, their driver was a hero.
Taco Bell is continuing its Taco Mode testing at the Newport Beach restaurant Friday and Saturday from 9 p.m. to 2 a.m. It continues Aug. 3 through 5 at the same times, with more Taco Bells participating.
In addition to the Mariners' Mile location, three others are joining in: the restaurants at 2259 Harbor Blvd., Costa Mesa; 2910 S. Bristol St., Santa Ana; and 19002 Beach Blvd., Huntington Beach.
Prince said Lyft passengers from parts of Costa Mesa, Newport Beach, as well as the South Coast Metro and downtown Huntington Beach areas, should be able to access Taco Mode through the Lyft app. Taco Bell wants to expand the service nationwide by 2018.
After I ate my Taco Bell food, I headed back to In-N-Out Burger, again using Lyft. That time I took a non-taco-themed car.
Twitter: @BradleyZint
---
All the latest on Orange County from Orange County.
Get our free TimesOC newsletter.
You may occasionally receive promotional content from the Daily Pilot.