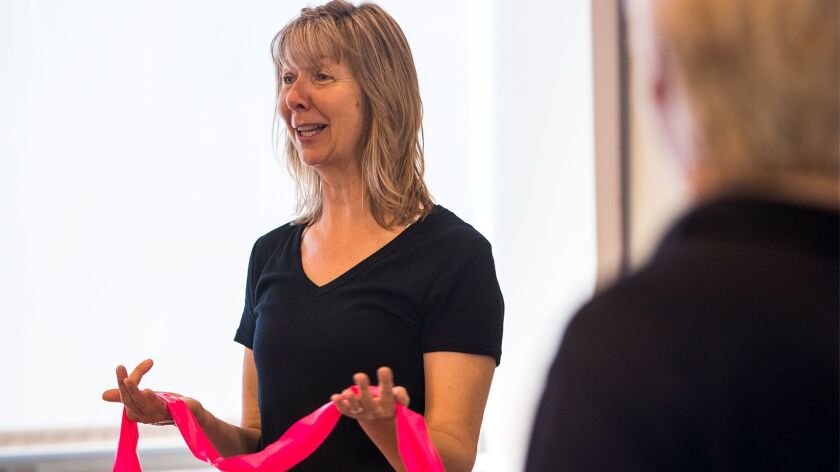 Kathryn Rollins has become a familiar face at the Oasis Senior Center in Corona del Mar.
The Costa Mesa resident teaches a variety of classes designed to help senior citizens increase their bone density, remain limber through Pilates and maintain a healthy lifestyle physically and mentally.
"I connect with seniors," said Rollins, 53, who has taught at the center for about seven years. "They're amazing people interested to learn and take control of their bodies and lives. I love that component of it."
In coming months, she also will be hosting health lectures at the senior center.
Rollins began her career in healthcare as a pediatric intensive-care nurse in the late 1980s at Children's Hospital Orange County.
She eventually worked in the business side of the industry before managing her own Pilates studios in Newport Beach and later finding a home at Oasis.
Rollins has garnered a loyal following of students, some of whom have become close friends.
"I think America really shelves them quickly, and I'm told that a lot of them get dismissed in the healthcare setting and are put on medication," she said. "They're really valuable and they're so much history with so much knowledge."
Newport Beach resident Debby Manning, 68, has been attending Rollins' classes for years.
She described Rollins as a "beacon for women and men who wish to be healthy, happy and successful even after the age of 50."
Manning recalls that when she was a new student in one of the classes, Rollins instantly made her feel welcome.
"She shows much encouragement and she'll say, 'Don't give in to age,'" Manning said. "She can tune in and key in on what's going on with a person just by their physical attribute. Not many instructors care about that so much."
Rollins said her teaching style has evolved through the years but that she remains committed to keeping classes fun while pushing her students further than they think they can go.
"They get nervous sometimes because they're vulnerable to falling, so the goal is to build confidence and drive fear away," Rollins said. "I've been in healthcare for 30 years and I really love doing this."
Editor's note: This is an installment of Unsung Heroes, an annual feature that highlights otherwise overlooked members of the community.
Twitter: @vegapriscella
ALSO
Unsung heroes: Brad and Trish Miller bring food and friendship to Main Beach
---