Unsung heroes: Brad and Trish Miller bring food and friendship to Main Beach
Editor's note: This is an installment of Unsung Heroes, an annual feature that highlights otherwise overlooked members of the community.
Every Wednesday, Brad and Trish Miller drive from Irvine to Laguna's Main Beach with a home-cooked meal in tow.
One day it might be oatmeal with all the fixings. Another day, such as Wednesday, the Millers brought an egg casserole with potatoes and sausage.
But the spread never stopped there.
They would also bring watermelon wedges, two types of homemade breakfast breads, coffee, juice and warm smiles, ready to meet their friends at Main Beach, most of whom do not have a permanent place to stay each night.
"I love your hat," Trish told Barbara Chaisomboon, who had borrowed a fashion staple from Santa, before giving her a hug.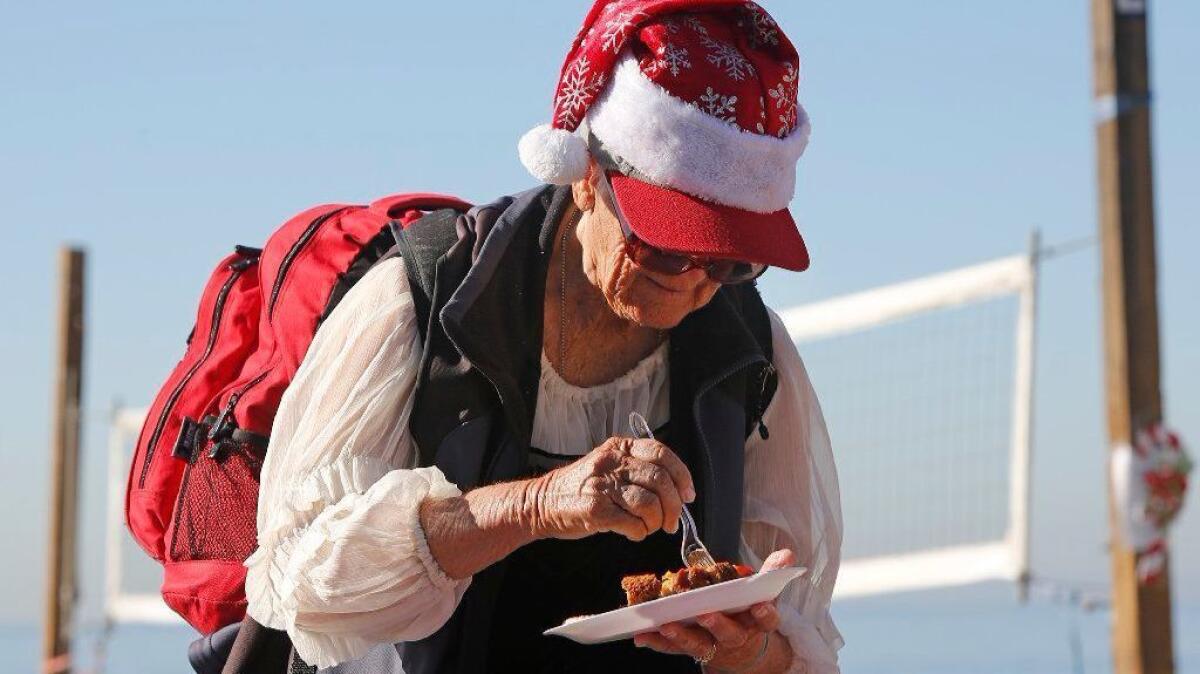 The Millers, who are married, started the outreach in April. They had visited Laguna Beach for decades and saw needs they could help meet: people's need to eat and for social connection.
"It's not so much about the food, even though I love to cook," Trish said in a phone interview. "It's greeting people, saying, 'Hello, what is your name?'
"We've gotten to make some really good friends."
The Millers scour grocery stores for deals to help them select entrees. One week, a store ran a special on chicken drumsticks — 79 cents a pound — and so Trish prepared teriyaki chicken with rice.
They typically make enough food for 24 people, though the number of guests may fluctuate depending on the week.
The Millers usually arrive at 10 a.m., which allows for some flexibility in menu planning as either breakfast or lunch fare is appropriate.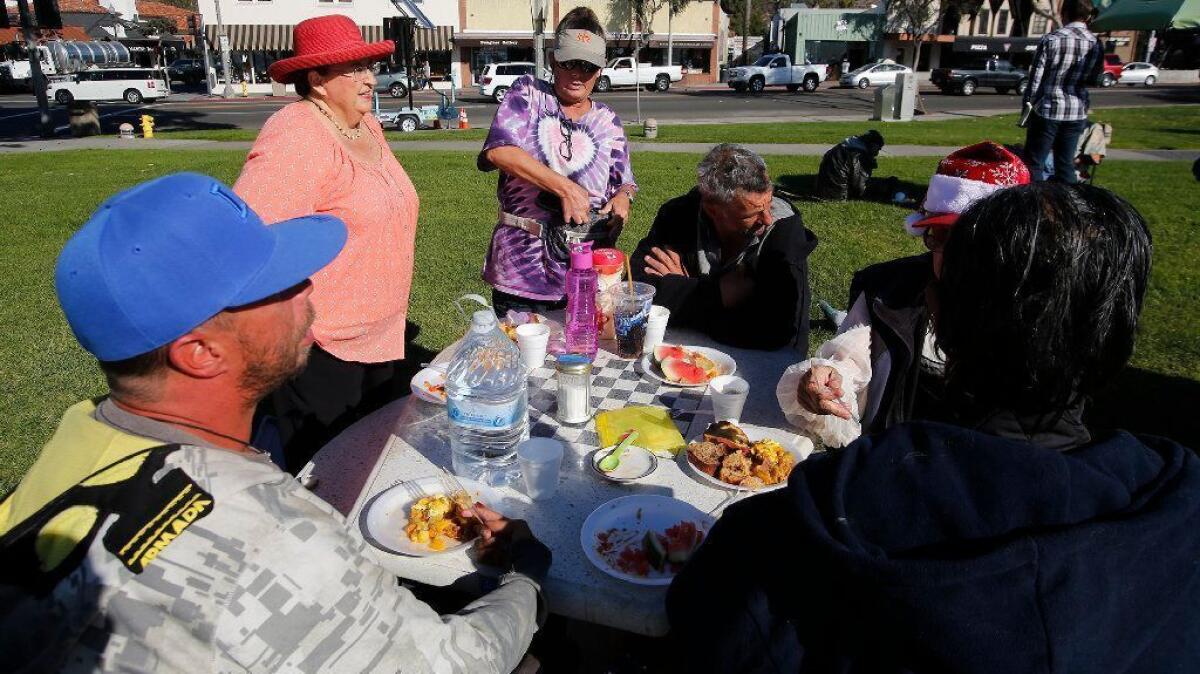 Most weeks, Wade Hipp arrives at 8:30 a.m. to snag a picnic table.
On Wednesday he passed the time waiting for the Millers by listening to songs from a playlist projected from a portable speaker.
Hipp said he comes to Main Beach most days and wanted to help the Millers when he met them in April.
"We struck up a conversation and it went from there," said Hipp, who is living without a long-term residence. "I want to support anything as good as this."
Once the Millers arrived, Hipp helped Brad carry the roasting pan, which held the breakfast casserole, to the table.
Then it was time to grab disposable plates and forks and dig in. At one point, 10 people gathered around the table as they laughed and complimented the food.
"We try to make a non-judgmental atmosphere to enjoy the food," Trish said.
If two people get into an argument,Trish said she or Brad will politely tell them to settle it among themselves and not make a scene in front of the group.
On Wednesday morning, all was calm.
"Ninety-nine percent of the people are so sweet," Trish said. "They are happy to talk to somebody."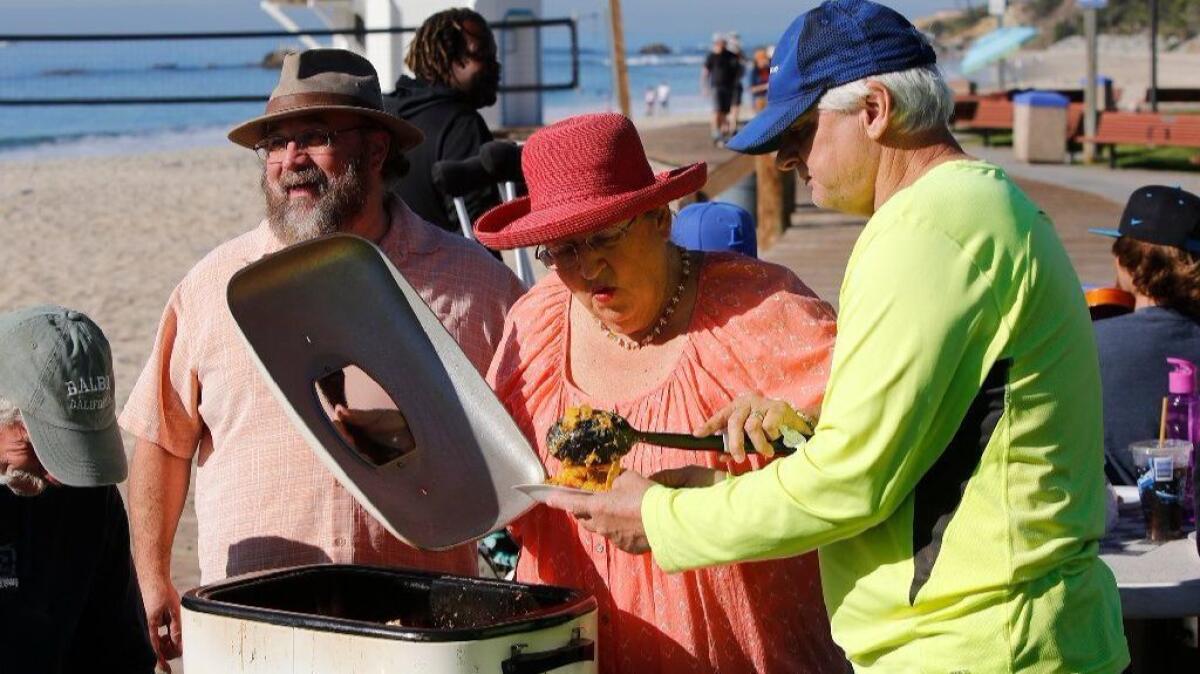 Twitter: @AldertonBryce
Get our weekly Tasting Notes newsletter for reviews, news and more.
You may occasionally receive promotional content from the Los Angeles Times.