No stranger to challenges, former Costa Mesa police captain joins new ethics office at USC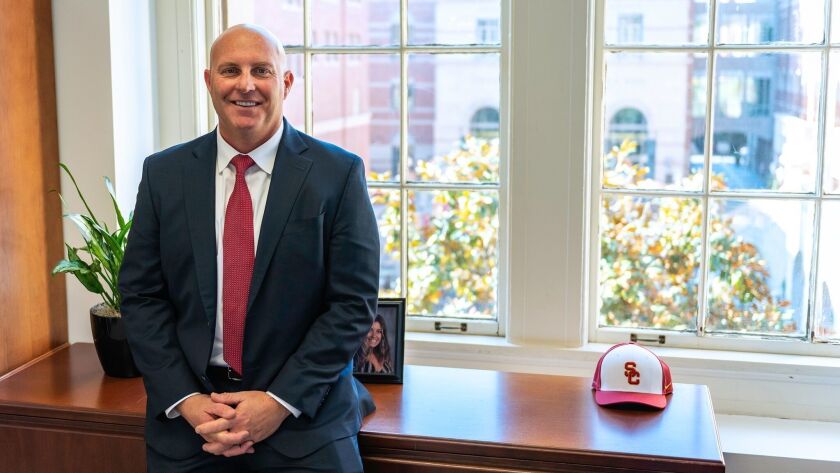 A longtime member of the Costa Mesa Police Department has exchanged his uniform for an iconic cardinal-and-gold "SC" baseball cap, which is visible in his new office at the University of Southern California. The former captain for field operations plans to call on his experiences at the CMPD, which underwent a protracted conflict with previous city leaders, in order to help USC weather a series of serious storms.
Mark Manley, 47, became the director of USC's new Office of Professionalism and Ethics in September. The office, led by Vice President of Professionalism and Ethics Michael Blanton, was created partly in response to a string of campus scandals, including inappropriate drug use by the former medical school dean, a campus gynecologist accused of preying on patients and the resignation of the university president.
For the record:
3:00 p.m. Dec. 31, 2018The headline of this article originally stated incorrectly that Mark Manley leads the ethics office. He is the director, but the office is led by Vice President of Professionalism and Ethics Michael Blanton.
Launched in September, Manley's office is a centralized hub tasked with receiving and responding to campus complaints. Manley has met with student and faculty groups, as well as university stakeholders to communicate the office's goals for oversight and accountability, as well as to introduce new internal systems to receive, review and manage sensitive personnel problems.
"The office is a central hub for complaints and investigations into serious issues like workplace conflict, inappropriate behavior and discrimination," according to a USC news release about Manley's appointment.
Manley, a Huntington Beach resident who grew up in Anaheim and graduated from UC Irvine with a degree in criminology, left the CMPD after 23 years in September.
"That's where I really learned the sense of customer services, the value of a smile and good interaction," said Manley, who last oversaw the CMPD's field operations as a captain.
The former homicide investigator always envisioned himself working in a university setting, calling his new position "a unique chance to be part of a team to take crisis and turn it into opportunity."
His time in Costa Mesa might have been ideal preparation.
"I had to learn how to be a transformative leader and adapt to my circumstances," he said.
Manley said he helped lead in challenging times. Police staffing shrunk a few years ago during a de facto hiring freeze that left staffing levels below their budgeted levels. Manley was promoted to captain in 2014 — a period of acrimony involving the department, the police union and a majority of the City Council at the time.
"The challenging and difficult years probably provided exponential personal and professional growth for all involved," Manley said. "Absent the crisis and challenge that we experienced I probably wouldn't have been prepared, and I'm grateful for that."
Still, Manley will miss some parts of his life in uniform.
"I've eaten fewer doughnuts and drink less coffee," he quipped, adding that in all seriousness "I will miss the internal camaraderie from police department and community, but I've found that same level of camaraderie here, which wasn't expected."
---
All the latest on Orange County from Orange County.
Get our free TimesOC newsletter.
You may occasionally receive promotional content from the Daily Pilot.