Scandal after scandal focuses scrutiny on USC leadership, culture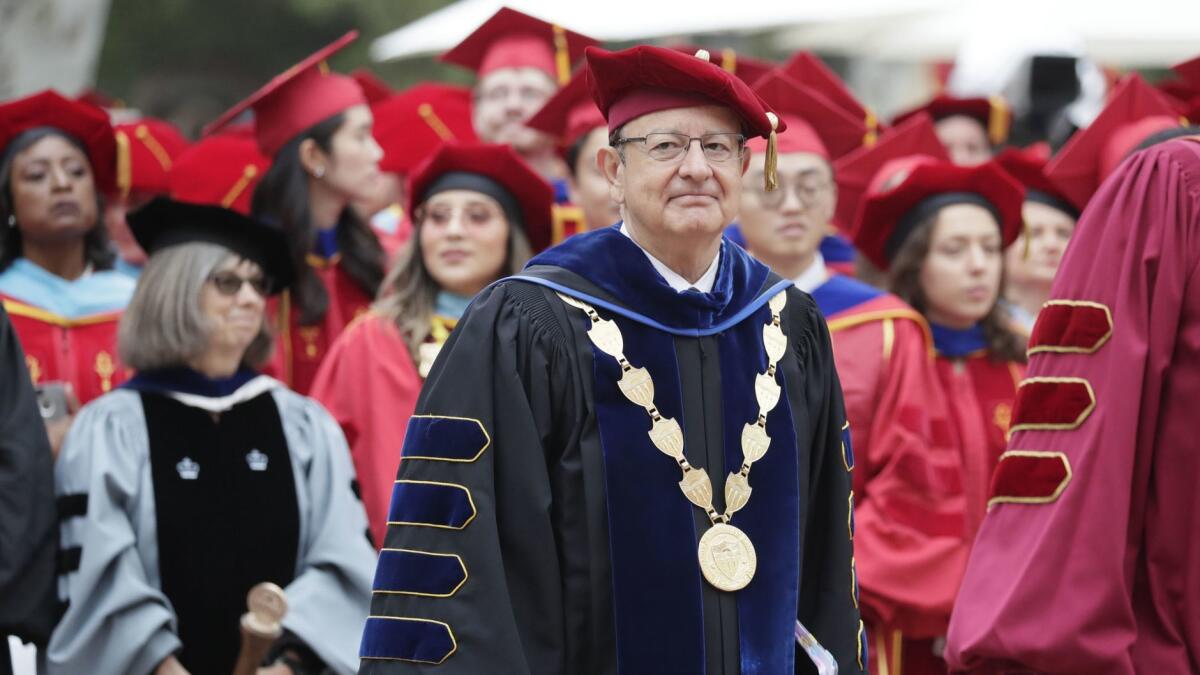 Last year, USC decided to oust longtime campus gynecologist George Tyndall after concluding that for years he had been making sexual comments and touching patients inappropriately during pelvic exams.
The university drew up a secret deal and Tyndall quietly left with a financial settlement.
But USC didn't inform either the state Medical Board or law enforcement at the time, nor did the university reach out to the thousands of patients treated by Tyndall in his nearly three decades at the campus' student health clinic.
USC went public only last week after The Times presented the university with the results of a three-month investigation in which co-workers at the clinic as well as some of Tyndall's former patients detailed years of complaints.
How USC handled the case has sparked outrage and demands for change in the university's leadership and management culture.
To some, it is part of a troubling pattern.
The revelations about Tyndall come less than a year after Times disclosures about drug and alcohol abuse by Dr. Carmen A. Puliafito during his tenure as dean of the university's medical school, while he was leading a second life of partying with young criminals and addicts.
As with Tyndall, USC chose not to report the physician to authorities when top administrators learned of misconduct allegations.
The scandals have many inside and outside the university asking how both doctors could have operated in such sensitive positions for so long and whether USC was more concerned with keeping the allegations of misconduct secret than trying to fully investigate them.
"It was an egregious violation of its societal responsibilities for USC to keep quiet about Dr. Tyndall's misconduct," said Nancy Jecker, a professor of bioethics at the University of Washington School of Medicine. "Far from remaining neutral, silence took sides with power and privilege while failing to safeguard vulnerable patients."
USC President C.L. Max Nikias acknowledged in a Friday letter to the campus that Tyndall "should have been removed and referred to the authorities years ago. I am struggling with the question — as you are: How could this behavior have gone on for so long?"
William G. Tierney, a tenured professor at USC's Rossier School of Education, said he appreciated Nikias for acknowledging the university's failures but said the school's president had lost the goodwill of the faculty.
"He hasn't acknowledged anything as an individual. He's the president. Harry Truman said, 'The buck stops here,' and we don't have that right now," said Tierney, who described himself as a friend of Nikias. "The university has lost its way. And a lot of people who care deeply about the university feel terrible about that, and I think the president does as well."
It was an egregious violation of its societal responsibilities for USC to keep quiet about Dr. Tyndall's misconduct.
— Nancy Jecker, professor of bioethics, University of Washington School of Medicine
Nikias said in his letter Friday that USC was moving to work with law enforcement and offer counseling to former patients, steps some believe the university should have taken long ago. He said the university plans to share with the Los Angeles Police Department some of the roughly 200 reports made by Tyndall's former patients since USC set up a special hotline last week.
The Medical Board, the agency responsible for protecting the public from problem doctors, says it is also scrutinizing The Times' reporting on Tyndall and how USC dealt with him.
When the board finally learned of the accusation against Puliafito and launched an inquiry, investigators returned with damning allegations.
Investigators said he abused drugs on days he worked as an eye doctor in university facilities and "would return to his medical office to see patients within hours of using methamphetamine." The board also alleged Puliafito consumed heroin and methamphetamine at the Keck School of Medicine campus and other locations in 2015 and 2016.
Jecker and other ethicists see alarming similarities between the Tyndall and Puliafito episodes.
"This pattern makes the present case even more disturbing," she said.
Both doctors have denied wrongdoing.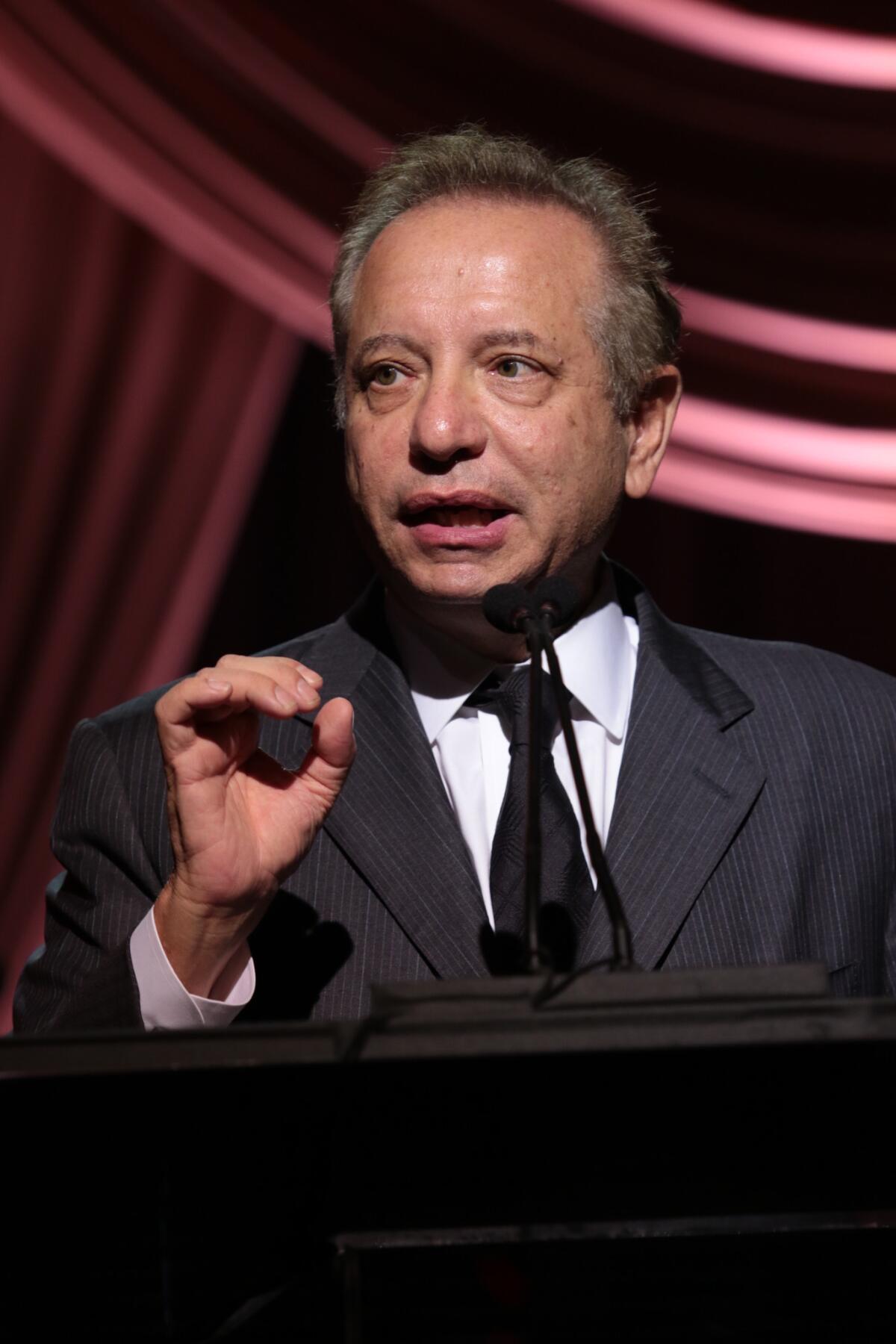 In March 2016, Puliafito announced he was stepping down as dean of the Keck School of Medicine to pursue an opportunity in the private sector. That was three weeks after a young woman overdosed in his Pasadena hotel room, an incident that remained under wraps.
After a Times story last July exposed Puliafito's drug use and presence at the overdose, USC acknowledged that he actually resigned as dean after university Provost Michael Quick confronted him with complaints about his behavior. Puliafito's colleagues later told The Times they had complained for years about his excessive drinking and other misconduct.
The university had still kept Puliafito, an eye surgeon, on the medical school faculty and he continued to see patients for more than a year. He was fired shortly after The Times' investigation was published.
At the same time, USC was keeping a lid on the allegations against Tyndall, who was placed on paid leave in June 2016.
Some of the most serious complaints concerned his use of fingers at the start of pelvic exams. Witnesses told The Times the physician routinely inserted one finger and then a second in patients after voicing concern that a speculum might not fit. While he spoke, they said, he moved his fingers in and out and often made remarks on the tightness of their vaginal muscles: "My, what a tight muscle you have. You must be a runner."
In recent interviews with The Times, Tyndall said his use of fingers had a legitimate medical purpose and said some of his comments to patients were misinterpreted. Tyndall, 71, could not be reached for comment Saturday.
An internal USC investigation determined that Tyndall's behavior during pelvic exams was outside the scope of current medical practice and amounted to sexual harassment of students.
A university spokeswoman said Nikias learned of the findings late last fall, months after USC paid Tyndall to step down. The school did not report Tyndall to the medical board for several months, in March. By then, Times reporters had begun contacting university employees about the complaints made against the gynecologist.
As the newspaper prepared to publish its findings, Nikias said in a letter to the USC community, "In hindsight, we should have made this report eight months earlier when he separated from the university."
Under state law, hospitals and many clinics must alert the medical board in a variety of circumstances in which they suspend, discipline or terminate the privileges of physicians. These reports trigger investigations into a doctor's license and hospital leaders face steep fines for failing to notify the board.
The university has lost its way. And a lot of people who care deeply about the university feel terrible about that.
— William G. Tierney, tenured professor at USC's Rossier School of Education
USC said the law didn't apply in Tyndall's case because the university itself wasn't governed by the rules for hospitals and clinics and the complaints against him "were made as a human resources matter." The university also said Tyndall had told school officials that he was going to retire from practice.
In addition, two attorneys advised the university that there was no criminal conduct to report to law enforcement, USC said.
In the Puliafito matter, USC said it referred a Times query about his presence at the drug overdose to Keck's Hospital Medical Staff, a review panel, which concluded there "were no existing patient care complaints and no known clinical issues" and took no action against him. The Times' disclosures prompted a medical board investigation that led to the suspension of Puliafito's license. A hearing on the accusation is set for later this month.
Art Caplan, founding head of the Division of Bioethics at New York University's Langone Medical Center, said USC's failure to report the physicians to authorities "sort of reflects a 'we're going to maintain institutional policing and that's sufficient, that's kind of where our duty ends.' ...That just doesn't cut it."
The physician who replaced Puliafito as dean lasted little more than a year and a half in the job. Rohit Varma resigned as The Times was about to publish a report on allegations that he sexually harassed a colleague in 2002. USC had paid the woman $135,000 as a result of her complaint. In announcing Varma's removal, Quick cited "previously undisclosed information" but would not elaborate.
Meanwhile, USC retained the law firm Gibson, Dunn & Crutcher to examine the Puliafito scandal and how the school handled it.
According to an internal USC memorandum, the review, led by firm partner and former U.S. Atty. Debra Yang, who has represented USC in the past, is in its final stages. The April 24 memo said that Nikias, as part of the review, will compile an "action plan to guide the university going forward." Last week, USC said Yang and her firm have not been involved in how the university dealt with Tyndall.
It remains unclear whether USC will publicly release Yang's report or launch any kind of independent investigation into the Tyndall case.
USC has insisted that administrators didn't know about the most serious allegations against Tyndall until 2016. The university blamed the student health clinic's executive director, who died two years ago, for "independently" handling complaints about Tyndall dating to 2000.
In Puliafito's case, USC said administrators didn't know about the dean's drug use, even though a whistleblower had called Nikias' office to report Puliafito's presence at the scene of the Pasadena overdose. The university said two receptionists who took the call did not pass the information on to their supervisors because they did not find the whistleblower credible.
Experts said such explanations do not absolve university leaders of blame.
"If concerns in fact did not come to the attention of senior administrators, this raises concerns about a communication breakdown," Jecker said. "This is not a justification for conduct, but an explanation of failure. It does nothing to mitigate the failure of leadership to be informed, communicate and act."
The view is shared by some others in the USC community.
More than 700 people have signed an online petition demanding that the USC Board of Trustees fire Nikias.
"President Nikias is allowing this to happen," said the petition's sponsor, Rini Sampath, a 2016 USC graduate who served as student body president. "I hope the rest of the community and Board of Trustees can have a spine and do something."
Sampath said she had been deeply concerned by the Puliafito case but decided she had to act after she heard the allegations about Tyndall.
"When you hear 'meth-smoking med school dean,' there are people who laugh at that — it's so absurd," Sampath said. "But when you read quotes from young girls that this man [mistreated] them, and that's the memory they have to live with for the rest of their lives, that moves you."
Up to now, the Board of Trustees has said little about either scandal. The board consists of 59 voting members and includes noted philanthropists, accomplished alumni, Hollywood insiders and industrial tycoons.
Nikias, who oversaw a major expansion of the university during his eight years as president and has made fundraising a priority, appeared to maintain the support of the trustees through the Puliafito scandal.
But the Tyndall case has already turned into an international controversy.
The case threatens the university's aggressive efforts to recruit talented students from China. Among the allegations co-workers made against Tyndall is that his inappropriate touching and comments were often trained on Chinese and other Asian students with limited English skills.
Last week, the Chinese Consulate issued a statement expressing alarm at the allegations and demanding that USC address them.
A number of USC trustees declined to comment in recent days or did not respond to interview requests about the Tyndall case.
David Bohnett, a trustee and USC graduate, referred a reporter to the school's administrators.
"As with most organizations, and I'm on the board of many, it's standard practice for board members to let the CEO and the organization representatives speak publicly on matters regarding the operations of the institution," Bohnett wrote in an email.
After this week's revelations, USC fired two top supervisors at the clinic where Tyndall worked. But some students, as well as former patients of Tyndall's, say the move isn't enough.
Tiana Lowe, who graduated a week ago Friday, said USC's administration has demonstrated that "the bottom dollar is what matters to them." Nikias and other administrators, she said, should be fired.
"The fish rots from the head down," said Lowe, 22.
Another former student who graduated in 2016 recalled visiting Tyndall for treatment after being sexually assaulted. The woman, who spoke on condition of anonymity, said Tyndall inserted his fingers into her at the start of the pelvic exam.
Having seen only one other gynecologist years earlier, the woman said, she had no idea what was supposed to happen during an exam and was shocked when she read The Times' reports last week.
Any USC administrators who knew of the complaints against Tyndall and did nothing should be removed, she said.
"They need to go, plain and simple," said the woman. "If you're not willing to protect young women, then you have no business in higher education. In today's day and age, treating victims of sexual assault in this way is unacceptable."
Times staff writer Adam Elmahrek contributed to this report.
paul.pringle@latimes.com | Twitter: @PringleLATimes
matt.hamilton@latimes.com | Twitter: @MattHjourno
sarah.parvini@latimes.com | Twitter: @sarahparvini
harriet.ryan@latimes.com | Twitter: @latimesharriet
Sign up for Essential California for news, features and recommendations from the L.A. Times and beyond in your inbox six days a week.
You may occasionally receive promotional content from the Los Angeles Times.