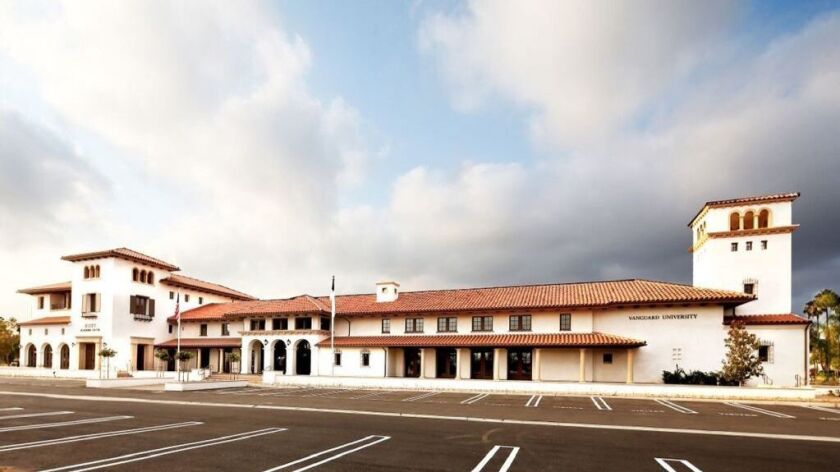 Costa Mesa planning commissioners pressed pause Monday on a proposed master plan for Vanguard University, saying more work is needed to address concerns with how projects in the document could affect nearby homes and parking on or near the campus.
On a 3-0 vote, with Chairman Stephan Andranian absent, commissioners pushed further consideration of the matter to their June 25 meeting.
"I wouldn't feel comfortable at this level saying, 'Yes, let's move forward,' " Commissioner Jeffrey Harlan said. "I think there's a little more work that needs to be done, and given the magnitude of all this, I don't think an additional amount of time would be imprudent."
Commissioner Carla Navarro Woods called it "a beautiful plan" but said "there are some little nuances to be worked out."
The proposed master plan is meant to guide future development of the private Christian university at 55 Fair Drive.
Along with reshaping Vanguard's 38-acre campus, the plan would allow the university to eventually accommodate up to 2,700 students. Current enrollment is about 2,100.
Not all the new enrollees would attend classes at the Costa Mesa campus, as the university foresees growth in its online and offsite satellite programs, said Vanguard President Michael Beals.
"This 30-year plan intends to enhance and support Vanguard's community, including academic, student life and athletics," he said. "We want to establish and maintain an appropriate balance of facilities, open spaces, pedestrian amenities, vehicular access and safe mobility on campus and parking."
While the master plan outlines 12 building projects — including adding a 400-space parking structure along Newport Boulevard and a 300-bed dormitory building, along with replacing the gymnasium and science, technology, engineering, math and kinesiology facilities — commissioners asked the university to look at different options for one concept: the proposed relocation of the university's maintenance and operations facilities to the southwest corner of the campus, off Vanguard Way.
The proposed yard, including a truck loading dock, would replace soccer fields.
The idea drew the ire of several residents in the nearby Monticello and Newport Landing communities, who said it would create an eyesore mere feet from their homes, harm their quality of life and potentially lower their property values.
"I really need to see a concerted effort to figure out an alternative to the maintenance and operations site," said commission Vice Chairman Byron de Arakal. "I don't like it there. I don't like the ingress, egress on a residential street."
Another major concern was parking. Nearby residents said any loss of spots during construction of the master plan projects would lead to more students taking spaces along Vanguard Way, which they said is already a significant problem.
Some suggested the university build the proposed parking structure before any other projects to ensure there are sufficient on-campus spaces.
Beals said that would be financially onerous for the university. But he said Vanguard is willing to explore other options to make sure parking doesn't become an issue.
Among ideas suggested Monday were implementing resident permit parking along Vanguard Way or limiting how many freshmen can drive their cars to the campus.
Delay for St. Mary Armenian Church project
Commissioners also pumped the brakes on a proposal from St. Mary Armenian Church to renovate its property at 148 E. 22nd St.
The postponement came after questions arose about how many people should be allowed to attend events in an assembly hall that would be built as part of the project.
City staff suggested setting the maximum occupancy of the proposed 8,618-square-foot structure at 198, but church officials thought that cap was too low and said they would gather additional information to that effect to present to the commission at a future meeting.
The assembly hall could be used for events such as fellowship gatherings, baptisms, funerals, weddings, fundraisers and cultural activities, according to planning documents.
St. Mary's project also would add 1,374 square feet of classrooms and office space to the church's sanctuary and demolish the 7,634-square-foot Zorayan building onsite and nearby residential structures on church-owned property at 118 and 126 E. 22nd St.
A new landscaped courtyard and plaza, parking lot improvements and exterior renovations to the sanctuary also are proposed.
Applications accepted for empty commission seat
Costa Mesa residents interested in filling a vacant seat on the Planning Commission can apply until the end of this week.
The five-member panel — which reviews certain proposed projects and permit applications and advises the City Council on issues related to development and long-term growth — has been shorthanded since member Isabell Kerins resigned last month, saying she planned to spend more time outside the city.
To apply or for more information, visit costamesaca.gov/apply. Completed applications are due by 5 p.m. Friday.
Twitter @LukeMMoney
---