Laguna Beach's Village Entrance project is hurrying up to wait — construction is wrapping up the first phase and will soon pause for the summer after running for about eight months, mostly on schedule.
The end of the first phase brought the reopening Monday of parking Lot 11 at the corner of Broadway and Forest Avenue. A wide sidewalk lined with newly planted trees now borders the pavers-layered lot.
"It's a pretty sidewalk and new trees," said Leland Stearns, who works across the street at his firm, Stearns Architecture. "We'll see how it works. I think it's fine. I don't think it's any great achievement, but I think it's OK."
But Stearns and other locals who reflected on the project Thursday morning questioned the city's final choice for the Village Entrance design.
"This thing isn't bad, but it's just sort of a lost opportunity," Stearns said, referring to discussions years ago of building a parking structure at the city's gateway where Laguna Canyon Road becomes Broadway at Forest. "But it doesn't preclude doing something more significant in the future. They didn't wreck anything. You can still build a parking structure in the future."
The project to revitalize one of the main entryways to Laguna Beach has been 30 years in the making. The City Council approved an $8.4-million construction bid in August for the Village Entrance project and broke ground in September. The overall cost was estimated at $11.1 million.
The project envisions a safer and more inviting gateway. It is intended to lessen traffic jams downtown with new bridges, access roads and improved circulation at parking areas.
What's been going on with the Village Entrance Project? Watch this time lapse video and you'll be amazed at the progress. https://t.co/91D3cFXBL2

— City of Laguna Beach (@lagunabeachgov) May 9, 2019
Breanna Valdez, who lives in Santa Ana but works in downtown Laguna Beach, had to find on-street metered parking and pay a lot more the past few months while lot spaces in the Village Entrance area were closed for construction, she said.
"I had to get in where I could fit in," she said. "It's real nice to not have to fight for parking when I get here."
But when the summer crowds kick in, Valdez said, she will have to start looking for parking in neighborhoods because there won't be enough spots in the public lots.
Marquee Aleksich and Derek Gracan of Fontana said they always park in the downtown lots when they visit the beach in Laguna. They questioned why the sidewalk was made so wide if it eliminated parking spaces.
The finished Village Entrance project will provide 370 parking spaces — a loss of a total of nine spaces, according to city spokeswoman Cassie Walder.
"It looks good, but the less parking sucks," Aleksich said.
"I can imagine on the weekend it's not great," Gracan added.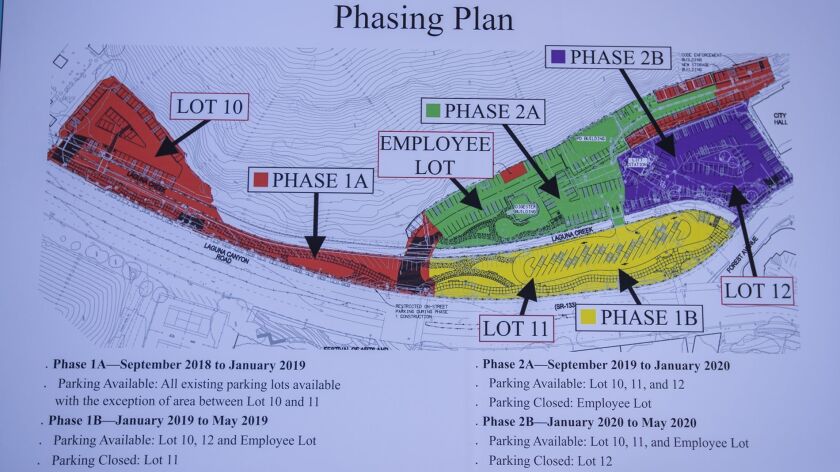 Lot 11 had been closed for construction since January, project director Tom Perez said in a video the city released last week. Work included installing new lighting, landscaping and an updated fence along the Laguna flood channel. Perez said crews also completed laying permeable pavement and installing water quality basins designed to clean the water that empties into storm drains.
Neighboring Lot 10 closed April 29 and will reopen in June after crews widen its vehicle bridge entrance. Street parking along Laguna Canyon Road will be available to compensate for the closure of Lot 10, Perez said.
"The contractors and their crews have really been motivated, pushing very hard to get this project open and ready for the public," Perez said in the video. "It's been great; the team's come together to get it done."
Village Entrance construction is set to resume in September with Phase 2A, which will close the employee lot behind Lot 11 for construction. Phase 2B will reopen the employee lot in January and temporarily close the adjacent Lot 12.
The project is expected to be finished in a year.
---