Report links Newport man charged in Blaze Bernstein's slaying to neo-Nazi group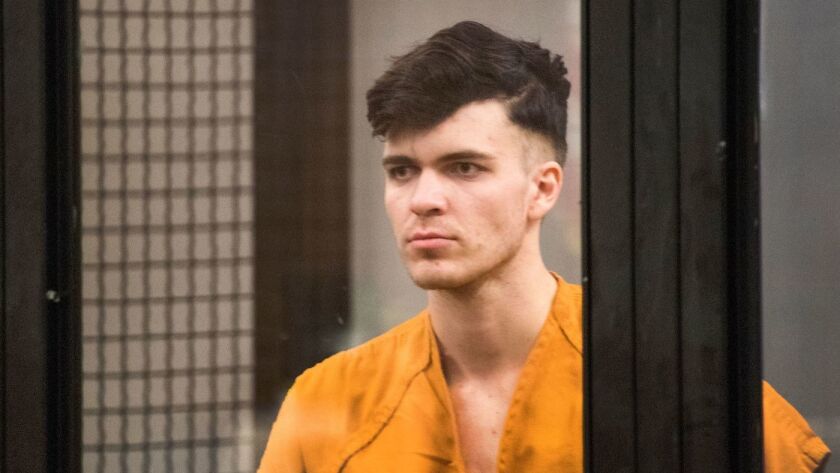 The Newport Beach man charged with murder in the stabbing death of former high school classmate Blaze Bernstein reportedly belonged to a neo-Nazi group.
According to a report published Friday evening by ProPublica, a nonprofit investigative news organization, three people who knew Samuel Woodward said the 20-year-old was part of Atomwaffen Division, an armed fascist organization that aims to overthrow the U.S. government through guerrilla tactics and terrorism.
The group has been linked to four other slayings and a bomb plot in the past eight months, ProPublica said.
The article identified two of its three sources as Woodward's friends and the other as a former member of Atomwaffen Division. The latter told ProPublica that Woodward participated in firearm and combat training in Texas.
Orange County district attorney's office spokeswoman Michelle Van Der Linden said Monday that investigators are reviewing the information in the ProPublica story, but she declined to comment further.
Bernstein's mother, Jeanne Pepper Bernstein, told the Los Angeles Times this month that she had long been afraid for her son's safety.
"I'm concerned about the fact that he is Jewish," she said. "I'm concerned with the fact that he is gay or the fact that he is small."
Authorities have not revealed a motive for the slaying, but according to a 16-page affidavit obtained by the Orange County Register, Woodward told investigators that Blaze Bernstein kissed him on the lips while they were sitting in a parked car Jan. 2. The two previously had attended the Orange County School of the Arts in Santa Ana, though it's unclear whether they were friends there.
According to the affidavit, Woodward told authorities that the kiss was unwanted and that he pushed Bernstein away, adding that he wanted to call him a "faggot."
Orange County District Attorney Tony Rackauckas said this month that the case is still being investigated and that his office hasn't ruled out the possibility that the killing was a hate crime.
Woodward, who attended Corona del Mar High School in his junior and senior years and graduated in 2016, spoke openly on social media about his Catholic faith and conservative political views, including his disdain for former President Obama and for a song by singer Macklemore supporting gay marriage.
One commenter on Woodward's ASKfm page wrote: "You are violent. And it scares me."
Woodward responded: "I wouldn't fight anybody unless they attacked me."
Philip Schwadron, one of Woodward's former teachers at the School of the Arts, told the Daily Pilot this month that he remembered Woodward as "an angsty 15-year-old kid" but "not the kind of person who got in anyone's face or was a bully."
Authorities found Bernstein's body in a shallow grave at Borrego Park in Foothill Ranch a week after his family reported him missing Jan. 3. He had been stabbed more than 20 times.
Bernstein, a pre-med student at the University of Pennsylvania, was visiting his parents in Lake Forest during winter break.
DNA evidence at the scene and in Woodward's car led to the suspect's arrest Jan. 12, authorities said.
Woodward is scheduled to be arraigned Feb. 2.
Daily Pilot staff contributed to this report.
---
UPDATES:
4:05 p.m. Jan. 29: This article was updated with Michelle Van Der Linden's comment.
This article was originally published at 4 a.m. Jan. 28.
---
All the latest on Orange County from Orange County.
Get our free TimesOC newsletter, coming in August.
You may occasionally receive promotional content from the Daily Pilot.