A hike into the eerie shadows of Black Star Canyon with Haunted OC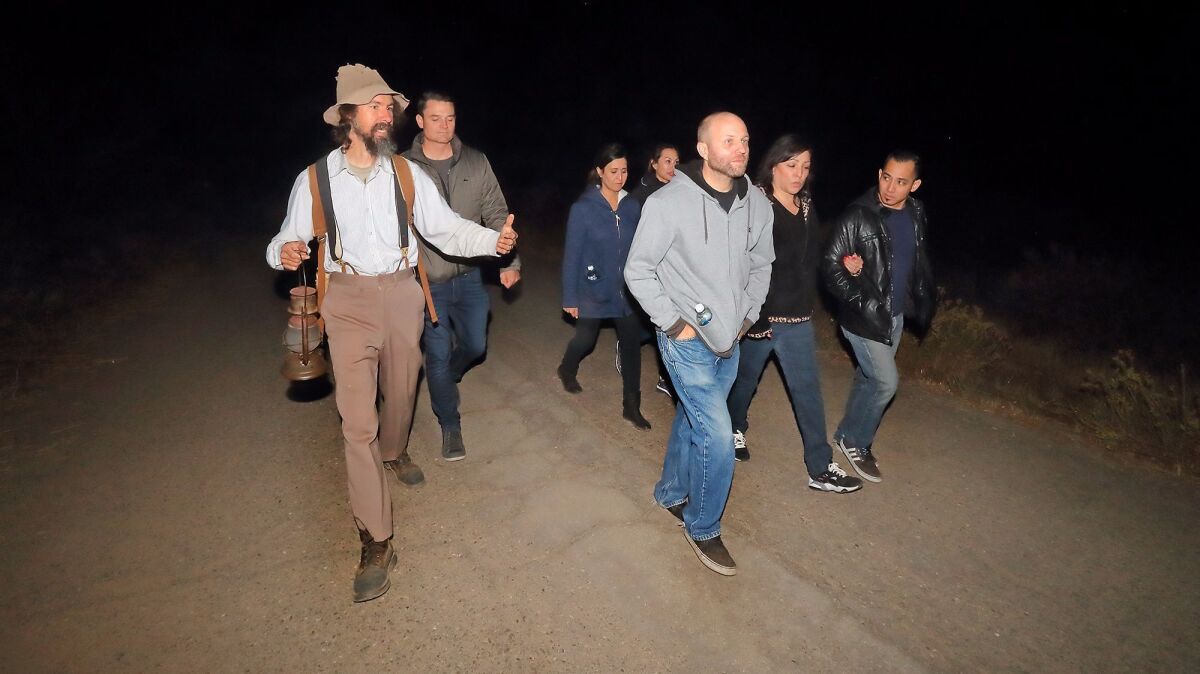 The air smelled of creosote, the rolling hills of Santiago Canyon veiled in ash from the recent Canyon 2 fire.
It made a foreboding precursor to a guided hike into Black Star Canyon, one of Orange County's most renowned "haunts."
It was near dark on Friday the 13th.
Haunted OC, an organization that puts on tours of places rumored to be haunted, organized the trek. It marked the first time the group toured Black Star Canyon, a backcountry setting in the Santa Ana Mountains shrouded in decades of mystery and myth.
A small band gathered on Black Star Canyon Road as naturalist Joel Robinson, in a miner's garb, provided an overview — and cautions.
"Look out for snakes, tarantulas and mountain lions," the tour guide warned.
Also, "ghosts."
Robinson brought a harmonica to his lips and played "Oh! Susanna" as the small group hummed along — a scene that invoked the idyllic prelude to certain disaster in a horror film.
Robinson offered a final, ominous caution that the temperature can suddenly and inexplicably drop in the canyon.
The group wandered into Black Star with nothing but Robinson's spotty lantern to guide their path and decades of ghost stories and speculation to play on their thoughts.
Play they did.
Every rustle in the brush seemed like a mountain lion or ghost.
Robinson said to keep an eye out for owls, whose presence is rumored to portend death. As if on cue, an owl cried out into the night.
The moon appeared to hide behind tall mountains, illuminating their crests. Over the years, some have reported seeing what they describe as the silhouettes of Native American figures traversing the peaks.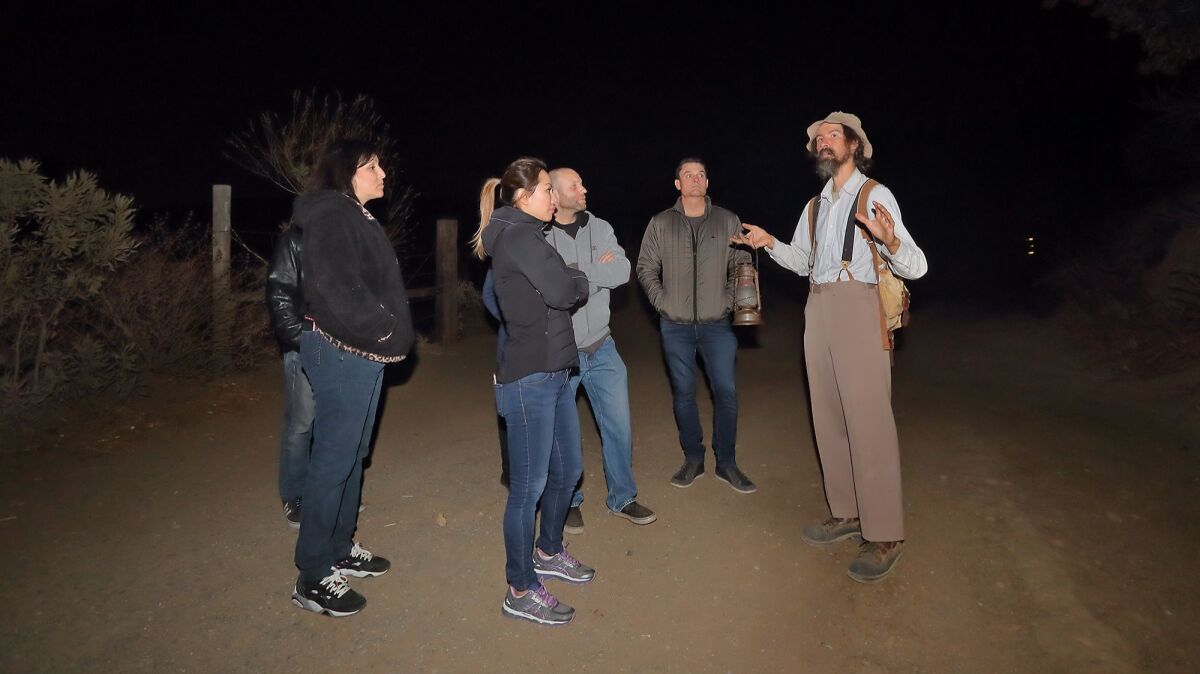 Black Star Canyon has a "haunted" history with which many Orange County residents are familiar. Generations of fear-addled teens have traveled to the canyon to test their resolve, an O.C. coming-of-age tradition.
The canyon bears a troubled heritage, though delineating between fact and myth is difficult.
Robinson said James Gregg was shot to death in 1899 by Thomas and Henry Hungerford in a monetary dispute over horse-grazing issues. The brothers owned the nearby Rancho Escondido, or "Hidden Ranch."
An ancient Mexican ghost story of a woman who murdered her children and committed suicide has been connected to the canyon. Robinson said there are rumors of La Llorona's ghost dressed in a white gown, forever searching for her children.
He said he's heard wailing in the night.
The canyon's most well-known story involves a 19th-century Native American massacre. Although Robinson said the validity of this tale has been called into question, its sinister nature makes it seem all too real when enveloped in the dark of the canyon.
Some have reported phantoms of Spanish conquistadors traversing the ghostly terrains.
"You can imagine the ghost of James Gregg, or those Native Americans, wandering the canyon looking for revenge," Robinson said.
Nothing definitively supernatural happened on the Oct. 13 hike. Yet, nothing has ever been definitive about Black Star Canyon. It remains obscure as ever.
For further history of Black Star Canyon, Robinson recommends the book "Shadows of Old Saddleback" by Terry Stephenson and the published works by county historian Jim Sleeper.
To sign up for a Haunted OC tour, visit www.hauntedoc.com.
Twitter:@benbrazilpilot
ALSO
The 17th Door in Fullerton continues to haunt visitors
Bowers Museum to mark Dia de los Muertos with a festival
A Halloween escape in Laguna: 12 minutes in a coffin — and find a way out
All the latest on Orange County from Orange County.
Get our free TimesOC newsletter.
You may occasionally receive promotional content from the Daily Pilot.