'Of Two Lineages' public artwork to be unveiled at Asian Garden Mall on May 20
A new public art piece marking 40 years of Vietnamese migration to the United States is slated to be unveiled May 20 in front of Westminster's Asian Garden Mall.
Commissioned by the Vietnamese American Cultural Alliance in 2015 as part of its "Courage to Rebuild" project, the artwork is aimed not only at celebrating the history, but also the future of Vietnamese Americans, said executive director Alicia Jao.
"We wanted to see that Vietnamese American culture is really able to survive throughout the generations," Jao said. "We'd love to see it evolve as the second and third generations', and also mixed generations', take on what it means for them."
The sculpture and accompanying plaza, entitled "Of Two Lineages" by Cerritos-based artist James Dinh, is styled as a modern-day retelling of the Vietnamese origin story.
According to Dinh's telling of the legend, a king from the lowlands marries a princess from the highlands, and together they have 100 eggs, which hatch into 100 children. Half follow their father back to the coast, while the other 50 follow their mother into the mountains. These 100 children are said to be the ancestors of the Vietnamese people.
"I thought about this legend that my parents told me when I was very young," said Dinh, whose family fled Vietnam in 1975, days before the fall of Saigon, when he was 7.
"This artwork is based on that idea, but it's a contemporary retelling here in the U.S. The legend is about the founding of a people, so applied here, it's sort of a rebirth."
Dinh explained that "Of Two Lineages" captures dualism in the story.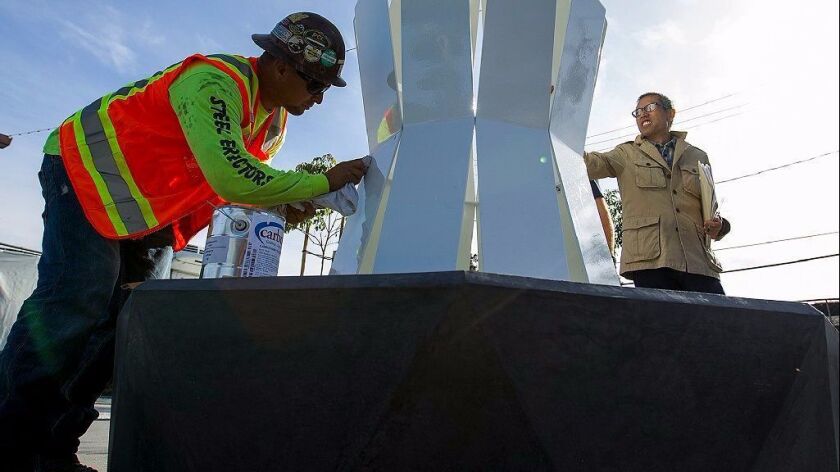 The first component of his piece is a concrete plaza with built-in benches lined with photographs of 100 ordinary Vietnamese Americans — representing the 100 children who became the ancestors of the Vietnamese people.
The photographs showcase the diversity within the community, including male, female, young, old, happy and sad, Dinh said.
The second component is a white cylindrical sculpture standing 17 ½ feet tall. Made of 10 strips of bent steel — creating 100 panels to again represent the 100 children — it was designed to resemble a paper lantern or the trunk of a bamboo tree, Dinh said. A beam of light can be projected from the middle of the cylinder.
"The plaza symbolizes the lowlands — it's more of a tactile, concrete feel," said Dinh, referencing the place in the legend where half of the children follow their father.
"The abstract sculpture represents the highlands — it's light, ephemeral and upward reaching. There's a dialogue between something abstract and something tangible."
But for Dinh, who was previously commissioned by the Los Angeles County Arts Commission to create a public art project for the Hacienda Heights Community Center, "Of Two Lineages" is not just art — it's also practical.
"I've been coming to this mall ever since I was a little kid, so I know how people use it," he said, noting that the Asian Garden Mall serves as a sort of community center in Little Saigon. "There are a lot of older gentlemen who usually lounge around and talk, play cards, drink coffee. I hope they use this space to sit."
"It was always my intention to create a space, rather than an object."
Jao said that one reason Dinh was selected from a large group of international artists was because of the way his artwork can engage younger Vietnamese Americans.
"He has taken things that are iconic to Vietnamese history and what he enjoyed in his childhood to help future generations also enjoy the culture and the history," she said.
"We wanted to think about the 40 years as a joyous time. The fall of Saigon was marked as a tumultuous period in our community's history, but now when we look back on 40-odd years, it's really a celebration of all of our achievements as a community."
CAITLIN YOSHIKO KANDIL is a contributor to Times Community News.
---
All the latest on Orange County from Orange County.
Get our free TimesOC newsletter.
You may occasionally receive promotional content from the Daily Pilot.