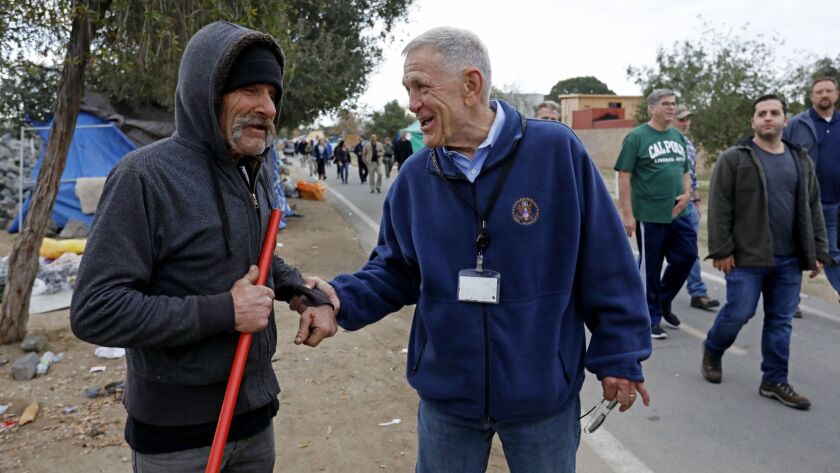 In an effort to reduce homeless deaths, Orange County's health organization for the poor will devote $100 million to specialized medical programs over the next three years.
The CalOptima board of directors voted Thursday to approve $75 million for a homeless response team and coordination with hospitals for homeless patients as well as new, undefined initiatives.
The board had previously approved $25 million for recuperative care services, mobile treatment teams and the Be Well Orange County Regional Mental Health and Wellness Campus set to open next year in Orange.
The vote followed a Tuesday court hearing, when CalOptima leadership appeared before U.S. District Judge David O. Carter, who is overseeing a landmark homeless case that continues to shape the way the county deals with spiraling homelessness. CalOptima is not named in the lawsuit.
At that hearing, Carter adamantly requested that CalOptima reserve $140 million for new homeless initiatives.
Orange County Supervisor Andrew Do, who sits on the CalOptima board, moved to adopt Carter's suggestion, but the motion failed without a second from another board member.
The board stuck with the recommendation of its ad hoc committee, which had previously decided on $100 million, with $60 million going toward new initiatives.
The board did decide, however, to use Carter's deadline, three years, for providing the services. Carter stressed the need to get health programs up and running to limit homeless deaths.
Orange County trust to begin funding affordable housing projects »
There were more than 250 homeless deaths in 2018, a significant increase from the 181 reported in 2015. Carter issued a court filing on Feb. 19 describing the number of homeless deaths in Orange County as a "crisis."
The CalOptima meeting turned emotional as speakers shared how they had been impacted by homelessness.
Assemblywoman Sharon Quirk-Silva (D-Fullerton) spoke through tears about her brother Raymond William Jaso, who was homeless last year when he was struck by a car and died.
"What continues to sadden me is these homeless deaths in Orange County — one of those being my brother," she said.
Resident Angel VanStark spoke about the need for medical care for the homeless.
VanStark said he administered AIDS testing at a homeless encampment at the Santa Ana Civic Center before it was cleared out last year.
"It's not just that they are dying, but they are dying from curable diseases," VanStark said.
After the meeting, Do described the $100 million authorization from the CalOptima board as "inadequate" when compared with Carter's recommendation, calling the undecided new initiatives "puzzling."
Do has previously been critical of the organization, saying it's moving "too slowly" in rolling out its mobile clinical teams.
CalOptima plans to launch mobile medical program for the homeless in April, but Do calls pace too slow »
Michael Schrader, chief executive of CalOptima, said the mobile medical program will start Wednesday.
The organization will partner with five federally-qualified health centers that provide care to anyone, regardless of their health insurance status.
So far, the group has partnered with four: Serve the People, Korean Community Services, Hurtt Family Health Clinic and Central City Community Health Center. AltaMed was originally expected to sign a contract, but had to back out.
Schrader said the organization is searching for a fifth health center. He said the first center will begin administering treatment Wednesday, though he didn't specify which one. Schrader said he expects the other health centers to be up and running in the streets by the end of April.
A 'tremendous undertaking': New 50-bed Costa Mesa homeless shelter officially opens Friday »
Homeless lawsuit update
In a related matter on Tuesday, public officials from throughout Orange County packed into a federal courtroom in Santa Ana for the latest hearing in an ongoing lawsuit that continues to shape the way the county deals with spiraling homelessness.
The hearing had originally been scheduled to address homeless advocates' recently-filed lawsuit against the South County cities of Aliso Viejo, Dana Point, Irvine, San Clemente and San Juan Capistrano.
But because the lawyers who filed the complaint in late February have yet to formally serve those cities, Carter was unable to move forward with the discussion.
Carol Sobel, an attorney representing the homeless advocates, declined to provide a date when Carter asked when she planned to serve the cities.
"If we are going to litigate, let's get this going," Carter said.
The hearing served primarily as a means for representatives from cities to provide updates on progress made since a settlement was signed by Anaheim, Orange and Tustin in November. It was made in response to a lawsuit filed last year by homeless advocates who attempted to stop the removal of a homeless encampment along the Santa Ana River Trail in Anaheim.
City officials discussed a 200-bed homeless shelter in Santa Ana, two Anaheim shelters totaling 325 beds and two 50-bed shelters in Tustin and Costa Mesa. Buena Park and Placentia's commitment to build shelters was also highlighted.
Huntington Beach Mayor Erik Peterson updated Carter on his city's recent decision to pull plans for a 50-bed homeless shelter amid public outcry over the proposed location. Peterson said the city is looking for a new site.
Also at the hearing, Carter focused on a proposed shelter on Yale Street in Santa Ana that could serve up to 600 people. The county plans to relocate about 400 people from the Courtyard shelter in Santa Ana to the new shelter.
The Yale Street shelter has become more crucial after a report released last month by the American Civil Liberties Union railed against what it termed poor conditions at Courtyard.
Carter stressed the urgency of getting the new shelter up and running in September — before winter weather sets in.
"I am afraid of more people dying," Carter said.
Prompted by Carter, Do, whose district includes Santa Ana, said the county could possibly reach the September deadline with a commitment from the city, but Santa Ana Mayor Pro Tem Juan Villegas didn't reciprocate.
"Hopefully we will get this done by September," Carter said.
Turning his attention to the mentally ill homeless population, Carter once again stressed his continued hopes to use the Fairview Developmental Center — a 114-acre property in Costa Mesa — to house and treat the most at-risk homeless. The potential plan has been met by opposition from Costa Mesa residents since it was first proposed.
The center currently serves about 80 patients, who are expected to be moved out by next year. Much of the facility isn't being used. Quirk-Silva, who was at the hearing, has introduced a bill to use the site as a mental health facility.
Carter also questioned the county on what he perceived as failing to go after federal and state funds to help combat homelessness. He gave the example of O.C. only receiving $13 million from the state-run No Place Like Home program while San Diego County accepted $125 million in help from the same agency.
"The board is going after every funding opportunity available," said Lisa Bartlett, who chairs the Board of Supervisors.
Carter warned against bureaucratic divides among cities, the county and CalOptima.
"Stop this bickering," Carter said. "People are losing lives because of it."
For more news and features about Orange County, visit TimesOC.com or follow us on Twitter @timesocofficial.
---