Orange County and South O.C. cities sued for not stepping up to house the homeless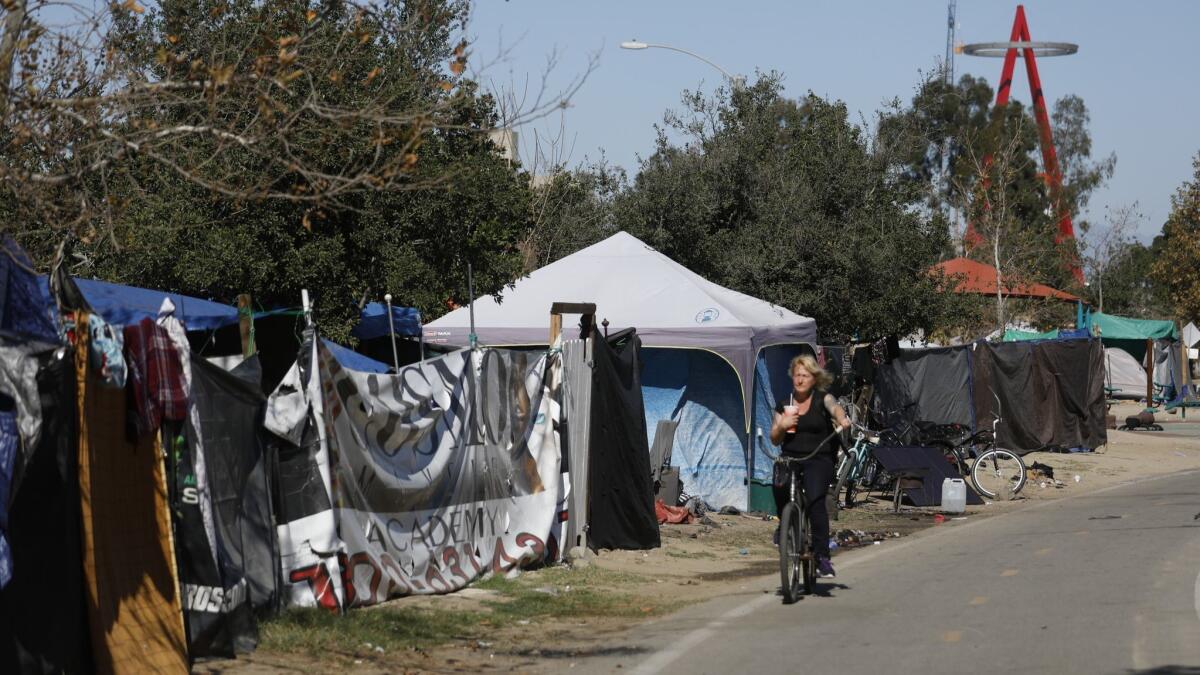 Advocates for the homeless this week sued five Orange County cities and the county for failing to provide more housing for people living on the streets.
Officials at the Orange County Catholic Worker and the Elder Law and Disability Rights Center, nonprofits supporting the homeless, singled out the South Orange County cities of Aliso Viejo, Dana Point, Irvine, San Clemente and San Juan Capistrano in a lawsuit filed Wednesday on behalf of three homeless individuals. Other plaintiffs include Housing Is a Human Right Orange County and the Emergency Shelter Coalition.
Litigation is needed "for results," said Carol Sobel, an attorney representing the plaintiffs.
"Clearly, these South County cities had a chance to act — but they refused," she said. "They must help to absorb the population of the homeless spreading everywhere in O.C. and expand their services. Many of them say, 'Oh no, we don't have homeless people.' Or they say, 'There is no place in our city for a shelter.' Yet they don't give us another location that is a legitimate place where people can get help."
The lawsuit is the latest in a series of recent legal tussles aimed at making the county shoulder more of the burden of the statewide homelessness crisis. Last year, the removal of a tent city from the riverbed near Angel Stadium in Anaheim sparked a federal lawsuit against the cities of Anaheim, Santa Ana and Tustin.
But angry demonstrations by homeowners in Irvine dissuaded the Orange County Board of Supervisors from trying to open a temporary shelter there, and residents of two other upscale communities, Huntington Beach and Laguna Niguel, also have mounted fierce opposition to planned shelters.
The new lawsuit identifies the county as having one of the largest homeless populations in the state, with nearly half of that total lacking even temporary shelter. In 2017, data from a Point in Time count, a federally mandated survey conducted every two years, documented 4,792 homeless people in Orange County. Though officials believe it was an undercount, that's nearly an 8% jump compared with 2015.
"The needs are exploding," Sobel said. "Some of these cities have no problem building high-end developments, but when it comes to a shelter, the answer is always 'It's not appropriate around here.' Well, then, where?"
Last year, South County leaders initially suggested two locations for new shelters: a former elementary school in unincorporated Silverado and an old juvenile detention center in the Cleveland National Forest — both far from potential employers, markets, doctors and treatment centers, according to advocates.
"They amounted to a lockdown facility, and what we're seeking is not to hide people or isolate them. Under the law, the county and cities are obligated to provide health and housing services for the homeless, working with them to integrate them back into society," Sobel added.
City officials were hesitant to offer solutions Thursday.
Jacob Green, an assistant city manager in San Juan Capistrano, said that, "while the city is aware of the lawsuit filed by Orange County Catholic Worker and other parties against multiple defendants, we have not yet been served with the lawsuit. We anticipate providing a comment at a later time pending a full review of the allegations."
Irvine spokesman Craig Reem declined comment on pending litigation.
U.S. District Judge David O. Carter, presiding over the 2018 lawsuit against the county and three north O.C. cities, demanded that the riverbed evictions be handled "with compassion." He and plaintiff attorneys worked with the multiple parties involved and succeeded in pushing county officials to offer motel vouchers to more than 700 people who were removed from the encampment early last year. Some those displaced received temporary housing in Anaheim and Santa Ana last summer. Before year's end and during 2019, new shelters opened or will open in Anaheim, Costa Mesa, Santa Ana and Tustin in response to the civil rights case.
Advocates and defendants were close to a settlement of the civil rights case in October. But a vote to approve it was delayed when the Board of Supervisors placed a condition on the plaintiffs, requiring them to "bring in" the South O.C. cities via another lawsuit, in order to force "their hand in housing," according to lawyers.
"We're responding to that condition now," Sobel said.
Supporters said that aid is urgent. As temperatures have dipped and heavy rains have fallen across Southern California this winter, the homeless have been more imperiled. Many have been forced to migrate to other communities with homeless problems of their own.
"We have shown leadership and now it's time for other cities to step up, and especially in South County," said Michele Martinez, a former Santa Ana councilwoman. She cited the increasing numbers of homeless deaths, which rose between 2010 and 2017, with at least one homeless person dying in nearly all of Orange County's 28 cities.
"All we are asking for is for everyone to do their fair share," Martinez said. "How can you go against that?"
Ben Brazil, a staff writer for Times OC, contributed to this report.
Twitter: @newsterrier
Sign up for Essential California for news, features and recommendations from the L.A. Times and beyond in your inbox six days a week.
You may occasionally receive promotional content from the Los Angeles Times.