A 'tremendous undertaking': New 50-bed Costa Mesa homeless shelter officially opens Friday
In January, the Costa Mesa City Council publicly endorsed the idea of developing a temporary homeless shelter at a Westside church.
On Wednesday night — less than three months after that unanimous vote — eight people had a roof over their heads.
Though it began service Wednesday, city officials will tie the proverbial bow on the 50-bed shelter at Lighthouse Church of the Nazarene on Friday, the official opening day for a space they say will not only be a safe and warm place to sleep but also a service center for clients and an additional source of security for the community.
Developing such a facility in a time frame more typical of a kitchen remodel than a significant government project took around-the-clock work from every corner of City Hall.
"It's been a tremendous, tremendous, tremendous undertaking," said Parks and Community Services Director Justin Martin, who has been leading the shelter effort.
"Literally there's been 20 to 30 city staff here for 16 hours a day to make this happen," he said during a tour of the shelter with the Daily Pilot on Wednesday.
Just as vital, however, has been buy-in from civic leaders and residents at large.
"The reason we were able to move forward so efficiently is because we had the political will, with the full council working together," Mayor Katrina Foley said Thursday. "We had leadership willing to take the risk and we had the community engagement and transparency about the process that allowed the community to embrace this. We couldn't have done it without all those components."
Some 600 volunteers have signed up to help, she said.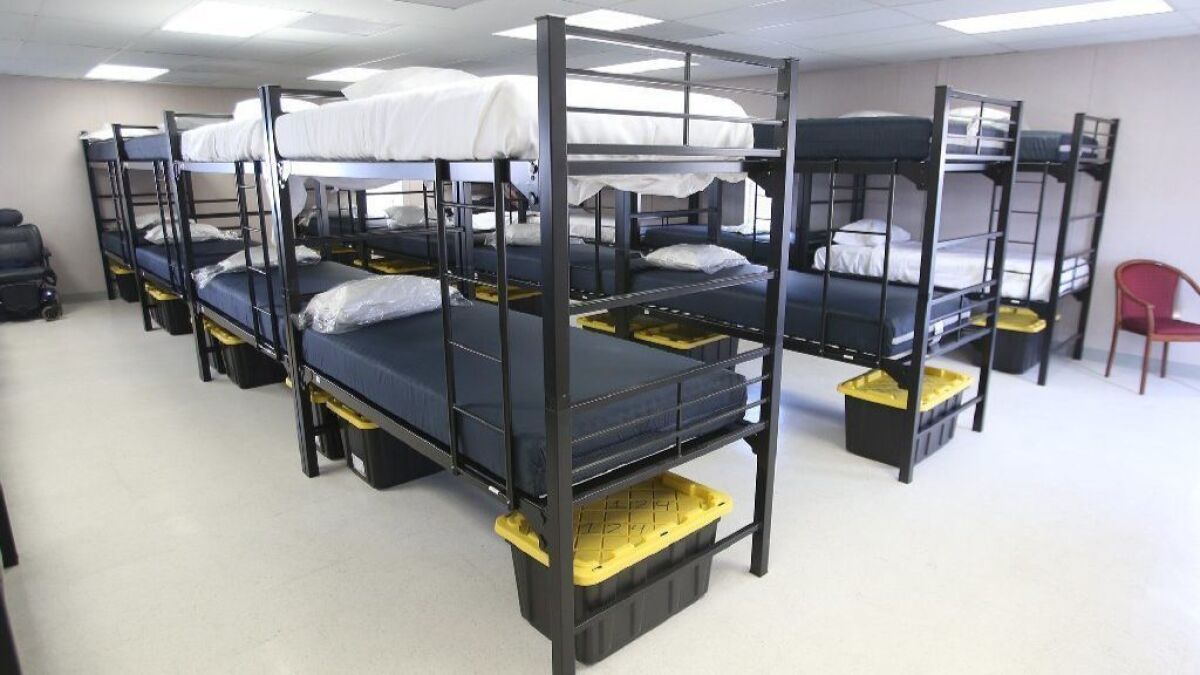 The "bridge shelter" — as the city calls it — consists of a modular trailer containing the 50 beds, as well as portable restrooms and showers in the parking lot of Lighthouse Church at 1885 Anaheim Ave.
Leased space in the church building includes offices for staff from the city and Mercy House Living Centers — the Santa Ana-based nonprofit retained to run the shelter — as well as a multipurpose room where clients will be able to congregate, eat, read and meet with service providers.
"The hope is to be able to keep them here and move them directly from here to housing as quickly as possible," said Patti Long, Mercy House's associate director.
Costa Mesa's shelter is modeled after Bridges at Kraemer Place in Anaheim, another facility Mercy House operates. It's reservation-based, with no walk-ups allowed, and Mercy House is responsible for shuttling clients to and from the facility.
Martin said that model likely will take time to get used to. In recent years, homeless people have been able to walk into Lighthouse for a meal or to access other resources, such as the inclement-weather shelter and check-in center that operated there.
"People have been used to walking in and out of here for years, so we do expect that there's going to be a learning curve and we expect that to be a couple of weeks," Martin said.
Lighthouse pastor Phil Eyskens said he believes the relationship with the city will have a widespread positive effect.
"The city and the church and the community have to look at homelessness as an entire community challenge, and the city has resources that the church doesn't have," he said. "The church can provide a spiritual resource, a spiritual encouragement, spiritual guidance, but the city has the housing resources, the social service resources. With this arrangement, I really believe that we have a great opportunity … to effectively change the pattern in some of these people's lives."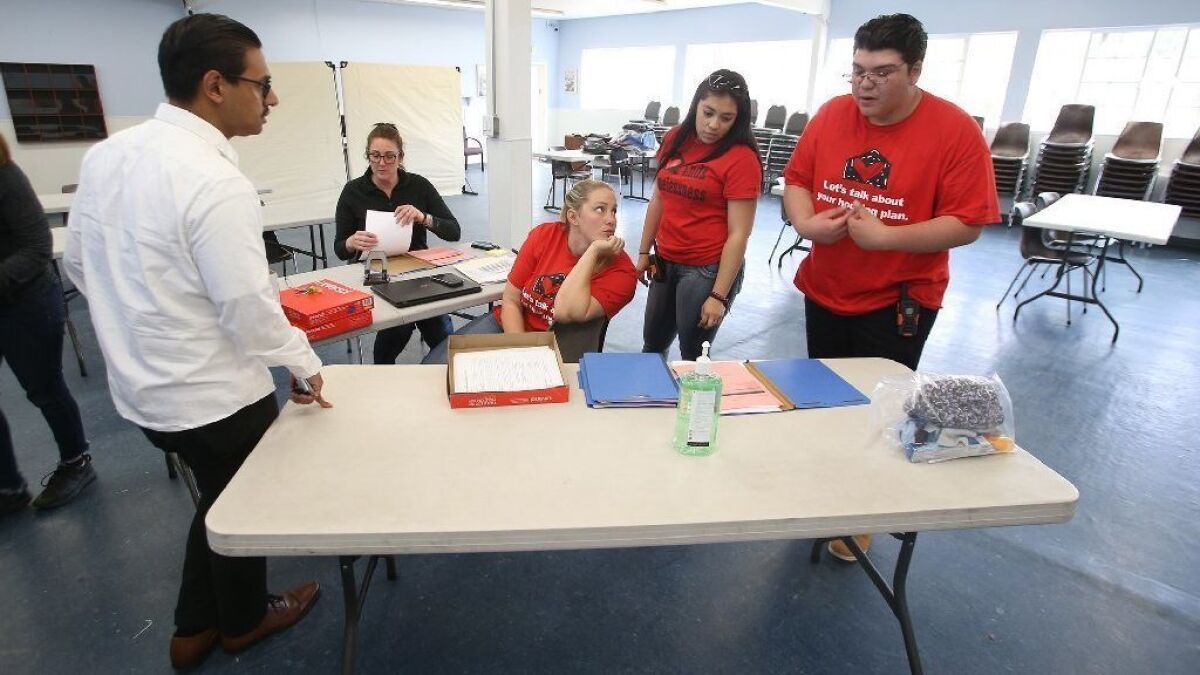 Those arriving at the shelter will be provided storage for their belongings, assigned a bed, given fresh clothes and the chance to take a shower. The facility also includes bike racks and accommodations for pets.
"We've seen some clients who maybe hadn't showered for weeks or months, and to see how their personality changed after they took a shower, got a hot meal, got to sit down with a roof over their head — that's an impactful thing," Martin said.
The shelter's 50 beds — 36 for men and 14 for women — are in the same trailer and separated by a partition. The divider is mobile, so the space can be easily reconfigured based on demand, according to Martin.
At least 50 people with Costa Mesa ties have already shown interest in entering the shelter, he said.
To prepare the property to serve as a shelter, the city installed additional fencing, lighting and cameras. Security personnel will be onsite 24 hours a day.
Costa Mesa officials have said opening the shelter also will enable the city to resume enforcing local anti-camping laws. Those effectively have been on hold for about a year because of a federal lawsuit filed in January 2018 on behalf of homeless people cleared from a former encampment along the Santa Ana River and a subsequent ruling from the U.S. 9th Circuit Court of Appeals that it is unconstitutional to prosecute homeless people for sleeping on public property when they don't have access to shelter.
The city settled the riverbed lawsuit last month.
The plan now is for the Lighthouse shelter to operate for roughly a year before moving to a longer-term location somewhere else in the city.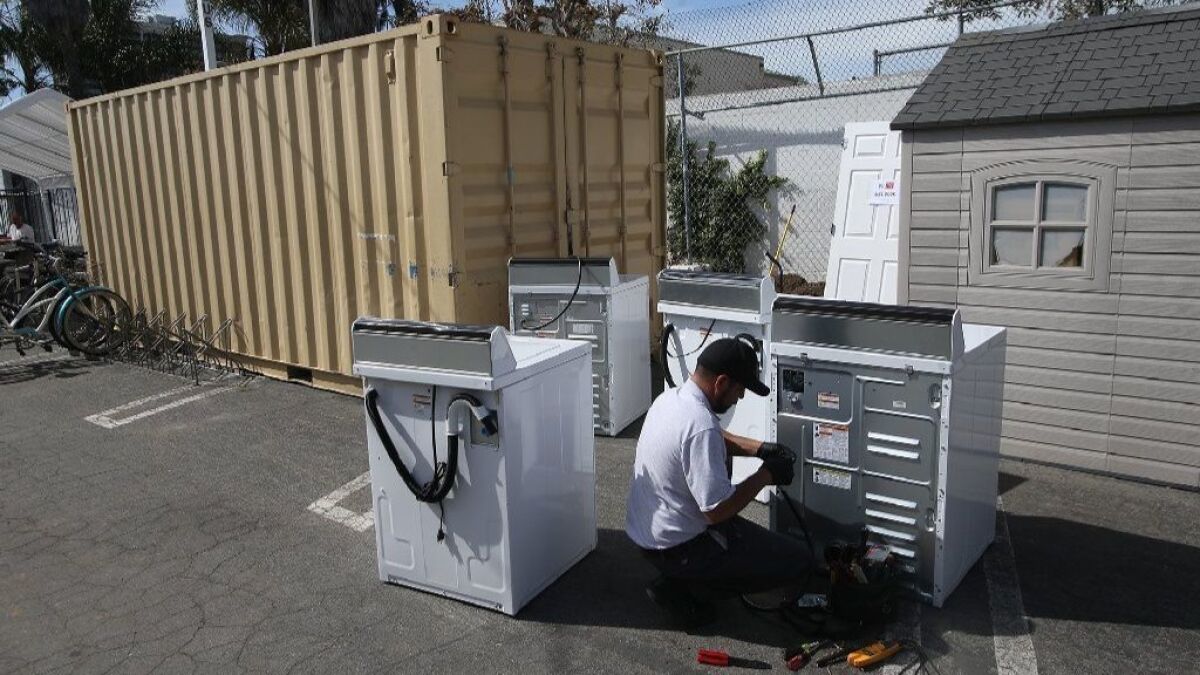 With the official opening fast approaching, the shelter site was bustling Wednesday as workers put the finishing touches on the space. Amid all the commotion, a few of the shelter's first clients relaxed in the multipurpose room. Nearby was a whiteboard with a simple written message: "Welcome to the Costa Mesa Bridge Shelter."
From Martin's perspective, perhaps the most rewarding part of the effort has been seeing city staff from across departments come together to accomplish something so ambitious.
"It's been a lot of very rewarding, hard work," he said.
Foley said the shelter effort proves that "if there's a will, there's a way."
"It was definitely long overdue in our community," she said. "We have this opportunity to not only clean up and restore an area of our community ... but also to save people's lives."
Councilwoman Arlis Reynolds — who represents District 5, where the shelter is located — said she too believes the facility will be a key component of the city's efforts to improve the wider Westside and that she's "very optimistic for the path forward."
"We hope and we expect that the shelter opening up provides immediate relief for that neighborhood, both with visual impacts on the buildings and a lot of street cleanup work and, of course, addressing the issue of residents feeling unsafe in their neighborhoods," she said.
All the latest on Orange County from Orange County.
Get our free TimesOC newsletter.
You may occasionally receive promotional content from the Daily Pilot.