For refugees coming to Southern California, this Welcome Guidebook is a link to a new life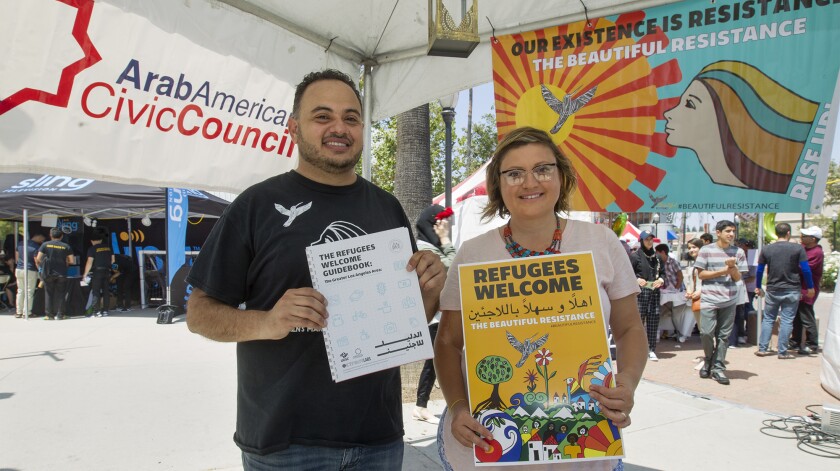 When Monica Curca's family arrived in Garden Grove as refugees from Romania in the early 1980s, one of the best forms of help they received was written on a piece of paper.
The sheet, given to them by a neighbor, listed the important places they would need to know about in order to make a new life in the neighborhood: the post office, social security office, religious congregations and community organizations.
"It was all different kinds of resources and addresses that you wouldn't know about unless you looked at the Yellow Pages," Curca said. "But we didn't know what the Yellow Pages were. We didn't speak a lot of English, so all this hyper-local knowledge that you would just get from being part of a community is taken for granted."
"[My parents] felt like it was one of their most precious gifts."
More than 30 years later, that piece of paper inspired Curca, founder of the Orange County-based social enterprise group Activate Labs, to develop a similar resource for other refugees throughout the region.
Alongside Rashad al-Dabbagh — founder and executive director of the Anaheim-based Arab American Civic Council who developed the Little Arabia District map, a brochure of Arab and Middle Eastern restaurants, hookah lounges and businesses on and around Brookhurst Street — they created the Refugees Welcome Guidebook, a multi-platform, hyper-local, Arabic and English manual written for refugees in Southern California.
The Guidebook — which Curca said is "kind of like a Lonely Planet guide" for Syrian and Iraqi refugees, in particular — fills an information gap for refugees new to the area.
The 2,500 refugees who are resettled in Southern California each year don't receive much instruction on how to rebuild their lives, Curca said, and what they do get is piecemeal from caseworkers, volunteers or the government.
"There's just no information about anything," she said.
By meeting with groups of refugees and community members from Los Angeles, Orange, Riverside and San Bernardino counties, and also by talking to refugee caseworkers and organizations, Curca and al-Dabbagh crowd-sourced local listings for the Guidebook.
Divided into three sections, the Guidebook first lists information on the most immediate concerns refugees have upon arriving to the region, such as housing, Cal Fresh food assistance, immigration support, English classes, social security offices and school districts.
The second section includes maps of the Greater Los Angeles area, plus listings of transportation methods, low-cost events and activities, parks, museums and grocery stores selling meat that is halal, or slaughtered according to Islamic tradition.
The third section, "resilient communities," addresses taboo topics, such as suicide, drug and alcohol abuse, domestic violence and how to get help. It also explains certain aspects of American culture, how to start a business or become civically engaged, as well as what to expect from culture shock.
Officially released in June, 200 copies of the Guidebook have been printed so far, and more than half distributed at events such as Anaheim's Eid Festival and World Refugee Day in Los Angeles. Curca and al-Dabbagh also are working to make the Guidebook accessible online and through a mobile app.
In the future, they want to see the Guidebook translated into other languages, or written for other locations with high numbers of refugees, such as San Diego or North Carolina.
Curca, who said her father still remembers that piece of paper he received more than 30 years ago, said she hopes the Guidebook will be just as helpful for refugees today.
"It was a small gesture, but it really meant a lot to my parents."
CAITLIN YOSHIKO KANDIL is a contributor to Times Community News.
---
All the latest on Orange County from Orange County.
Get our free TimesOC newsletter.
You may occasionally receive promotional content from the Daily Pilot.