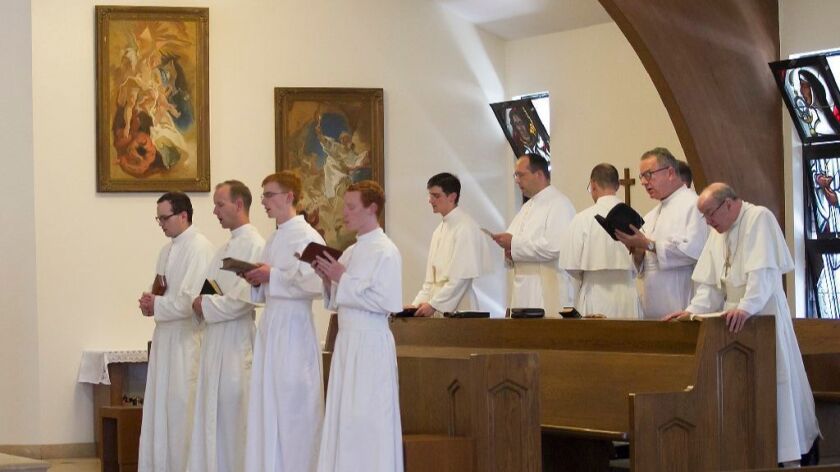 To the outsider, the most striking feature of St. Michael's Abbey, a Catholic monastery tucked away off El Toro Road in Silverado, is the quiet.
Perched in the hills near Whiting Ranch Wilderness Park, there is little noise at St. Michael's — no traffic, no music, no television, no cell phones and scarce talking.
For the priests of St. Michael's, freedom from the constant chatter and stimulation of modern-day life is the only way to truly know oneself and God. And it is in part this spiritual silence, they say, that is drawing a new generation of men, raised on smartphones and the Internet, to embrace centuries-old religious tradition.
"A lot of young people have realized that, out there in the world today, there are so many things competing for the attention of their heart and mind," said Father Norbert Wood, a Norbertine priest who has been at St. Michael's Abbey since 1975.
"Video games, media, cell phones — it just seems like we never stop being bombarded or bombarding others. And many young people, I think, start to feel that there's something futile about that. When they come to visit a monastery like this, they suddenly realize that there is life after non-stop technology — that it's a deeper quality of life. There's peace."
St. Michael's Abbey, founded in 1961 by seven Hungarian refugee priests, is part of the Norbertine Order, a 900-year-old subset of Catholicism that encourages priests to live communally and to maintain much of the Catholic tradition — such as Gregorian chanting, praying seven times a day, fasting, and wearing the flowing cream-colored gowns known as habits — that was set aside during the 1960s modernization of the Church.
The Norbertine fathers rise around 5 o'clock to prepare for morning prayer at 5:45 a.m.
Breakfast is eaten in total silence. A community mass is held at 7 o'clock, followed by a mid-morning prayer at 8:40 a.m. and a mid-day prayer at noon.
Lunch is eaten in "silence with reading"— so instead of talking, they listen to an audiobook.In May, it was "The Power of Silence: Against the Dictatorship of Noise," by Cardinal Robert Sarah.
In between prayers, they read, go for walks, or perform work such as gardening to keep up the property. They also teach in their seminary and high school, and serve in hospitals, jails and more than 30 parishes around Orange County.
The mid-afternoon prayer is held at 4:20 p.m., followed by a community gathering to recite the Rosary, a series of prayers including the Hail Mary, Our Father and Glory Be.
At 5 o'clock is the evening prayer, then dinner with conversation. At 8 o'clock is the Holy Hour, a time of internal reflection, and at 8:05 p.m. is the final prayer of the day, followed by a period of silent meditation until 9:05 p.m.
They then go to sleep at 9:20 p.m.
"It's getting in touch with God, but also getting in better touch with oneself," said Wood. "Where am I on my journey? Very seldom do we stop and take stock of where we are and silence helps us do that."
"Out there, we're distracting ourselves from the deeper questions about me," he said. "And when we're here, we have to start facing them, which is a lifelong journey. It's not always easy — it's sometimes painful."
Bishop Kevin Vann of the Roman Catholic Diocese of Orange makes regular trips to St. Michael's, for a day of prayer and reflection, said the diocese's vicar general Steve Sallot.
"Silence is one thing, but contemplative silence is really what they have to offer," Sallot said of the abbey. "They do that with singularity, and they do that together as a community. That's the great gift they can offer modern society."
In 1975, St. Michael's only had nine priests and a handful of seminarians. Today, the abbey has more than 50 priests and 34 seminarians, Wood said.
Peter Adrian, a 30-year-old St. Michael's seminarian from Ontario, Canada, said it was the silence and communal life that drew him to the monastery.
"It's something that you don't find anywhere else, really in this day and age," he said. "You have to move all the way from Canada to Orange County in order to find something as rare as this."
"Once you've adapted your ear and your heart to the silence, you almost crave more of it," Adrian said. "You're always looking for, 'When's the next time I'm going to get just a half an hour of pure silence?' "
While for visitors, the quiet of St. Michael's can be remarkable, for those living inside the abbey, it's a different story.
In recent decades Silverado has transformed from a remote town filled with orange groves to a bustling site of sprawling housing developments. Now, the Norbertine fathers say, the sounds of modern life — traffic, new residents in the area — are creeping into their sacred space.
To reclaim silence and seclusion — and also to create more space for its growing community of priests, students and visitors — St. Michael's recently purchased a 300-acre property in Silverado Canyon that will become home to a new abbey.
"St. Norbert, yes, he founded an order to serve the people, but he always preferred that abbeys would be in a somewhat isolated place so that when priests come back from their work, they can read in silence and not be surrounded by the noise," said Wood.
"You hear people say, 'This is so quiet.' But for us, it's gotten very hectic and chaotic," Wood said.
CAITLIN YOSHIKO KANDIL is a contributor to Times Community News.
---