Foreign-born students traverse borders and obstacles before graduating from UC Irvine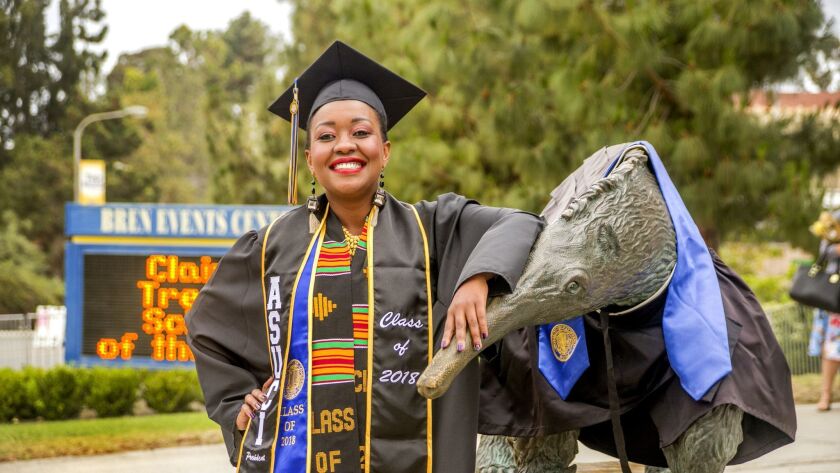 Lydia Natoolo has wanted to become a doctor since witnessing several brothers and sisters die from complications related to AIDS while growing up in Uganda.
With no treatment, and a two-hour walk to the nearest clinic, many suffered through their illness without adequate medical care.
"I saw them go from normal human beings to literally becoming dry bones," Natoolo said. "Watching my siblings get this disease that chewed away their bodies, it was so painful to watch that I knew I had to stay in school and become a doctor."
Natoolo, 35, got one step closer June 17, when she earned a bachelor's degree in biological sciences from UC Irvine. The youngest of 28 children (her father had five wives and polygamy is legal in Uganda), Natoolo is the first of her siblings to complete college.
Natoolo spent much of her life in poverty.
While her father was a respected, Oxford University-educated lawyer, he focused on pro bono work. The family didn't have a car, running water or electricity. They ate one meal a day.
Because her father valued education, Natoolo and her siblings woke around 4 a.m. to walk several miles to a city school.
Natoolo said Ugandan society encourages women to become mothers, which results in few receiving college degrees. Natoolo credits her fealty to academics to her father.
With nothing but a suitcase carrying a few articles of clothing, Natoolo came to the United States at age 18 in 1999.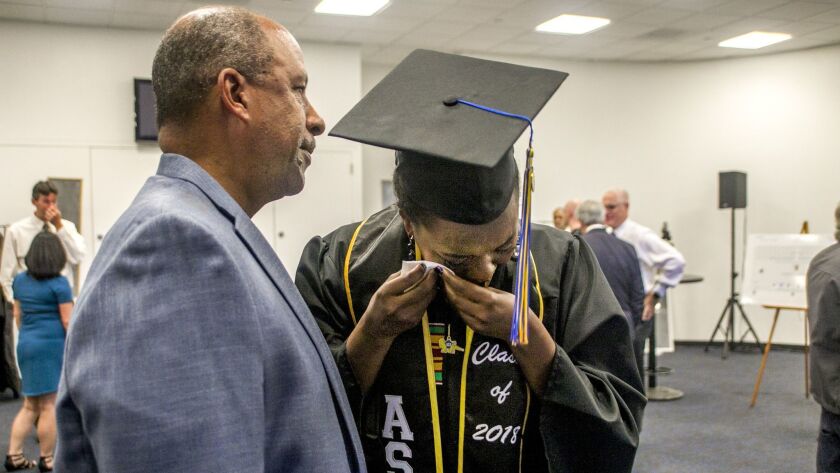 She attended a college in Boston with her sister and devoted any free time to making ends meet as a nursing assistant. She sent money home to help put nieces and nephews through school.
Seemingly insurmountable debt forced Natoolo to exit college before finishing.
In 2009, she enrolled in Los Angeles City College, earning money caring for a schizophrenic girl. For a time, she lived in her car.
"Most of us think when you come to America, you won't suffer," Natoolo said. "We think everybody lives the Hollywood life. I thought I had run away from poverty, but then I witnessed it in a different way as an immigrant.
"But waking up to class every day was my saving grace. And I realized while taking care of this girl that my struggles of being homeless was less than many."
Natoolo found her way to Saddleback College with an eye on transferring to a four-year university. However, she couldn't apply without transcripts from the Boston college — she declined to identify it — that had frozen her transcripts over a $21,000 debt.
Word of mouth about Natoolo's predicament spread at the Mission Viejo community college. A man, who wishes to remain anonymous, offered help.
"He told me, 'Give me the name of the university and go send in your applications because I am going to take care of your debt,'" Natoolo said. "I just burst out and cried. For me to see a stranger open up their arms, it was a blessing. I will never forget him."
With her UCI degree now in hand, Natoolo plans to spend the next year conducting lab research and then will enroll in medical school. She will also work on growing a nonprofit she started in 2015, Love A Community, which raised more than $50,000 to help support Atutur Hospital in Uganda's poorest district.
Natoolo hopes that she can one day return to her homeland and build a children's hospital.
Pedro Castillo's journey, from being born in Guatemala to earning his bachelor's in mechanical and aerospace engineering from UCI, also serves as a window into the struggles of first-generation college graduates.
Castillo, 21, of Irvine and his four siblings grew up in a violent and economically-disadvantaged area. In one instance, a gun was pulled on his brother. But Castillo's father, Jorge, a construction worker, made sure his family always had food and shelter.
Feeling that the general corruption and violence that pervaded the city would stifle their kids' futures, Castillo's parents decided to come to the U.S. in 2010, moving in with family in Lancaster. Jorge Castillo worked a minimum wage job.
"I didn't understand at the time why I had to leave my home and friends, but my parents knew what America had to offer," Castillo said. "They saw the potential in me and my siblings, and that if we had the right resources, we could take advantage of them."
Castillo joins a class of UCI undergraduates rich with immigrant stories. Half are first-generation college students — a feat the school accomplished last year for the first time. The university will grant 4,305 bachelor's degrees this year to students whose parents did not attend college.
Tom Vasich, UCI director of media relations, said the next-generation graduation rate is atypical for universities of UCI's caliber — meaning the 62 top research schools in the country.
The college recruits first-generation students through partnerships and outreach efforts, including one with the Santa Ana Unified School District.
While attending Antelope Valley High School, Castillo traveled abroad to Germany, where he toured military bases and discovered his calling: aerospace technology.
He's set to start a job with Lockheed Martin in July.
"I think that coming from a different country, it made me realize how important it is that we take every opportunity that we have," Castillo said. "I have seen a country and been in an environment where opportunities are limited. Those experiences have given me a drive to constantly learn and take advantage of the few opportunities you get."
Twitter:@benbrazilpilot
---
All the latest on Orange County from Orange County.
Get our free TimesOC newsletter.
You may occasionally receive promotional content from the Daily Pilot.