UC Irvine Law touts pro bono work and academic achievement as 10th anniversary celebrations begin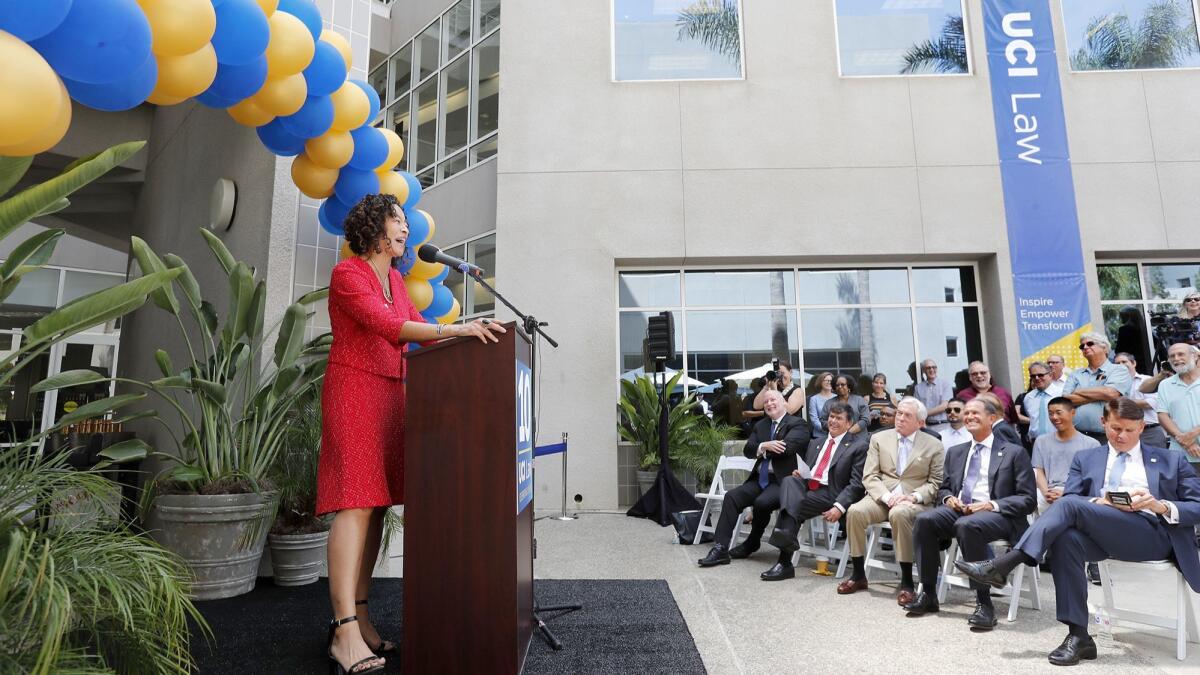 Less than a decade ago, 60 students began classes at California's first new public law school in more than 40 years.
They knew the uncertainties associated with enrolling in UC Irvine Law School in its infancy, but recognized opportunities to shape it by fostering a tradition of pro bono work, penning the first law review and founding groups aimed at improving minority representation in the profession.
"We, in many ways, were risk-takers, but it was a risk worth taking," said Christina Zabat-Fran, a graduate of the first class in 2012.
UCI began a yearlong celebration of the law school's 10th anniversary Monday. Students and faculty gathered in the courtyard to pay respects to trailblazers and welcome incoming students. Current enrollment stands well above that inaugural class at about 520.
"We are not satisfied with the status quo," Dean L. Song Richardson said at the ceremony. "We want to build the law school all other law schools will follow."
Current students Marlon Holley, Erik Jimenez-Rodriguez and James Kim cut the ribbon, ushering in the first day of instruction.
"In the early 2000s, the law school had about as much a chance of success of working out as a mule winning the Kentucky Derby," recalled Newport Beach attorney Mark Robinson, who helped establish it. "But it worked out."
Law school discussions were underway when UCI opened in 1965, but decades would pass before the idea took hold. The breakthrough came when the University of California Board of Regents gave approval in November 2006. A $20 million gift from Irvine Co. Chairman Donald Bren about a year later helped attract renowned faculty dubbed the "dream team."
In 2007, 1st Amendment scholar Erwin Chemerinsky, who was then at Duke University and USC before that, became founding dean.
Classes began in August 2009 and the fledgling school quickly — by academic standards — won provisional American Bar Assn. accreditation in 2011 and then full accreditation in 2014.
"I am very proud that the decision by the ABA is at the earliest possible time under the ABA rules," Chemerinsky said at the time.
The first graduating class achieved a rare 90% passage rate on the California Bar Exam — second only to Stanford University at the time.
Chemerinsky left in 2017 to become dean of UC Berkeley's law school, Boalt Hall.
Zabat-Fran recalled early students playing an integral role in founding the UC Irvine Law Review.
"We picked the fonts, the weight of the paper, the design of the cover," Zabat-Fran said. "We decided how we were going to organize and run ourselves."
They also formed the student government and campus groups built around civil rights, assisting the poor in need of counsel, addressing the under-representation of lawyers of color and other causes.
Brooke Weitzman, a 2014 graduate, helped develop the Global Justice Summit, a two-day simulation where students can negotiate a resolution and pen a treaty to a mock conflict.
Weitzman said the program has become known for community service. UCI Law ranked third in per student community service hours, which includes clinical and pro bono programs, according to a national legal publication.
The required clinical program provides students practical experience working with clients. Students notched several wins for the under-served, including helping veterans receive wrongfully withheld benefits and aiding low-income and elderly mobile home residents in San Juan Capistrano buy their park.
Although the pro bono program isn't mandatory, about 90% of students have completed more than 80,000 hours since its inception providing legal services to clients who couldbn't otherwise afford it.
"The law school imparts that mindset of being a good steward and recognizing the important role attorneys play in the community," Zabat-Fran said. "It's the culture of community at UCI Law."
Weitzman said she chose UCI because its community-driven mission aligned with her values. She completed about 400 hours of pro bono work as a student and built relationships with non-profit organizations that later helped with her career.
Following graduation, Weitzman co-founded the Santa Ana-based Elder Law and Disability Rights Center, which is involved in a federal lawsuit aimed at protecting the homeless.
"It's not typical for law schools to have that kind of a relationship with the community," Weitzman said. "I wouldn't have been able to do these things if I went to a different school."
The law school has become one of the most renowned in the country. It's ranked No. 21 out of 194 by U.S. News & World Report.
Twitter:@benbrazilpilot
All the latest on Orange County from Orange County.
Get our free TimesOC newsletter.
You may occasionally receive promotional content from the Daily Pilot.