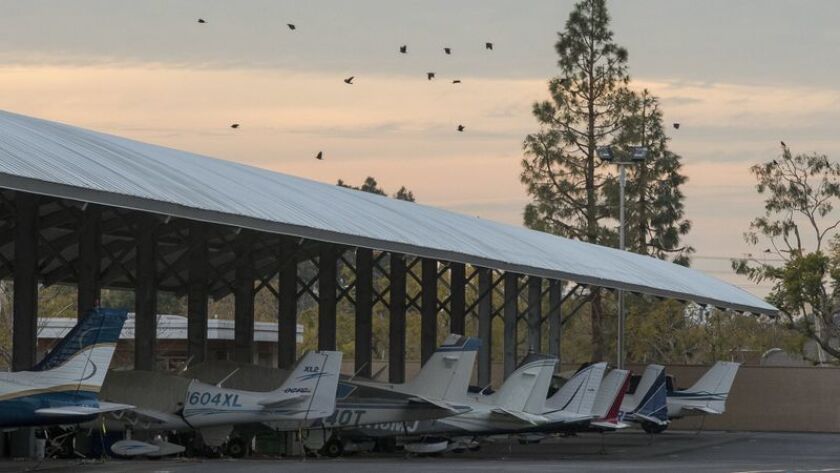 A few years ago my sweet and very patient wife finally convinced me that we should build a porch on the front of our home. We live on the far Eastside of Costa Mesa or, as I sometime tell folks, "almost Newport Beach." Our home faces east, so the porch has a great sunrise view. It's been a wonderful addition — a welcome spot for walking neighbors to stop for a cup of tea and conversation.
It also has a view of airplanes landing and taking off at John Wayne Airport. During offshore Santa Ana winds the landings are not much of a problem, even though the planes are flying lower and slower, they are less noisy. The takeoffs, however, are a completely different matter. A couple of years ago commercial pilots were given the opportunity to abandon the old takeoff in which they accelerated hard, climbed steeply from the runway, then throttled back and turned slightly to the east. While those planes were noisy, they were high and quiet once they were parallel with our homes. Not so today.
O.C. panels in holding pattern over proposed general aviation upgrades at John Wayne Airport after Newport Beach objects »
Today the commercial jets are permitted to take a more shallow departure path and, we are told, are "encouraged" to zig-zag above the Back Bay until they reach open ocean. That results in conversations stopping on our porch until the planes pass and the depositing of burned jet fuel effluent on our porch furniture — a thin, greasy mixture that, I'm sure, is much more onerous for our friends and neighbors directly under the flight path a couple blocks away in Newport Beach.
Now there is a plan afoot in which the General Aviation infrastructure — decades old and designed for smaller private aircraft — would be upgraded to more fully accommodate the larger, faster and louder private jets that seem to dominate the general aviation flights today. For those of us living near the flight path this is very problematic, because those planes are not restricted in hours of operation — they can apparently take off and land 24 hours a day, every day. Exacerbating that issue is that unlike the larger commercial jets, once their wheels are off the ground there is no mandated flight path for them. They could fly low and loud straight over our homes. The Federal Aviation Administration calls those shots.
My city, Costa Mesa, has done a pitiful job of engaging on airport issues for decades. It's watched as Newport Beach has carried the water. Fortunately, they have been generally successful, but this new issue requires engagement by all cities directly impacted, including Tustin, which will be the recipient of this general aviation invasion when the winds shift.
Recently, Newport Beach Mayor Diane Dixon and Councilmen Jeff Herdman and Kevin Muldoon wrote about this issue on these pages. I join many residents of our city and Newport Beach in encouraging our elected leaders to support only the least egregious expansion option available, Alternative 3, and to remain vigilant and aggressive as the operators of John Wayne Airport attempt to deal with the growing demand for more and more flights.
Geoff West is a Costa Mesa resident.
Support our coverage by becoming a digital subscriber.
---