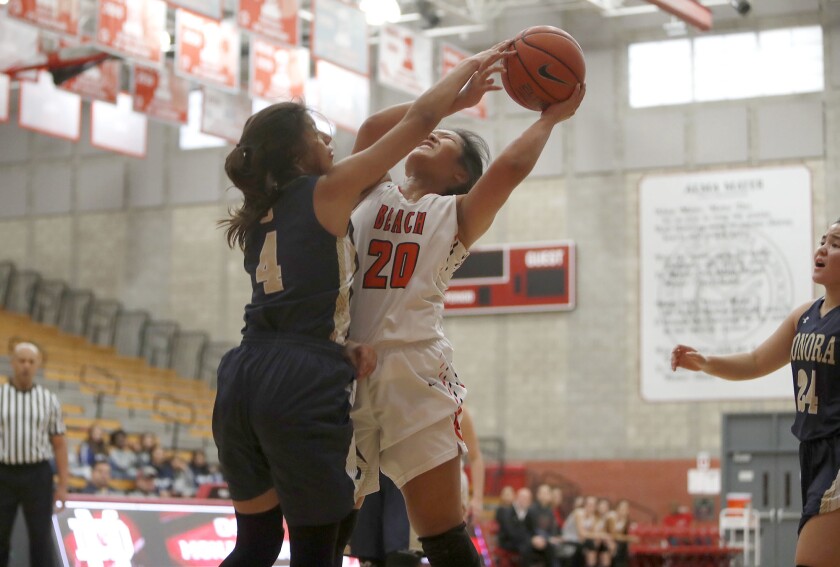 The high school girls' basketball season will be ripe with opportunity for new faces to step forward.
Only one member of the Daily Pilot Girls' Basketball Dream Team from the 2018-19 season is still around, that being Sage Hill junior power forward Emily Elliott.
Unlikely to change is the team at the top of the Surf League. Huntington Beach coach Russell McClurg touted his team as a dark-horse candidate before the Oilers won the league title last season.
Amidst coaching changes at Edison and Los Alamitos, along with the success that his team had last season, McClurg knows he cannot downplay his team's position.
"I go into this year with high expectations, expecting to win a league championship," McClurg said. "We're the favorite. I have to say that based on what I have from last year and coming in this year."
The Oilers have moved up to the CIF Southern Section Division 1 playoff grouping, even as Meghan McIntyre, who shared the Surf League MVP last season, transferred to Long Beach St. Anthony.
Huntington Beach got a transfer of its own, however, in junior Cassidee Kinslow, who arrives from Brentwood Liberty.
"She's probably the best shooter I've had in a long time," McClurg said of Kinslow. "She has a nice shot. I'm feeling like she is going to give me some consistency from outside, which we've kind of lacked the last few years."
Kinslow's sister, Cydnee, is a starting forward at Long Beach State, where she led the team with 6.4 rebounds per game as a junior last season.
Corona del Mar, which lost to Huntington Beach in the Surf League championship game last season, is considered the challenger. The Sea Kings are led by sophomore center Makena Tomlinson, who will try to fill the void left by the graduation of Tatiana Bruening.
Former CdM coach Mark Decker has taken over for Sara Brown as the head coach of Edison. Brown is now coaching at Fairmont Prep.
Huntington Beach alumnus Maya Kennedy replaces Rich Alvarez at Los Alamitos.
The Wave League race could be wide open. Defending champion Marina lost Dream Team Player of the Year Katie Nguyen (Irvine Valley College) and Emily Sakamoto, who accounted for the bulk of the team's scoring.
"I feel like Fountain Valley may be the favorite now, but we're still the defending champions," Vikings coach Daniel Roussel said. "We're going to go out and defend it competitively."
Fountain Valley could have the best guard play in the league. The Barons possess an array of ball-handlers to surround 6-foot-5 sophomore center Zoe Ziegler.
Newport Harbor has experience and depth in the post. Senior power forward Chloe Swanson leads a Sailors team that hopes to become the first to qualify for the CIF playoffs since the 2010-11 campaign.
"Obviously, a league [championship] would be awesome, but top two would get that playoff berth," Sailors coach Jillian Angell said. "That is definitely our goal."
Laguna Beach went 16-11 overall last season, but the Breakers are still looking for their first win against the recently established Sunset Conference.
Along with Elliott, Sage Hill brings back several key returners, including sophomore point guard Isabel Gomez and senior small forward Zoe Mazakas.
Mazakas, who missed almost all of her sophomore season with an ACL tear, opened the season with an 18-point, 10-rebound double-double in a 61-53 loss to visiting Villa Park.
"Zoe Mazakas looks amazing," Lightning coach Kerwin Walters said. "She's actually super-excited about this season, and hopefully, she will continue her basketball career after Sage."
For the first time in four seasons, the Ocean View roster will not include Helen Reynolds. The Dream Team selection at center also shared the Golden West League MVP.
Costa Mesa has Jason Barfield serving as interim coach. Samantha Doucette, the Dream Team Coach of the Year, was hired as the Orange Coast College women's basketball coach after leading the Mustangs to a share of the Orange Coast League title and the Division 5AA quarterfinals last season.
Estancia hopes to improve upon its fourth-place finish in the league last season.
Newport Christian enters its first season of CIF playoff eligibility. The Seahawks beat Brethren Christian 55-13 at home on Nov. 21 in a nonleague game.
::
Support our sports coverage by becoming a digital subscriber.
For more sports stories, visit latimes.com/socal/daily-pilot/sports or follow us on Twitter @DailyPilotSport.
---