High School Boys' Soccer Preview: Edison looks inward for sustained success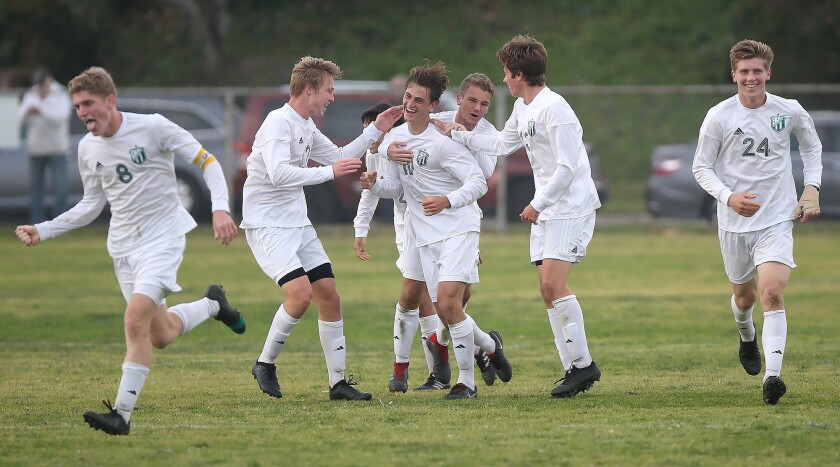 Edison High boys' soccer coach Charlie Breneman will not be putting stock in the early rankings for the CIF Southern Section Division 1 poll.
He hopes that his team will follow suit, even if the current positioning of No. 1 San Clemente and No. 2 Edison brings about visions of a possible Division 1 semifinal rematch in the postseason this season.
"These early polls are really just based on what you did last year and maybe some early wins, so to me, it doesn't really mean very much at all," said Breneman, whose team lost at San Clemente 3-2 in the semifinals last season. "Unfortunately, I think some of my boys saw them, and that sort of inflated their confidence in a way that I thought was not very beneficial.
"I don't doubt that both of us will be in the playoffs and have the potential to make a deep run, but I don't make anything of rankings right now."
Breneman knows that his team will have to work hard to keep its ranking. To foster such a culture, positions in the starting lineup will also have to be earned.
The Chargers got an extended look at some players who were further down the depth chart while the club season carried on. In starting the season 4-1, Breneman gained trust in the players responsible for those results.
Grayson Marquez, Riley Holmes, Dylan Zankich and Armand Pigeon each score a goal in the Chargers' 5-0 road victory over the Eagles on Friday.
"I was kind of just telling everybody how competition is going to determine playing time and starting, all of that," Breneman said. "I'm excited, and I have a lot of confidence in a lot of different guys.
"If one guy is not able to play at the level that we need, there is somebody else who can step in and do that."
Senior midfielder Kai Peterson figures to have a strong hold on his starting spot, as Breneman said that he is one of the top technical players in Orange County with the ball at his feet.
Edison will look to defend its Surf League crown against Los Alamitos, Corona del Mar and Newport Harbor. The league finished in that order last season.
The Sea Kings began the campaign with three consecutive wins. Chase Marion has demonstrated his finishing touch early on for CdM (4-1).
Newport Harbor (4-1) managed to tie the Sea Kings in the season finale last season, forcing CdM to apply for an at-large berth into the Division 1 playoffs. The Sailors will be looking for more than moral victories against their rivals, having started the season with a four-game winning streak themselves.
Huntington Beach (2-3-2) is the reigning Wave League champion. Without the services of recent graduate Brandon Bui, who was the Wave League MVP last season, the Oilers will lean on an experienced defense, led by senior center back Jared Rhone.
"That's why he's wearing the [captain] band," Oilers coach Sean Dick said of Rhone. "He's a leader on the pitch. He's a leader in the locker room, so it's just getting everybody to listen and understand.
"It's three simple things — communicate, understand and execute."
Fountain Valley (2-2) was the challenger last season, falling short in the league championship match at Huntington Beach by a score of 2-1. The Barons advanced to the Division 2 quarterfinals, and they now find themselves in Division 1.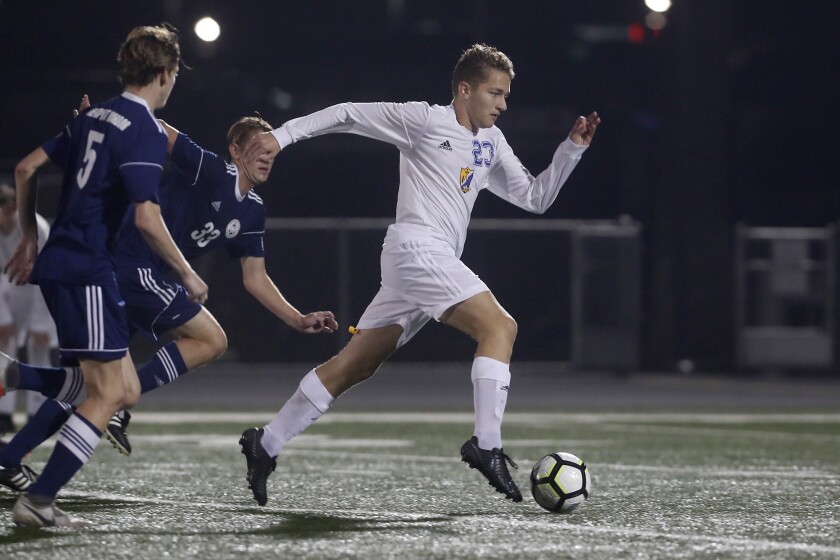 Misting rain shorted out the scoreboard just before kickoff at Long Beach Cabrillo High.
"We're no strangers to playing Division 1 teams," Barons coach Jason Smith said. "The majority of the [Surf] League teams, Los Alamitos, Edison and CdM, those guys are Division 1 teams."
Junior forward Sebastian Rus, a first-team Dream Team selection last season, had a four-goal game in a 6-0 win over Pacifica in Fountain Valley's season opener.
Laguna Beach (2-2) has already had some fun moments, as Booker Frith scored on a penalty kick in the 78th minute to give the Breakers a 2-1 win at Ocean View (0-6-2) in nonleague play on Dec. 13.
Booker Frith's penalty-kick goal in the 78th minute lifts the Breakers to a 2-1 victory over the Seahawks on Friday in a nonleague match.
Marina (1-2-2) is in search of its first winning season since the 2012-13 campaign.
Los Amigos (2-1-3) has moved up to Division 3, despite being knocked out by El Monte 3-2 in the first round of the Division 5 playoffs last season. Lobos coach Chris Sandro does not mind the promotion.
"I don't know why we're in Division 3, but we're playing a lot of those schools anyway," Sandro said. "I'm OK with it. I look forward to a challenge."
Estancia (1-6-2) has struggled after making it to the second round of the Division 2 playoffs last season.
Costa Mesa (2-2-2) did not qualify for the playoffs in the 2018-19 season, but the Mustangs hope their absence will not extend into a second season.
Sage Hill (1-1-1) and Pacifica Christian Orange County (1-4) hope to advance further in the postseason after seeing last season end in the second round of the Division 6 and Division 7 brackets, respectively.
::
Support our sports coverage by becoming a digital subscriber.
For more sports stories, visit latimes.com/socal/daily-pilot/sports or follow us on Twitter @DailyPilotSport.
---
All the latest on Orange County from Orange County.
Get our free TimesOC newsletter.
You may occasionally receive promotional content from the Daily Pilot.