High School Baseball Preview: Huntington Beach's high-powered offense, pitching depth makes it a contender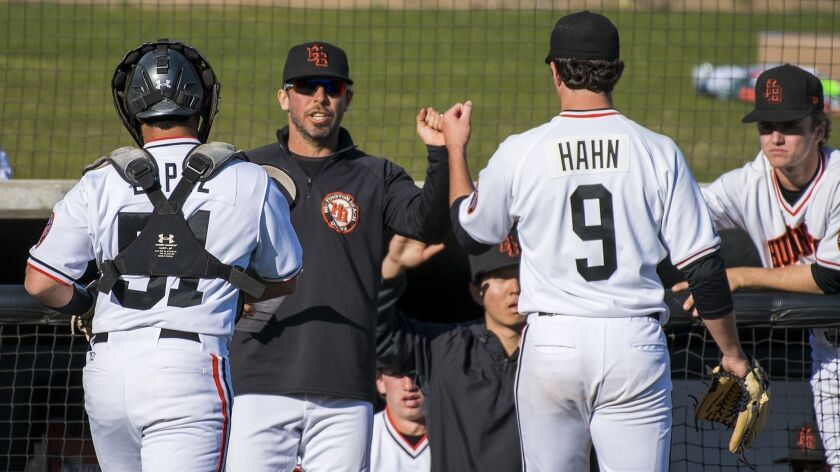 The Huntington Beach High baseball team lost 12 seniors to graduation. Eight of them, including two-time Daily Pilot Dream Team Player of the Year Josh Hahn, headed off to play at the NCAA Division 1 level.
Hahn, now at UCLA, was a left-handed pitcher and first baseman who hit .376 with nine home runs and 33 runs batted last year. The Surf League MVP was 5-1 on the hill with a program-record 0.64 earned-run average. Senior infielders Brett Barrera (Stanford) and Cole Minato (Gonzaga) were other first-team Dream Teamers who graduated.
Still, Huntington Beach coach Benji Medure sees no reason to scale back expectations after winning three straight league titles and advancing to the CIF Southern Section Division 1 semifinals. Medure, entering his 20th season in charge, likes what he sees with the Oilers, ranked No. 7 in the Division 1 preseason poll.
"I feel like we are going to be able to score some runs," he said. "We have a lot of different options for the lineup that make it a formidable lineup. Pitching depth is there, too."
The addition of junior right-hander Caden Aoki, a transfer from Edison, adds to that depth. Aoki was 6-1 with a 1.16 ERA last year, earning Surf League Pitcher of the Year honors. Other capable arms include Long Beach State commit Tyler Conant, Cal State San Marcos commit Thomas Babineau and lefty San Diego State commit Shane Stafford. Two key returners in the lineup for the Oilers are senior UCLA-bound center fielder Jake Vogel and senior Cal-bound outfielder Jag Burden.
Edison, Fountain Valley and Los Alamitos are the teams that look to stop the Oilers' run in the league. Edison, which finished second in league play last season, has made headlines early in the season after Zach Garber, Evan Knipe and Luke Serven combined to throw a no-hitter against Los Angeles Narbonne on Tuesday.
Tuesday's results involving Edison and Huntington Beach.
Senior shortstop Tyler Weaver and outfielder Ryan Ruiz, as well as junior catcher Kannon Morgan and sophomore Washington-committed right-handed pitcher Tyler Prystajko, are other key players for the Chargers.
Fountain Valley should be improved after going 8-17 last season, coach Deric Yanagisawa said, citing pitching and defense as strengths. Senior shortstop Sebastian Murillo, a four-year starter and Long Beach State commit, is a team leader along with senior right-handed pitcher/infielder Jake Brooks (UCLA) and senior right-handed pitcher/third baseman/outfielder Cole Wentz.
Marina will be looking to defend last year's Wave League title, though it will receive opposition from Laguna Beach, Newport Harbor and Corona del Mar. Senior shortstop Rocco Peppi, a Long Beach State signee, leads the Vikings along with junior right-handed pitcher Chad Lux and junior catcher David Mashburn. Peppi is one of just two returning positional starters, however.
"This group did win the league title as freshmen in 2018 and on JV in 2019," Vikings coach Toby Hess said. "But varsity is a totally different challenge."
Laguna Beach is off to a strong start and junior shortstop/right-handed pitcher Eric Silva is a key returner for the Breakers, as well as junior infielder Charlie Pillsbury. Newport Harbor has a 13-senior group but returns just one pitcher who threw more than 10 innings last year. Senior catcher Clay Liolios, senior catcher/outfielder Chase Greer and senior first baseman/pitcher Braham Duncan are other key returners.
CdM has a young team with two returning senior starters, catcher Nick Rottler and shortstop Kieran Sidebotham, a Claremont-McKenna commit.
Ocean View lost standout pitcher Gavin Kennedy to Cal State Fullerton but coach Tanner VanMannen likes the nucleus that returns from last year's Golden West League champion and Division 3 quarterfinalist. Senior left-handed pitcher Shane Hoodman, who went 4-1 with a 2.77 ERA last year, is a University of Northern Colorado commit, while junior infielder Caleb Hohman and senior outfielder Josh Ocampo are other key returners.
Costa Mesa and Estancia will look to repeat last year's success. The Mustangs advanced to the Division 6 title game, their first since 1962, and senior Jake Covey, the Orange Coast League Pitcher of the Year, returns after helping the Eagles win the outright league title and advance to the Division 5 quarterfinals.
First-year coach Aaron Pines leads Los Amigos, while Sage Hill looks to rebuild this season.
::
Support our sports coverage by becoming a digital subscriber.
For more sports stories, visit latimes.com/socal/daily-pilot/sports or follow us on Twitter @DailyPilotSport.
---
All the latest on Orange County from Orange County.
Get our free TimesOC newsletter.
You may occasionally receive promotional content from the Daily Pilot.