Corona del Mar girls' lacrosse had a shot for first CIF title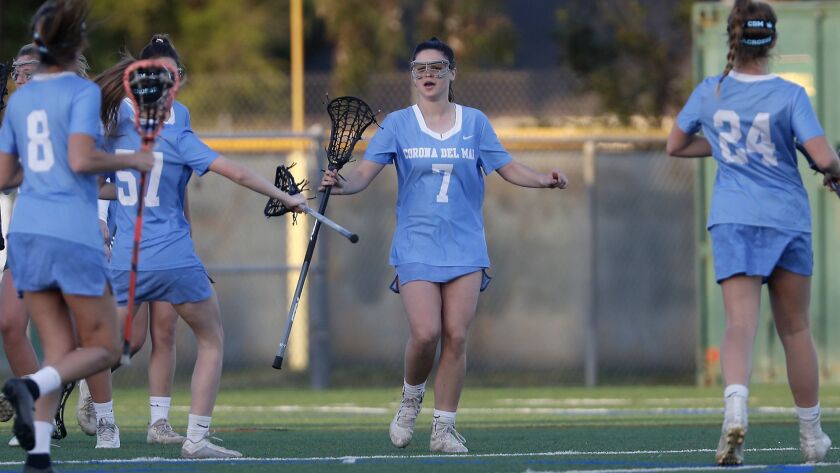 Caroline Brewster plays a big role in the Corona del Mar High senior class, as a captain on the girls' lacrosse team as well as the Associated Student Body president.
Brewster hoped for a big season on the field for the Sea Kings. As boys' and girls' lacrosse were supposed to be entering their first year as a CIF Southern Section sanctioned sport, the CdM girls opened the campaign ranked No. 1 in the CIF Southern Section Division 2 poll.
The Sea Kings, who never won a U.S. Lacrosse Southern Section South Division title in program history, thought they had a chance to bring home the championship.
Lacrosse and a traditional senior year both went away about a month ago now, due to the novel coronavirus pandemic. That's been hard to take for Brewster, a returning first-team All-Sunset League player who led the Sea Kings with 36 goals a year ago, and the CdM senior class.
Brewster was one of five senior captains, along with Tori Gyselaar, cousins Paige Wood and Alexa Wood and Lauren Smith, on the team coached by Jessica Murray and Jackie Wills. CdM was 2-2 when the season was postponed and eventually canceled.
The CIF State office and the 10 CIF section commissioners announce that the rest of the season, including the championships at the section and state level, has been canceled.
None of the five captains plans to play NCAA-level lacrosse in college, so this was to be their goodbye to the sport. It just came a couple of months early.
Brewster said the Sea Kings were close-knit this year. They also had three freshmen — defender Megan Schafer and attackers Abby Grace and Frankie Garcia — each playing key roles.
"Life definitely looked a lot different a month ago," Brewster said. "I'm still actually in shock about lacrosse. I haven't really accepted the fact that I don't get to play another game. It's pretty heart-breaking. I know that's a shared feeling not only with the other seniors on my team, but all spring sport athletes are feeling the same way. Honestly, my hope right now is just to play one more game."
Being unable to visit friends during this time also has been difficult for Brewster.
"There's nothing you can really do to gain back all of the memories like prom, graduation, banquets, last games and rallies," she said. "As ASB, we've been trying to foster community through social media, which has been great. I just think that from my personal experience with this whole situation, I've been really upset, but I think this is an opportunity for our community to refocus and cherish the things that really matter."
Most high schoolers won't get a prom this year. But if school can happen online, so can prom. Send us your photos and let us help.
Alexa Wood, who played defense, said she has been talking to Newport Harbor senior captain Zoey Palmquist about possibly organizing an unofficial Battle of the Bay girls' lacrosse match this summer.
Until then, Wood said she has been logging plenty of miles running. She said since doesn't have lacrosse, staying active has helped her deal with this stressful situation.
"It's just really hard, because you work all of this time for your senior season," Wood said. "Our team was going really well, and it just got all taken away in one second. This was going to be the one year we actually had a shot on winning CIF. We thought our team, for once, was going to go really far and we were all really connected. There was a lot we were looking forward to, and we just never got to do it."
Gyselaar said she may investigate playing club lacrosse at Boise State. At least she got to finish one senior season this year. Gyselaar played shooting guard for the CdM girls' basketball team, which advanced to the quarterfinals of the Division 3AA playoffs before losing to Lancaster.
A possible similarly deep run for the girls' lacrosse team wasn't in the cards.
"We were super-close, and we all could laugh and joke with other," said Gyselaar, who played defense. "Even though our season [record] was just 2-2, the way we played together and how much we were growing together just showed how far we could have gotten."
Support our sports coverage by becoming a digital subscriber.
For more sports stories, visit latimes.com/socal/daily-pilot/sports or follow us on Twitter @DailyPilotSport.
---
All the latest on Orange County from Orange County.
Get our free TimesOC newsletter.
You may occasionally receive promotional content from the Daily Pilot.