What happens after your story goes viral? The outpouring of support helped ailing 'Donut City' owner recover
A little more than a year ago, Donut City owner John Chhan was dealing with the worst of times and the best of times.
His wife of 34 years, Stella, was in a nursing home recovering from complications from a brain aneurysm. She couldn't speak and the left side of her body was paralyzed.
But business at their family's doughnut shop on Pacific Coast Highway and 12th Street in Seal Beach was booming.
John, 63, was selling out of glazed doughnuts, maple bars, croissants and more, sometimes by 7 a.m. because people in the tight-knit community of Seal Beach were buying up doughnuts in bulk so John could close up shop earlier and spend more time with his ailing wife.
The first 30 people are long gone before sunrise, walking away in the darkness clutching boxes filled with cinnamon twists, bear claws and an assortment of scrumptious doughnuts.
It went on for weeks, and the heartwarming show of support for the owners of Donut City made international news. An Inside Edition story on YouTube has more than ten million views.
"I was so happy," Stella, 64, said of hearing John's stories of the community's support. "They all care about me."
The Chhans have owned Donut City for nearly 30 years and worked almost every day, only closing the shop on Thanksgiving and Christmas. Stella and John, immigrants from Hong Kong and Cambodia respectively, put down roots in Orange County when they opened the shop and raised their two sons here. They live in Huntington Beach.
Everything changed for the Chhans on Sept. 22, 2018. Stella and John were attending a pre-wedding party for a relative, and she started feeling dizzy.
She went home and decided to rest. But when she wouldn't wake up hours later, John got her to the hospital.
Stella doesn't remember anything from the time she took that nap until she woke up in a nursing facility. When she awoke, she couldn't speak, walk or eat on her own.
"I was like a baby," Stella said.
It was months before she said a word to John or her family members, though she was able to write.
Now, Stella said she is at 85%.
In February, she felt well enough to start working limited shifts at the shop.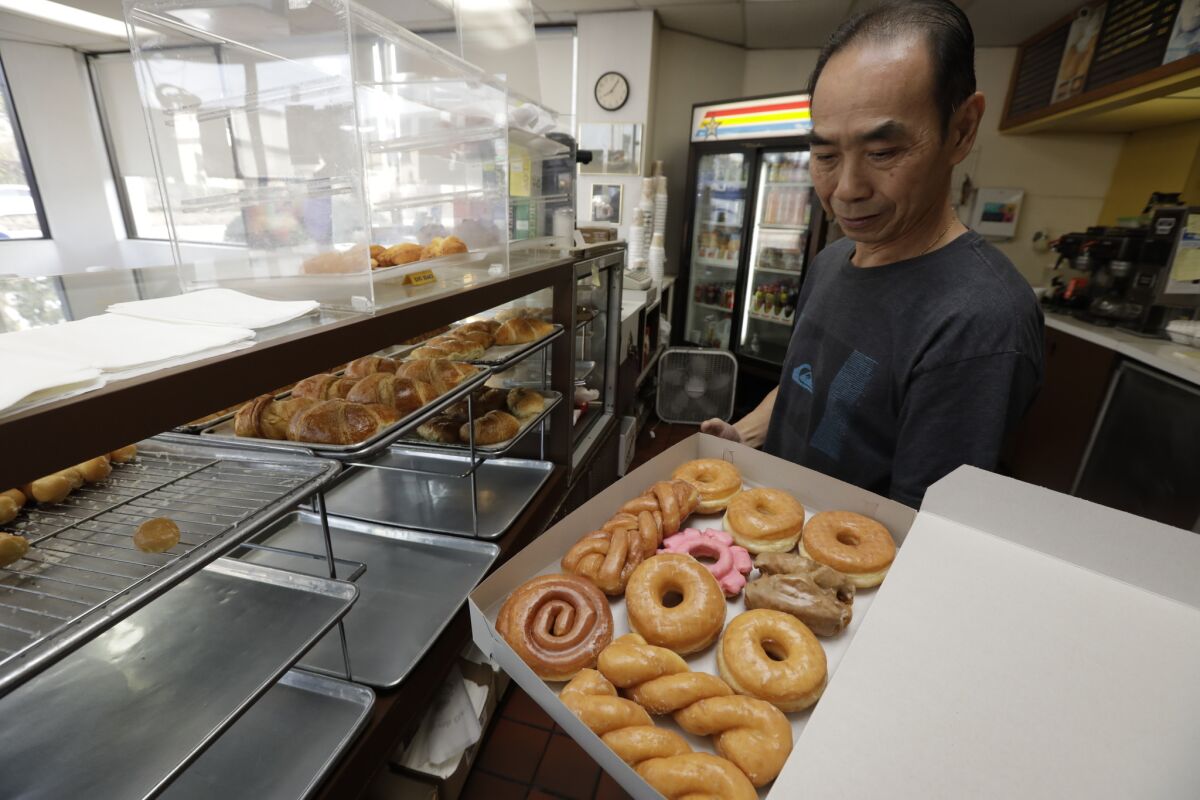 The response from customers delighted the Chhans, especially the reaction from the neighborhood children.
"Kids say, 'Ah Stella, you're back!'" Stella said. "I'm so happy. I love the kids, too."
Many tourists, from as far away as Canada, Germany and Japan who had heard their story, also stopped by Donut City to take a picture with Stella.
"If I can work, I work," she said, adding that she takes daily walks in her neighborhood. "I'm strong."
John and Stella both agree the outpouring of support from the community helped her recover.
"I appreciate everybody," Stella said, with a smile.
"Thank you, thank you," John said, with his hand over his heart.
Nowadays, the selfie requests aren't quite as common at Donut City
But most days, John is baking the doughnuts in the back, and the rehabilitated Stella is behind the counter.
The team is back together, and that's the way the Chhans like it.
All the latest on Orange County from Orange County.
Get our free TimesOC newsletter.
You may occasionally receive promotional content from the Daily Pilot.