Neighbors line up every morning to give Donut City owner time with his ailing wife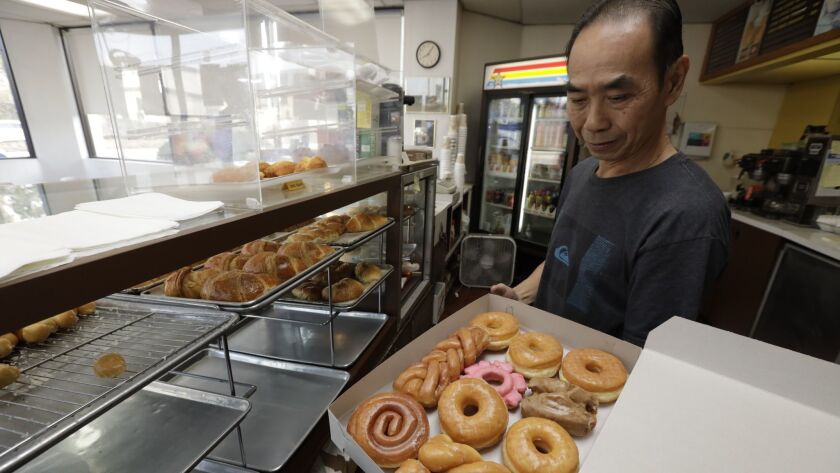 The first 30 people are long gone before sunrise, walking away in the darkness clutching boxes filled with cinnamon twists, bear claws and an assortment of scrumptious doughnuts.
Inching forward to the counter of Donut City in Seal Beach, Tom McGillen asks owner John Chhan a question that has been on the minds of many of his loyal customers:
"I know you're tired of hearing this, but how's your wife doing? I hope she knows we're rooting for her."
Chhan, 61, thanked McGillen, a smile lighting up his tired eyes. "So nice of you. She is getting better. And we are grateful."
Hour by hour, other customers repeated the same question, expressed the same concern. And they lined up to buy out Chhan of all his fresh-baked doughnuts.
They were determined to help him leave as early as possible — so he could visit his wife, Stella, who is in a Costa Mesa nursing home after being diagnosed with a brain aneurysm.
"I appreciate so many people supporting us. Amazing," Chhan said. "We wish we can thank everyone over and over. I don't know what else to say."
Stella and John Chhan, immigrants from Cambodia, opened Donut City 28 years ago, working nearly every day while raising two sons. Supporters offered to start a GoFundMe campaign to collect money for their needs. But the Chhans were uncomfortable taking donations.
So the idea of buying doughnuts in bulk was born — boosted by a post on Nextdoor, the neighborhood social media site.
"We're not doing much. But little acts matter," said McGillen, 62, a stand-up comedian. "With all that's going on in the world, it's special to see a community rise up and help a fellow man. I think people need to know this because you have to have a counter to shootings and fires and tragedies."
Mary Maguire said she's taken her grandsons to Donut City since they were little boys. It became a ritual.
"They've been in strollers, walking or riding their bikes," she said. "We'd go for doughnuts and [orange juice]. That's what they remember," she added.
After hearing about Stella Chhan's illness, Maguire decided to share a lesson with the kids, now 11 and 15. She ordered three dozen doughnuts to bring to the younger child's sixth-grade class at Patton Elementary School in Garden Grove.
"We want to tell this story about people coming together and showing sweet support," she said. "Hopefully, it will resonate with the kids."
The crowd that gathered around the store for buttermilk bars and old-fashioned glazed donuts spanned professions, social class and ages. Accountants, maintenance workers. Grandparents and parents and children.
Just after 8 a.m., a kindergartner sporting a bike helmet with a shark head picked a single doughnut with pink icing and sprinkles, matching the colors of her outfit.
Seal Beach middle-school student Style Turk, 13, carried his skateboard out of the store, chomping down on a doughnut topped with vanilla icing.
"It's cool that they're so popular in our neighborhood," he said. "I like growing up in a place that's so friendly and yeah, it's not the same without [Stella] here."
Donut City sits next to a 7-Eleven along Pacific Coast Highway and 12th Street. The store and the customers' generosity have gotten considerable media attention.
But that hasn't changed its owner's work ethic. Rising early, he still opens Donut City at 4:30 a.m. He bakes 50 dozen doughnuts every day, along with bagels, muffins and croissants.
"I chose this job because the hours seemed flexible," Chhan said. "You get things done and you go home to prepare for other things."
His wife's older sister, Sharon Tam, said she has been moved by the support.
"It's been so, so wonderful," she said. "We never realized the attention — you know, it would expand so big."
Twitter: @newsterrier
---
For reporting and exclusive analysis from bureau chief John Myers, get our California Politics newsletter.
You may occasionally receive promotional content from the Los Angeles Times.