'I can't save everyone, but I'd never tell anybody no,' says man cited for Superhero work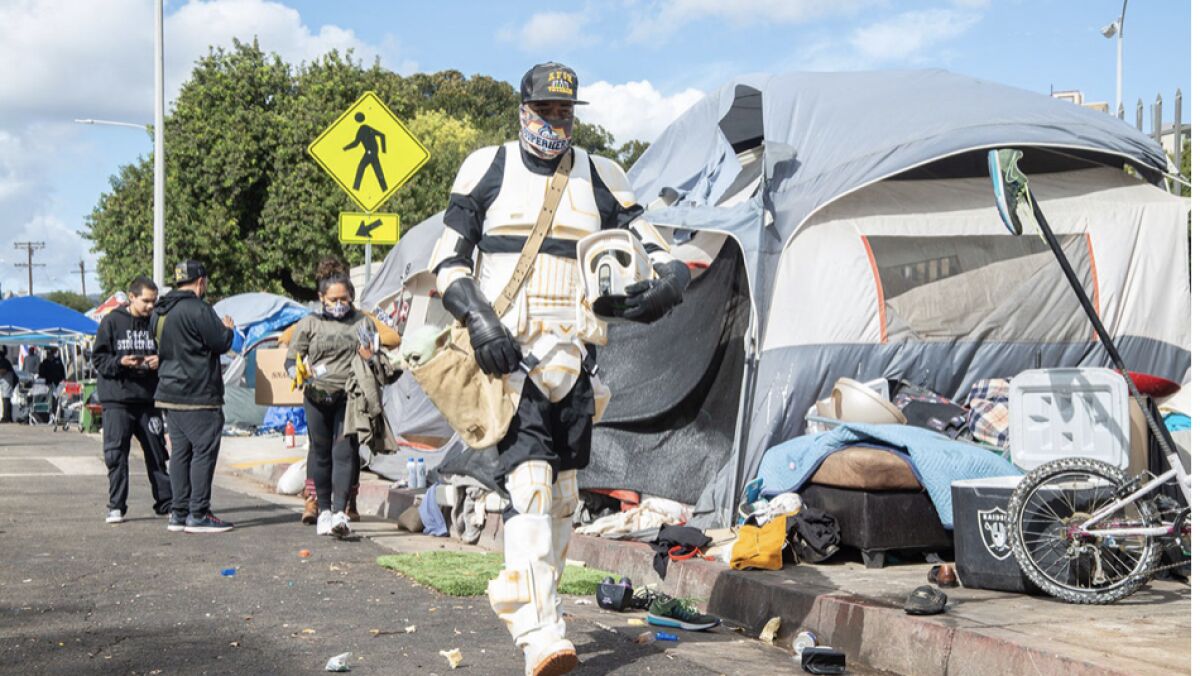 Good morning. It's Wednesday, Feb. 8. We are Carol Cormaci and Vince Nguyen bringing you this week's TimesOC newsletter. Together we've aggregated the latest local news and events for you.
Five years ago Yuri Williams created the nonprofit A Future Superhero and Friends, and every winter, he and the nonprofit will visit a family from every state in the U.S. to help brighten their holidays.
While delivering gifts to children or people experiencing homelessness, Williams has dressed up as an iconic figure from the Marvel and Star Wars universes — from the friendly neighborhood Spider-Man to the heavily armored Stormtrooper.
The nonprofit knows no bounds and has helped start a community pantry in Arkansas and celebrated birthdays with people with disabilities who struggle to make friends. And so far, none has been denied outright.
"I can't save everyone, but I'd never tell anybody no," Williams told Daily Pilot reporter Eric Licas. "I tell them I'll be back, and that's my word."
At last month's public meeting, the Orange County Board of Supervisors formally recognized the charitable work done by Williams and A Future Superhero with Friends.
The nonprofit's name and mission are inspired by the characters his childhood toys were modeled after, and it is dedicated to continuing his mother's legacy of kindness to those in need.
Williams' mother, Lynda C. Hubbard, would bring him to work with her at Los Angeles County's Central Juvenile Hall when she couldn't find a babysitter. And when she did, Williams ended up taking home toys that were meant for kids held at the facility but couldn't be allowed in for security reasons.
"Getting that Spider-Man toy from my mother's job might have set off everything that I'm doing today, wearing costumes and everything," Williams said.
When she died of cancer in 2009, Williams fell into a state of depression that lingered for years. He tried calling her while sitting in a parking lot one morning and began to cry as the line kept ringing. That day, he decided he needed to do more for others to honor her memory.
A Future Superhero and Friends also serves homeless veterans in Orange and Los Angeles counties, providing essential supplies and offering art classes that can help them process or escape their living situations.
And, yes, he still dresses up as iconic figures from the Marvel and Star Wars universes when visiting homeless people.
"I went down to skid row [and] the houseless community loved it," he said. "There were times when I went without the costume, but I had built this relationship with people who were calling me Spider-Man. I go out there and they told me to go back home and get it. That told me I was doing something right."
MORE NEWS
— If you're traveling along Beach Boulevard in Huntington Beach you might spot a new sign, as a stretch of the thoroughfare has been designated as the Officer Nicholas Vella Memorial Highway. In a ceremony held Saturday, local dignitaries unveiled the sign honoring Vella, a 14-year veteran of the HBPD who was killed at the age of 44 on Feb. 19, 2022, when a police helicopter he was in veered right and crashed into the ocean in Newport Beach.
— The Orange County Sanitation District is working with cleantech startup 374Water on a supercritical water oxidation demonstration project that could change the future of wastewater treatment. As our colleague Sara Cardine reports, the process would transform biosolids, bacteria, viruses and harmful PFAS into benign materials. The new technology would ultimately have a smaller physical footprint and a cleaner output, namely water and, at a large enough scale, electricity.
— Motorists traveling through Costa Mesa be advised: 17 nonresidential streets are having their speed limits reduced, according to this story, also by Sara Cardine. As she reports, cities that hoped to lower speed limits to calm traffic have been required by the state to consider the prevailing speed of a thoroughfare — defined as the 85th percentile of actual speeds clocked — rounded up or down to the nearest 5 miles. The faster vehicles drove, the higher the speed limit was set. But Assembly Bill 43 changed things, allowing more leeway to cities that have conducted traffic studies.
— The Orange County Transportation Authority closed the restrooms at the Newport Transportation Station on Jan. 3, saying there have been "ongoing concerns" about vandalism and people camping nearby. The closures remain indefinite as staff continue to monitor the situation, writes Daily Pilot reporter Lilly Nguyen. On an average weekday, the station on Avocado Avenue serves roughly 500 passengers.
— Hoag's Digestive Health Institute opened a new clinic in Newport Beach last month, bringing together a multidisciplinary team of experts in five specialties related to digestive health: advanced endoscopy, liver, foregut, bariatrics and inflammatory bowel disease.
PUBLIC SAFETY & COURTS
— A Long Beach man accused of rear-ending a Laguna Beach doctor while he was cycling and then stabbing him to death in Dana Point last Wednesday pleaded not guilty to one count of murder Friday. The 39-year-old defendant, Vanroy Evan Smith, faces a maximum sentence of 25 years to life in prison if convicted as charged. The victim, Michael John Mammone, 58, worked as an emergency physician at Providence Mission Hospital and did not appear to have any prior connection to Smith, Orange County district attorney's officials said.
— A woman was fatally injured Sunday as she tried to cross a busy road on foot in Laguna Beach outside of a crosswalk and was struck by multiple vehicles. The incident happened around 6 p.m. near Ruby's restaurant in the 30600 block of South Coast Highway, according to Laguna Beach police. The pedestrian was identified as Willen Mari Alvarez, 32, of Mission Viejo.
— Two people were killed in a five-vehicle crash in the 14500 block of Beach Boulevard in Westminster Monday afternoon, according to a City News Service report. Police were dispatched to the crash at 12:51 p.m. Witnesses told police a minivan was speeding northbound in the southbound lanes of Beach Boulevard when it slammed into three other vehicles, police said. The minivan's driver was pronounced dead at the scene. A passenger was taken to UC Irvine Medical Center where she was later pronounced dead, police said.
— A second person suspected in a Huntington Beach shooting that left one person dead in December was arrested in Arizona. The shooting happened on the 5200 block of Tasman Drive at about 8 p.m. on Dec. 5. Jimmy Sengpaseuth, a 31-year-old from Los Angeles, was wounded and died at the scene. He was visiting relatives at the time.
— A months-long search for a man who vandalized a Costa Mesa mural honoring Latinas with white supremacist tags has been arrested. Daniel Alec Hotte, 27, was arrested when he showed up for a court appearance related to another crime. The Dana Point man faces a felony charge of vandalism with a hate crime enhancement for his alleged role in the Oct. 31 incident.
— An Irvine man who went on a luxury spending spree with fraudulently obtained Paycheck Protection Program loans was sentenced to 41 months in federal prison after pleading guilty to conspiracy to commit wire and bank fraud in connection with the scheme. Pierre Rogers, 44, and his co-defendant submitted 22 applications and ultimately received just over $800,000. Levitt is due to be sentenced in March.
BUSINESS BUZZ
— AMC Theatres, which has a large presence throughout O.C., announced Monday it's going to introduce a new pricing system this year that offers the less desirable seats for lower prices, in hopes of enticing more of the public back into the movie theater setting post-pandemic. The initiative called "Sightline" will be expanded to all AMC's domestic locations by year end, including dine-in cinemas, after having already rolled out at some AMC theaters, according to the Los Angeles Times report.
— Newport Beach-based Chipotle Mexican Grill, Inc. on Tuesday reported fourth quarter earnings of $223.7 million, according to this snapshot by the Washington Post. On a per-share basis, the company said it had profit of $8.02. Earnings, adjusted for non-recurring costs, were $8.29 per share. Revenue for the period was reported at $2.18 billion. For the year, the company reported profit of $899.1 million, or $32.04 per share. Revenue was reported as $8.63 billion.
— Genesis Motor North America, headquartered in Fountain Valley, announced in a news release Tuesday it has expanded its electric vehicle sales by offering them at select dealerships in Colorado. With that move, the 2023 Genesis GV60 is available at retailers in Arizona, California, Colorado, Connecticut, Nevada, New Jersey, New York, Utah and Washington, according to the company's announcement.
LIFE & LEISURE
— Poppy & Seed restaurant and bar's chef, Michael Reed, has been nominated as a 2023 James Beard Award semifinalist in the Best Chef, California category. The executive chef and his wife, Kwini Reed, have planted their own garden at their modern greenhouse restaurant in Anaheim, writes TimesOC reporter Sarah Mosqueda. The duo has grown their community through their nonprofit, the UNI Coalition: We're in This Together.
— About 60 of Newport Beach artist Linda White's works will be showcased at an exhibition called "Linda White: Four Decades of Painting from Geometry to Gesture." The evolution of her style, she said, is on display at Orange Coast College's Frank M. Doyle Arts Pavilion through March 23. Admission is free, and White will hold an artist-led tour on March 8 at 12:15 p.m.
— O.C. Fair officials have allocated $23.9 million for the first phase of an eight-step, $229-million master site plan that calls for the demolition, relocation and construction of several buildings at the Costa Mesa fairgrounds. The footprint of the current structure, situated on the north end of the property near Arlington Drive, will more than double, growing by 15,659 square feet. The design and execution of Phase 1 is expected to begin this year and finish by the end of 2024.
— The adventures of Reptile Zoo owner Jay Brewer and his team will be featured on the "Reptile Royalty" reality show this year on Roku. His larger-than-life personality and fun business has generated millions of followers on social media, especially on TikTok, where he has 20 million followers. That sparked the interest of Roku and inspired it to launch the six-episode series.
SPORTS
— Michelle Jacobsen of Newport Beach won the women's Surf City Marathon in Huntington Beach on Sunday, clocking in at 2 hours, 57 minutes and 41 seconds. More than 15,000 total runners, walkers and wheelchair athletes participated in the 27th annual event, which included a Half Marathon and 5k race. Jacobsen, 44, also won the women's Surf City Marathon in 2021, reports our colleague Matt Szabo. "Chased the lead female until Mile 24, and then took the lead when she started to hurt," she said in an Instagram post. "Ended up first female again! So, so grateful!"
— The family of a former Mater Dei High School football player recently dismissed their lawsuit that alleged a culture of hazing in the school's football program led to their son's beating and brain injury. The decision suggests a likely out-of-court settlement, writes L.A. Times reporter Grace Toohey. The suit, dismissed Jan. 11, according to Orange County Superior Court records, detailed a brutal locker room ritual known as "Bodies," during which two players fought "until [one] can't take it anymore and gives up," the lawsuit alleged. The complaint said the then-player was hit during the incident repeatedly in the head and was later diagnosed with traumatic brain injury and nasal fractures.
— After years of discussion and proposal, the CIF Federated Council voted to add girls' flag football as a sanctioned sport Friday. The state will draw up specific bylaws for girls' flag football before a final council meeting in late April. There are still plenty of unanswered questions, such as budgetary concerns, scheduling and coaching, but L.A. Times sportswriter Luca Evans has tallied up what we do know about the sport. A handful of local high schools have fielded a girls' flag football team, notably Edison, Corona del Mar and Newport Harbor, which won the Pacific League and the inaugural girls' flag football Battle of the Bay game last fall.
— Philadelphia Eagles tight end and Santa Margarita High School alum Grant Calcaterra is part of the Super Bowl squad facing the Kansas City Chiefs this weekend. A four-star recruit at Santa Margarita, the 24-year-old rookie has five catches for 81 yards this season. Super Bowl LVIII kicks off Sunday at 3:30 p.m. on FOX.
CALENDAR THIS
— Billing itself as an anti-Valentine's Day concert, this year's "Trashy Love" features tunes centering on the theme of love and love gone wrong at No Square Theatre in Laguna Beach on Feb. 10 and 11. The venue is located in Historic Legion Hall, 384 Legion St., Laguna Beach. Admission is $20. For more visit nosquare.org.
— Soroptimist International of Huntington Beach will hold a murder mystery dinner fundraiser on the night of Saturday, Feb. 11. The event will be held upstairs at the Assistance League of Huntington Beach, 8071 Slater Ave. Tickets for the night cost $95 per person. For more information, email info@soroptimisthuntingtonbeach.org or visit the organization's website.
— Award-winning author Sadeqa Johnson will discuss her new book "The House of Eve" during a book-signing event Thursday, Feb. 23, at the Donald Dungan Library in Costa Mesa. She will participate in a Q&A and sign copies. Books will be available for purchase at the event. For more details, call (949) 646-8845 or email ocpl.costamesadd@occr.ocgov.com.
KEEP IN TOUCH
Thank you for reading today's newsletter. If you have a memory or story about Orange County, we would love to read and share it in this space. Please try to keep your submission to 100 words or less and include your name and current city of residence.
We appreciate your help in making this the best newsletter it can be. Please send news tips, your memory of life in O.C. (photos welcome!) or comments to carol.cormaci@latimes.com or vincent.nguyen@latimes.com.

All the latest on Orange County from Orange County.
Get our free TimesOC newsletter.
You may occasionally receive promotional content from the Daily Pilot.