Campaign finance and lobbyist registration rules get first nod in Newport Beach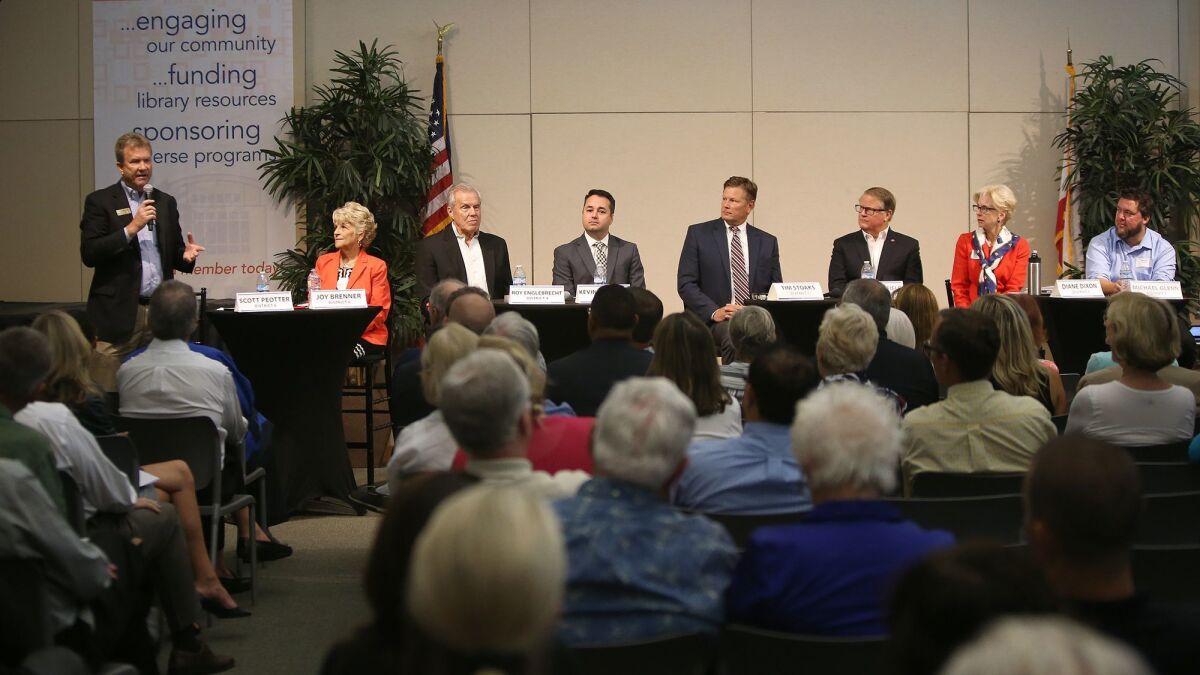 Newport Beach City Council candidates who knowingly accept donations over the campaign contribution limit may be subject to removal from office under local election reforms that advanced this week.
The council gave initial approval Tuesday to two ordinances — one adding a grace period for fixing violations of municipal campaign contribution limits, plus penalties for scofflaws, and another to establish local lobbyist registration.
The key modification to contribution limits would adopt procedures for donors and recipients to clean up inadvertent or unintentional violations without penalty, if they catch the errors within two weeks.
Otherwise, candidates could be subject to misdemeanor prosecution by the Orange County district attorney's office, with conviction leading to removal from office.
The lobbyist registration rule would require an advocate who receives at least $500 a month or works under a contingency contract to sign up with the Orange County Campaign Finance and Ethics Commission, assuming approval of the county Board of Supervisors. If the supervisors don't allow Newport to join the county system, lobbyists would register with the city clerk. They also would need to disclose their occupations and clients.
"Lobbying" is defined as advocating for or against legislation, regulations, policies or litigation and the granting of permits, entitlements, contracts or grants.
An intentional violation could lead to a fine up to $5,000. Negligent or unintentional violations could be fined $50 to $200.
The council agreed 6-0 on a first reading of the ordinances, with Councilman Kevin Muldoon absent.
The rules stemmed from a committee that three council members formed this year to study potential reforms of local election regulations.
The committee scrapped potential rule changes for slate mailers, which already are regulated by the state and subject to city spending limits if not funded by an independent expenditure committee. Further regulation could impinge on free speech.
The committee also decided not to restrict fundraising to election years only, saying doing so would favor incumbents, independent expenditure committees and self-funded candidates with deep pockets.
"There are a few of those in our city" said Mayor Pro Tem Will O'Neill, who was on the committee with council members Joy Brenner and Brad Avery.
Resident Jennifer McDonald said the lack of restrictions on the timing of fundraising actually favors incumbents, plus special interests that can ingratiate themselves ahead of reelection campaigns. Also, the consequences for breaking rules are minor, she said.
"Why are we setting the bar so low?" McDonald asked.
Resident Tom Baker said more public meetings about the reforms are needed.
"The proposed reforms on the agenda do not contain enough meaningful changes and do not reflect significantly the current input of the residents to assure community buy-in," he said. "The proposed reforms are an incomplete first increment and need to be updated to be more meaningful."
O'Neill said calling on the district attorney to decide on campaign finance charges that could lead to removal from office is plenty tough.
Previous rules kept enforcement in-house, and if the city attorney was unable to prosecute, the DA or a special prosecutor could step in.
"It's an absurd idea to send it through our city attorney and then to a special prosecutor. This is not the Mueller Report," he said. "We're trying to get compliance, but we're not trying to play gotcha."
He also said the public had months to reach out to committee members after the panel was formed in April, but only two people did. About 10 people attended a public meeting in October. More meetings would bog down the process, O'Neill said.
City Attorney Aaron Harp said his office prosecutes most city code violations, but so can the district attorney. Calling on the DA on campaign matters is appropriate because it avoids the potential for conflict of interest, he said.
"I work for the City Council," Harp said. "There will always be allegations if you keep it with me that I'm somehow being influenced one way or the other by the City Council."
Councilman Jeff Herdman, who was not on the committee, to his initial disappointment, said he supports its findings and asked skeptics to give things a chance.
Election reforms have long been part of Herdman's platform.
"I am completely satisfied ... with the work that this committee has done," he said.
The rules can be revisited if necessary, he added.
The council will take a final vote Nov. 19.
---
All the latest on Orange County from Orange County.
Get our free TimesOC newsletter.
You may occasionally receive promotional content from the Daily Pilot.