Costa Mesa-based Torelli Realty will present its annual Holiday Snow Land from 9 a.m. to noon Saturday at Balearic Park, 1975 Balearic Drive, Costa Mesa.
It will feature 40 tons of snow for families to play in.
Admission is free.
Santa to meet with Laguna firefighters for pancakes
The Laguna Beach Fire Department will host Santa Claus for its second annual pancake breakfast from 8:30 a.m. to noon Saturday. Admission is free.
The breakfast takes place at the Sawdust Art Festival grounds at 935 Laguna Canyon Road, Laguna Beach.
Santa also will meet with Surf City firefighters at Pacific City
The Huntington Beach Fire Department invites the community to meet Santa Claus from 2 to 4 p.m. Saturday at the Pacific City shopping center.
The free event also will include a toy drive.
Pacific City is at 21058 Pacific Coast Hwy., Huntington Beach.
'Zero Waste Home' author to speak at OCC
Bea Johnson, author of "Zero Waste Home," will speak at Orange Coast College in Costa Mesa on Saturday.
Johnson's appearance begins at 10 a.m. in Room 119 at the fine arts building. Free parking is available in Lot D off Merrimac Way. The event also will include a composting workshop led by the Costa Mesa Sanitary District.
Balboa Peninsula pub crawl to benefit Anaheim nonprofit
The annual OC Santa Crawl, a pub crawl around Newport Beach's Balboa Peninsula, will be held from 1 to 6 p.m. Saturday.
Participating bars and restaurants are Woody's Wharf, Peninsula Kitchen & Bar, Blue Beet, Avila's El Ranchito, Stag Bar + Kitchen, Malarky's Irish Pub and Baja Sharkeez.
Tickets are $30. The event benefits the Eli Home, an Anaheim-based nonprofit that helps victims of child abuse.
For more information and tickets, visit ocsantacrawl.com.
Segerstrom Center plaza becomes holiday weekend wonderland
The Julianne and George Argyros Plaza at the Segerstrom Center for the Arts in Costa Mesa will be transformed into a winter wonderland Saturday and Sunday.
Festivities from 11 a.m. to 4:30 p.m. will include music, dancing and a holiday train. Guests are asked to bring personal care items such as shampoo and deodorant for a donation drive.
The plaza is at 600 Town Center Drive.
Rep. Rouda to hold town hall Saturday in Newport
U.S. Rep. Harley Rouda (D-Laguna Beach) will hold a town hall meeting from 2 to 3 pm. Saturday at the Newport Beach Central Library to discuss his work in Washington and Orange County during his first year in office.
Rouda represents the 48th Congressional District, which includes Laguna Beach, Newport Beach, Costa Mesa, Fountain Valley, Huntington Beach, Aliso Viejo, Laguna Niguel, Seal Beach and parts of Garden Grove, Midway City, Santa Ana and Westminster.
The Central Library is at 1000 Avocado Ave.
Mile Square staff looking for volunteers for cleanup
Volunteers interested in looking for local wildlife and removing non-native plants in Mile Square Regional Park are asked to visit the park from 8 a.m. to noon Saturday.
Mile Square is at 16801 Euclid St., Fountain Valley. Parking is free.
For more information or to register, call (714) 973-6600.
Elementary surfing competition set for Huntington State Beach
Huntington State Beach will host the Soul Surf Series, an elementary-grade surf competition, on Sunday between lifeguard Towers 2 and 3.
Watching the event is free. The competition runs from 8 a.m. to 4 p.m.
Holiday 5K/10K comes to Surf City on Sunday
The Santa Claus for a Cause 5K and 10K and Ugly Sweater 5K will start at 9 a.m. Sunday near the corner of Beach Boulevard and Pacific Coast Highway in Huntington Beach.
For more information and to register, visit carenwareevents.com/santa-claus-for-a-cause-5k.
Fashion Island Hotel hosts gingerbread house class
Pastry chef Andy de La Cruz will lead a gingerbread house class at the Fashion Island Hotel in Newport Beach from 10 a.m. to noon Sunday.
The cost is $49 per house and includes hot chocolate, cookies and popcorn.
The hotel is at 690 Newport Center Drive. Reservations for the event are available by calling (949) 760-4913 or visiting fashionislandhotel.com.
Women on horses to sing carols in Santa Ana Heights
The third annual Christmas Caroling on Horseback event will start at 2:30 p.m. Sunday at 20341 Cypress St. in the Santa Ana Heights neighborhood in Newport Beach.
Women on horses will ride the streets as men follow for cleanup duty. Viewers are encouraged to wear Christmas attire.
Assistant principal named for two Newport schools
The Newport-Mesa Unified School District announced that Anthony Mercado has been named assistant principal of Mariners and Newport Heights elementary schools in Newport Beach.
He is expected to start the job after the winter break.
Mercado has worked in public education for 14 years, most recently as a special-education program administrator for the Downey Unified School District. Before that, he was a school psychologist on special assignment for the Norwalk-La Mirada Unified School District.
He has a doctorate of education and a master's degree in educational psychology from Cal State Long Beach and a bachelor's degree in psychology from Cal State Fullerton.
'Undie-rock' show comes to Laguna Playhouse
The Laguna Playhouse will present "The Skivvies," an "undie-rock comedy pop" show with zany instruments and more at 7:30 p.m. Monday and Tuesday.
Tickets start at $36. The playhouse is at 606 Laguna Canyon Road, Laguna Beach.
For more information, visit lagunaplayhouse.com.
Winter Fest returns to O.C. fairgrounds for snow-filled fun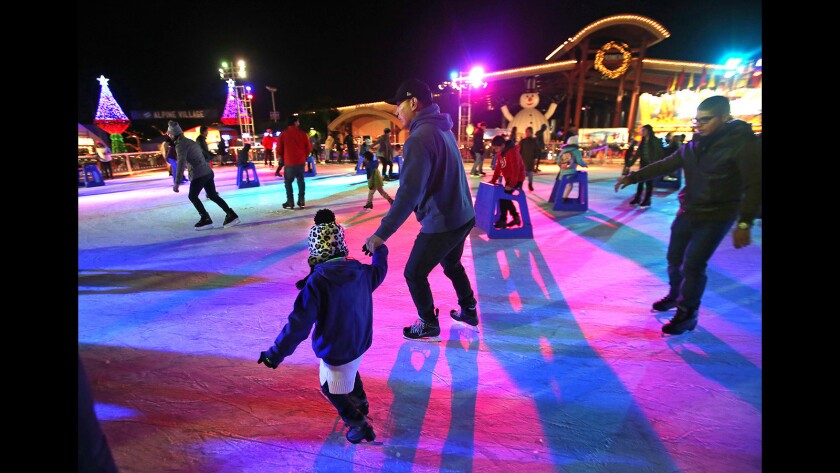 The annual Winter Fest OC begins Dec. 19 and lasts through Jan. 5. at the OC Fair & Event Center, 88 Fair Drive, Costa Mesa.
The festival features an ice skating rink, ice tubing, snow and more.
General admission is $19 for adults, $15 for children ages 3-12 and free for kids 2 and younger. Parking is $9.
For more information, visit winterfestoc.com.
Laguna band to hold free community concert
The Laguna Beach Community Concert Band and the Laguna Beach Community Services Department are sponsoring a holiday concert from 5:30 to 7:30 p.m. Dec. 19 at the Community & Susi Q Center, 380 Third St.
Admission is free.
Mariachi group highlights Dec. 19 concert
Fiesta Navidad, a family concert series that includes the Mariachi Los Camperos group, will play at the Renée and Henry Segerstrom Concert Hall at 8 p.m. Dec. 19.
Tickets start at $29 and are available at scfta.org, (714) 556-2787 or the box office at 600 Town Center Drive, Costa Mesa.
'Destination Art' exhibit at Newport library through Jan. 3
"Destination Art," an exhibit of acrylic paintings by Sherry Marger, is on display at the Newport Beach Central Library gallery through Jan. 3.
Marger uses painting to interpret her traveling experiences, and since becoming a board member of the Newport Bay Conservancy, her collection includes many landscapes and landmarks in and around Newport Beach.
The exhibition is available for viewing during library operating hours, 9 a.m. to 9 p.m. Mondays through Thursdays, 9 a.m. to 6 p.m. Fridays and Saturdays and noon to 5 p.m. Sundays. The library is at 1000 Avocado Ave.
Jax & Bones hosts temporary store in Costa Mesa
Jax & Bones, a maker of dog beds and toys, has a pop-up store at South Coast Collection in Costa Mesa through Jan. 5.
The center is at 3313 Hyland Ave. For more information, visit jaxandbones.com.
PIMCO employees help provide holiday food to the needy
More than 750 employees, friends and family members associated with Newport Beach-based Pacific Investment Management Co., or PIMCO, partnered last weekend with the Garden Grove-based Community Action Partnership of Orange County to pack more than 12,000 food boxes at the OC Fair & Event Center in Costa Mesa to help provide holiday meals to needy people.
The OC Food Bank will distribute the food boxes to families, veterans, senior citizens and disabled people through a network of nearly 350 nonprofit agencies, according to a news release.
Children win Laguna City Hall recognition for artistic works
Twelve art submissions were recently selected by the Laguna Beach Art Commission for display at City Hall through December.
The winning submissions were by Donovan Lindsay, Sean Ibardolaza, Kellen Niebuhr, Riley Berberian, Annie Zhou, Sean Meihaus, Cloe Audebert, Jo Foulger, Jacob Martin, Corinne Vartanian, Katie Baker and Aaron Eagan, according to a city news release.
The children were recognized at the Dec. 3 City Council meeting.
Balboa Island Museum celebrates one year in new digs
The Balboa Island Museum in Newport Beach recently celebrated the first anniversary of its new location with a party and preview of a new "mixed reality" exhibit that will bring views of the Newport Beach of the early 20th century.
The museum, at 210 Marine Ave., commissioned Newport Beach native Riley Hayes for the exhibit, which will combine real objects and virtual reality.
O.C. Community Foundation raises $1.6 million in 2019
The Newport Beach-based Orange County Community Foundation raised more than $1.6 million through eight "Giving Days" held throughout the year that will benefit 77 area nonprofits, according to a news release.
The money will go toward causes such as preserving Orange County's ecosystems and helping the homeless, veterans and Boys & Girls Clubs.
Marketing agency opens Huntington Beach office
MarketPlace, a St. Louis-based marketing agency in the food, pet and wellness industries, recently opened a location in Huntington Beach at 7755 Center Ave., Suite 1100.
"Our location in California represents our commitment to our industry partners and is an opportunity to grow our company in a hub of industry innovation," MarketPlace President Tracy Landau said in a statement.
---