Political Landscape: State says Newport council member can't call herself 'businesswoman' on Assembly ballot
State Assembly candidate and Newport Beach Councilwoman and former Mayor Diane Dixon will appear on the March primary ballot as a "mayor," but not also as a "businesswoman."
A spokesman for the California secretary of state's office said Dixon filed paperwork requesting that she be listed on the ballot for the state's 74th Assembly District seat as "Mayor/Orange County Businesswoman," but the state rejected the two-part designation because "she did not provide sufficient justification to support the title 'businesswoman.' "
Dixon was not employed in the corporate world when she filed her forms with the state in early December, she said Wednesday.
Dixon retired in 2011 as an executive at Avery Dennison after 30 years with the consumer and industrial products manufacturer. She was the sitting mayor when she filed her forms, though.
Newport does not directly elect its mayor. Council members rotate through leadership positions.
Dixon confirmed that she sought the "businesswoman" label because that's how she still sees herself, but said she accepted the state's reasoning and considers it a "non-issue."
The campaign of incumbent Assemblywoman Cottie Petrie-Norris (D-Laguna Beach), however, seized on the requested designation, calling it "dishonest."
"This is a rather extraordinary case," said Petrie-Norris campaign consultant Derek Humphrey. "It's unusual for the secretary of state's office to refuse to allow someone to run as a businessman or businesswoman because the bar is actually rather low for those titles … Trying to mislead voters on the ballot is neither common nor acceptable."
Dixon, a Republican, said her professional background is what motivated her to run.
"I am proud to take my 30 years of Fortune 300 business experience to Sacramento to bring common business sense to the tax, spend and over-regulate Legislature," she said.
The 74th Assembly District covers Newport Beach, Costa Mesa, Laguna Beach, part of Huntington Beach and most of Irvine.

Lobbyist registration gets more public feedback
In a lively informal discussion Monday with about 30 residents, Newport Beach Mayor Will O'Neill — who serves with council members Brad Avery and Joy Brenner on the city's election reform committee — conceded to public input that a proposed local lobbyist registry be handled by the city clerk's office rather than the county.
He also was amenable to having lobbyists disclose their political contributions, which are already a matter of public record.
However, he pulled back on further suggestions by Jennifer McDonald, an outspoken observer of the reforms, who also wanted lobbyists to file detailed reports, updated online in real time, each time they make a pitch to a city official. Those reports would list who they spoke with and when, all actions or legislation discussed, information about the party on whose behalf they are lobbying, and related expenses and payments.
McDonald said she modeled her vision on Anaheim's lobbyist registration system, which she called useful for citizens.
O'Neill said he wants to know who's getting paid to talk to him, but suggested that such stringent disclosures could be chilling. O'Neill and Avery also said the information could be used as political ammunition against whomever the lobbyists contact.
The City Council previously considered lobbyist registration in a package of local reforms that included a grace period for fixing violations of municipal campaign contribution limits.
Several community members criticized the council's readiness to approve the two ordinances when it took a first look at them in November. Local political action group Line in the Sand circulated a follow-up letter that garnered about 175 signatures and took further aim at the ordinances — characterizing them as weak and asking for more input from residents.
The council approved the contributions procedures but tapped the brakes on the lobbyist portion when it came time for the final OK.
As last written, the lobbyist registration rule would require advocates who receive at least $500 a month or work under a contingency contract to sign up with the Orange County Campaign Finance and Ethics Commission. They also would need to disclose their occupations and clients. An intentional violation could lead to a fine of up to $5,000.
Former Mayor Steve Rosansky, now the president and chief executive of the Newport Beach Chamber of Commerce, said people in the civic affairs loop generally know who the paid lobbyists are, but he was more concerned with people who are unpaid but have some amount of skin in the game.
Rosansky said he thought lobbyist registration proponents were wary of unequal access and undue influence. They said they want transparency and trust.
A revised ordinance will be brought back to the council at a later date.

Motor voter reversal stalls out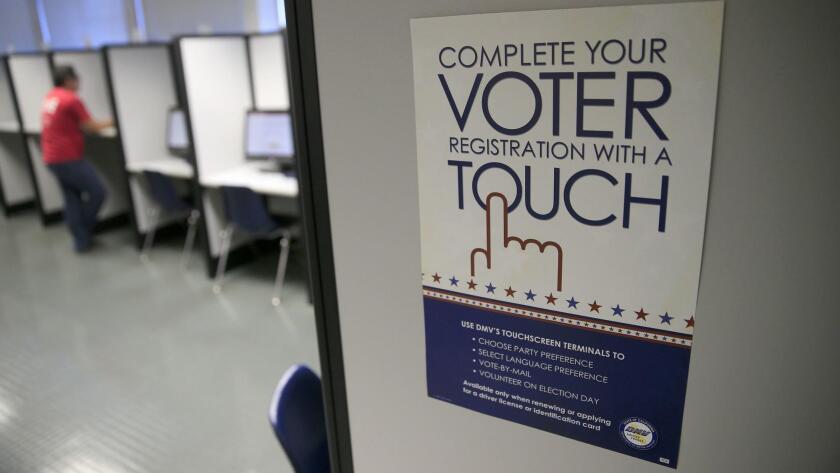 A bill to restore opt-in voter registration at the state Department of Motor Vehicles died in committee this week.
State Senate Bill 57 would have rolled back a 2015 law that registered any eligible Californian to vote unless the person opts out of the process, but the majority-Democrat Senate Elections and Constitutional Amendments Committee rejected the bill Tuesday.
"Our state needs to develop a better system for DMV voter registration that gives people the ability to opt-in and verify their voter information," bill co-author Sen. John Moorlach (R-Costa Mesa) said in a statement. "This vote was a missed opportunity to correct the errors that the current technology has generated."
The motor voter system had a well-documented and troubled launch. In the two years since automated registration became effective, media and state-initiated investigations have showed duplicated registrations, errors in party preference, and registration of ineligible voters.
Sen. Patricia Bates (R-Laguna Niguel) was the bill's main author.

F.V. school board names new officers
The Fountain Valley School District board has named its new officers for 2020.
Trustee Jeanne Galindo was named president and will lead the five-member board with President Pro Tem Sandra Crandall. Trustee Lisa Schultz will serve as clerk.
Daily Pilot staff writer Julia Sclafani contributed to this report.
---
All the latest on Orange County from Orange County.
Get our free TimesOC newsletter.
You may occasionally receive promotional content from the Daily Pilot.