One voter, two registration forms: Errors reported in rollout of California's 'motor voter' system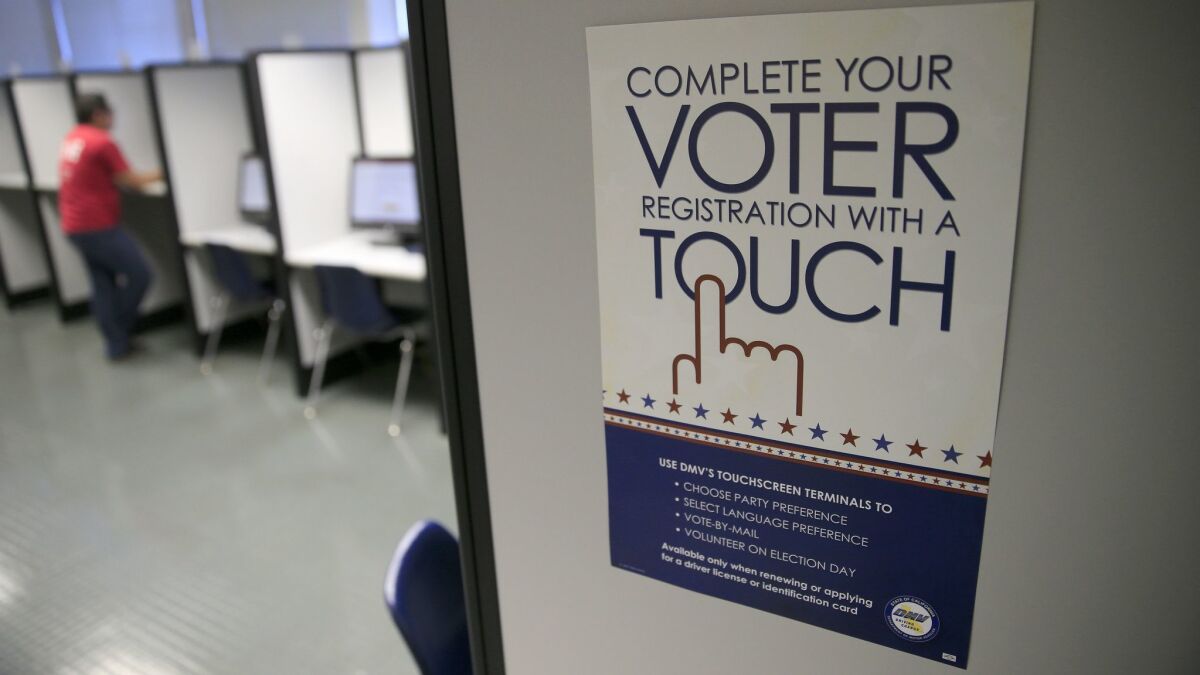 Reporting from Sacramento —
California's elections officials have found themselves with an unexpected headache ahead of the June 5 primary: potentially thousands of cases where two voter registration forms were created for one person, errors caused by the state's "motor voter" program that launched last month.
But local and state officials said Wednesday they don't believe the foul-up has resulted in actual mistakes in California's voter database. The errors are being resolved one at a time in each county's elections office, a lengthy process that coincides with one of the busiest periods of the year.
"We don't have the time to be researching this, but we have to because we're being thrown into it," said Kammi Foote, registrar of voters in Inyo County.
State elections officials said a software error affected some 77,000 voter records generated at the Department of Motor Vehicles over the past month. Some of those records — how many remains unclear — resulted in two registration forms for a single voter, a problem reported in several county elections offices across California. Left unfixed, it could keep a voter from casting party-specific votes or, in the most extreme cases, cause two ballots to be issued to a voter.
Column: There's a California election coming up. But if history is any guide, most voters won't show up »
The forms that arrived at county elections offices were identical except for the voters' party preferences. On a sampling of forms reviewed by The Times, citizens who were listed as a member of a political party on the first registration document were instead listed as an unaffiliated "no party preference" voter on a second document that arrived a week later.
A DMV spokeswoman said Wednesday the system was built by the state Department of Technology and was tested prior to last month's launch.
County elections officials have been contacting the voters and correcting the errors since they received the first forms on May 5.
"We believe it's fixed," said Secretary of State Alex Padilla. "We feel we have our arms around it. We've rectified it, and we've given proper guidance to the counties."
Padilla's staff noticed the errors shortly after the April 23 launch of the California Motor Voter program, created by legislation signed into law in 2015. The program makes voter registration a part of the DMV driver's license process for every eligible citizen. While voter registration isn't required, people who are uninterested must make it clear on a touch-screen device that they want to opt out. Californians who are already registered to vote can update their address or party affiliation during a DMV appointment.
State elections officials said on Wednesday that some parts of the new system worked as expected, and that about 71,000 new voters successfully registered in the first month of the program.
California teens are preregistering to vote, and taking a pass on political parties »
The problem seems to have arisen with DMV customers who were already registered voters.
Because the touch-screen device's questions are geared toward first-time registrants, those who want to update their information may have been confused by how to proceed. Compounding the issue was the error in the voter registration software that led to different outcomes on the part of the registration form for political party selection.
"This is not an issue of duplicate registrations, but multiple feeds on the same voter," said Dean Logan, registrar of voters in Los Angeles County.
The system, often referred to as "automatic voter registration," has been under development for more than two years. Key to its success was the full rollout of California's statewide voter database — a project that was more than a decade late when it debuted in March 2016. Historically, there were separate voter rolls in each of the state's 58 counties. Local officials collaborated across county lines, but there was no easily updatable list of all California voters.
The California Motor Voter Act also required a substantial change in DMV license procedures. For more than two decades, registering to vote has been an option at the agency's offices. But the new law makes it a routine part of obtaining a license, as long as the driver is legally eligible. Non-citizens aren't offered the chance to register to vote.
The full program has yet to be rolled out. Local elections officials said this week they hope to learn more about how voter registration files will be sent to them for final verification.
"It's not entirely clear how this will work," said Gail Pellerin, registrar of voters in Santa Cruz County.
Nor is there clarity about why the California Motor Voter program was rolled out just six weeks before a statewide election. The original launch date was pushed back by two weeks and then delayed again after officials said additional testing was needed. There was no public notice when it was turned live on April 23.
Padilla said it was important to expand access to voter registration for the June primary, which in non-presidential years has had noticeably low turnout.
"My duty and responsibility as secretary of state, along with the elections officials in each of the 58 counties, is to do what we can to increase registration rates and participation rates," he said Wednesday.
Logan, who serves as president of the state association of elections officials, said local registrars are working with the state to "refine and streamline" the motor voter system.
In some communities, the DMV's automated system is already poised to dramatically expand the size of the electorate. Foote says Inyo County, home to just 9,674 voters at the time of the last statewide report, has processed more than 600 new registrations in just the past three weeks. While most have been without incident, she said the initial errors could give pause to voters who worry about the accuracy of elections.
"If they don't have confidence in the registration," she said, "they're not going to have confidence in the system."
Follow @johnmyers on Twitter, sign up for our daily Essential Politics newsletter and listen to the weekly California Politics Podcast
Life is stressful. Our weekly mental wellness newsletter can help.
You may occasionally receive promotional content from the Los Angeles Times.