Appellate court overturns ruling exempting Huntington Beach from 'sanctuary state' immigration law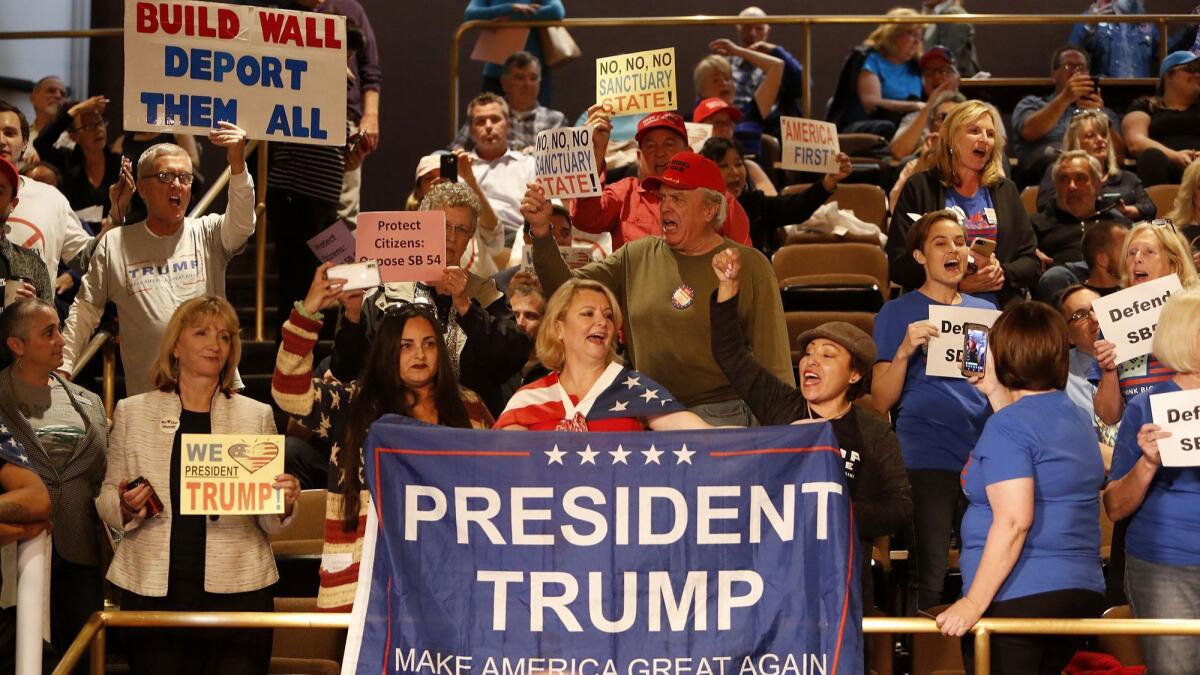 A panel of appellate court justices Friday overturned an Orange County Superior Court judge's ruling siding with Huntington Beach in its lawsuit challenging California's so-called sanctuary state law.
Huntington Beach officials argued the city did not have to abide by Senate Bill 54, formally known as the California Values Act of 2017, because it is a charter city and the state constitution gives charter cities more authority to impose laws that may supersede state laws.
The three-justice panel of the state's 4th District Court of Appeal disagreed.
The justices said the state law is constitutional "as applied to charter cities because it addresses matters of statewide concern, including public safety and health, effective policing and protection of constitutional rights," Associate Justice Richard Fybel wrote in the opinion, with Justices Raymond Ikola and Thomas Goethals concurring.
SB 54 in many cases prohibits state and local police agencies from notifying federal officials about the impending release of immigrants in custody who may be deported.
Fybel said the law is "narrowly tailored to avoid unnecessary interference in local government."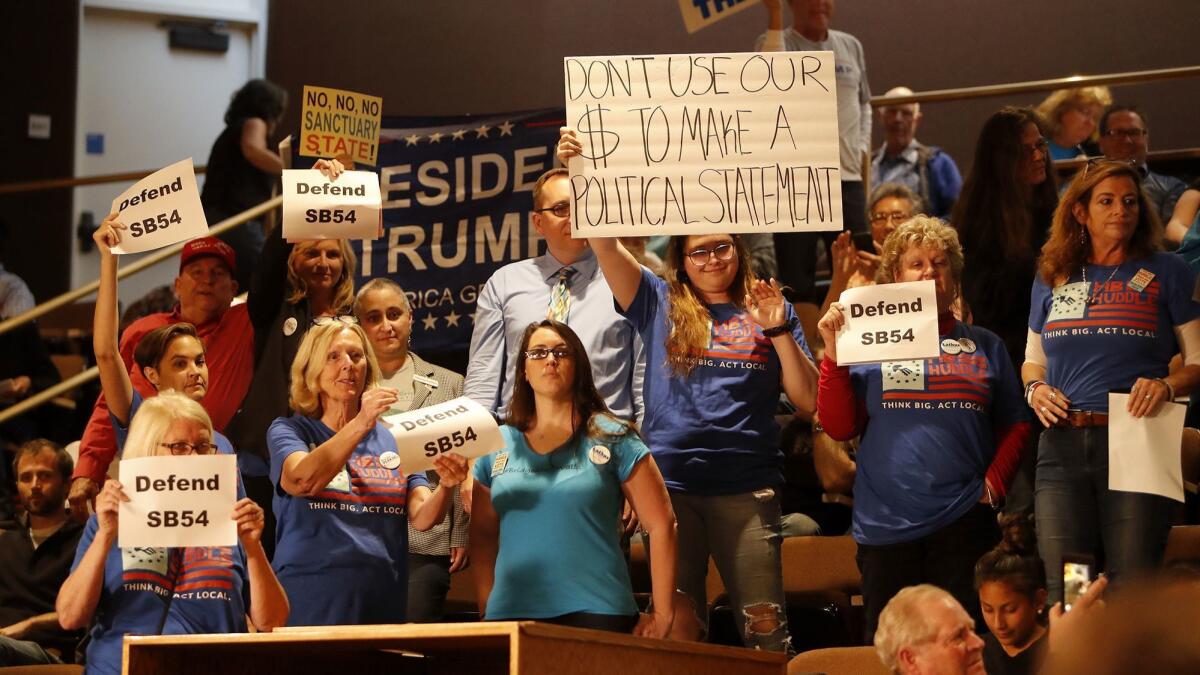 Huntington Beach City Atty. Michael Gates said Friday that he will recommend that the City Council appeal the decision to the California Supreme Court.
The justices' opinion "not only makes the state's case, they go beyond it and add additional analysis," Gates said.
"I'm very disappointed in the ruling and will talk to the City Council about the next steps, but I don't believe, based on all of my extensive research of all of the case law, that this is a reasonable, final word on this."
In an interview in October, when attorneys for California, Huntington Beach and community groups presented arguments before the appellate panel, Gates said the California Constitution "allows the city to control its own police department" and that SB 54 "interferes or undermines that because it means to tell our officers what and what not to do."
The justices' opinion is "saying that express constitutional authority is subordinate to (the justices') analysis," Gates said Friday. "You don't get to qualify or alter what the constitution says or rewrite the constitution."
California Atty. Gen. Xavier Becerra, on the other hand, said in a statement that his office is "pleased with today's decision keeping California's public safety laws fair and consistent across the state."
"As the appellate court noted, SB 54 is constitutional and furthers the state's interests in addressing matters of statewide concern — including public safety and health, effective policing and protection of constitutional rights," Becerra said.
Superior Court Judge James Crandall determined in September 2018 that SB 54 is unconstitutional as it applies to charter cities, which are run by a charter adopted by local voters.
Gates had sued to challenge SB 54 earlier that year after getting approval from the Huntington Beach City Council.
Several other Orange County governments also have taken steps to oppose the state's sanctuary policies for undocumented immigrants.
Crandall's ruling made Huntington Beach exempt from complying with SB 54 and made it the first city to successfully challenge the law in court.
The state attorney general's office filed a notice of appeal in November 2018.
State Deputy Atty. Gen. Jonathan Eisenberg argued in October that the lower-court ruling undermined the "trust and community policing model that is infused within the [law]."
"If a charter city can opt out ... what will happen to the trust that is supposed to be built by this law?" Eisenberg said.
Activists in Huntington Beach's Oak View neighborhood, which is predominantly Latino, have said their neighbors are reluctant to interact with the Huntington Beach Police Department out of fear that local law enforcement officials are participating in federal deportation programs.
In January 2019, the American Civil Liberties Union filed an appeal on behalf of residents, workers and community organizations in Huntington Beach and Los Alamitos.
The 4th District justices determined that the ACLU, Los Alamitos Community United and four residents lacked legal standing to intervene in the case.
"The state did a very good job and we are very happy with the state's decision in making charter cities comply with state law," said Oscar Rodriguez, co-founder of Huntington Beach activist group Oak View Comunidad. Rodriguez was one of the plaintiffs in the ACLU appeal.
"I think the law is very clear. ... It's to protect families that are within our community, so we are very happy with that," Rodriguez said.
Huntington Beach Mayor Lyn Semeta issued a statement expressing concern about the decision's wider implications for charter cities.
"The California Constitution specifically grants control over certain municipal affairs to charter cities," Semeta said. "If the state's usurpation of that control is allowed to stand, we could be opening a door to allowing further attempts to erode the autonomy of charter cities."
Julia Sclafani is a Daily Pilot staff writer.
Updates
3:47 p.m. Jan. 10, 2020: This article was originally published at 11:56 a.m. and has been updated with additional information.
All the latest on Orange County from Orange County.
Get our free TimesOC newsletter.
You may occasionally receive promotional content from the Daily Pilot.