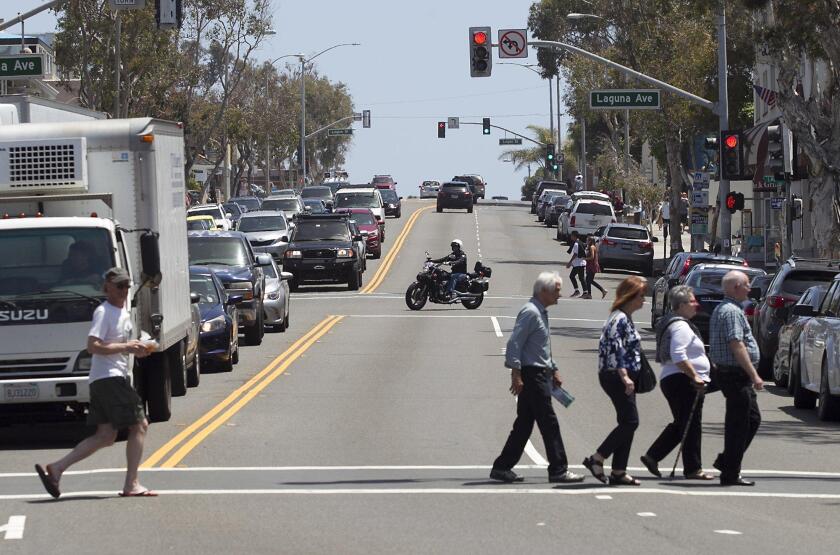 Residents and business owners filled the Laguna Beach City Council chambers early Friday morning for a presentation on the in-the-works Downtown Action Plan, which aims to coordinate improvements on most of the area's major streets.
The presentation from city staff and SWA Group, a landscape architecture and urban design firm the city retained in April, reviewed the 20 conceptual projects for the downtown area — which would involve changes to tree wells, pavement, stormwater harvesting practices, crosswalks and bicycle infrastructure. The projects were estimated to cost anywhere from $163,670 to $1.1 million last month.
One of the proposed projects would create "scrambles," or intersections where pedestrians can cross in every direction at the same time.
Residents who attended Friday's meeting had the chance to offer recommendations on things they felt could be improved or should be changed.
Trish Sweeney, a Top of the World resident, raised concerns about the number of healthy trees that could be replaced along Forest Avenue, as well as the costs of installing and maintaining proposed wooden tree grates.
Sweeney also said she was concerned about the possibility of concrete grates along South Coast Highway when the city was trying to make it "more eclectic-looking."
Bill Hoffman, a resident and local tour guide, told the consultants and city staff that he "really liked the way you treated each street differently and recognize the character of each street."
Hoffman said he liked the suggestion for removable bollards — short vertical posts — along Forest and Park avenues because he felt more residents would come downtown if the streets were more flexible during the summer for events such as the Art Walk. He added that he'd like to see a mural of Laguna Beach's history along the south wall of the Peppertree parking lot on Forest.
Carmelit Green, manager of Troy Lee Designs at 380 Glenneyre St., suggested painting bike lanes green to more clearly identify them.
The first draft of the action plan is scheduled to be released early this year and could include additional projects on Cliff Drive, Legion Street and Laguna Canyon Road, city staff said in December.
It will not include the Village Entrance project where Laguna Canyon Road becomes Broadway Street at Forest.
Paula Hornbuckle-Arnold — executive director of the Laguna Beach Chamber of Commerce, which hosted Friday's meeting — said "in the big picture, what happens in Laguna Beach, oftentimes" is that, "We do these informational things for years in advance and then, when it comes before Planning [Commission] or City Council, everybody says, 'Well, I didn't know about it.'"
"So, we felt it was really good to get out in front of this and let our business owners and our city residents know ahead of time so that there can be discussion and give-and-take prior to it actually coming before the Planning Commission," she said.
She said she was pleased with the turnout at the event, as well as the suggestions from residents.
"The reality is ... there needs to be a change, so that's what we're working toward," she said.
---