20 conceptual projects prepared for Laguna Beach Downtown Action Plan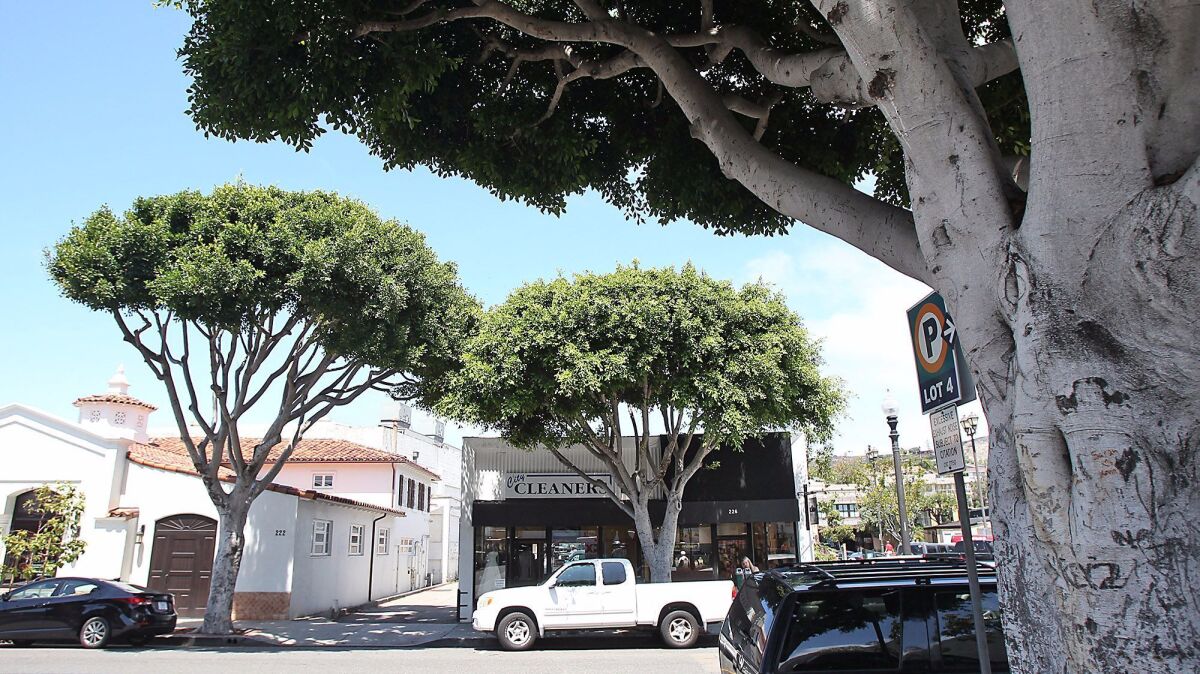 Laguna Beach's downtown might look a little different when the Downtown Action Plan is eventually approved by the City Council, but for now, conceptual plans are back to consultant SWA Group to prepare the first draft.
The council Tuesday night received a presentation from the Laguna Beach-based landscape architecture and urban design firm, which the city retained in April. The presentation detailed more than 20 conceptual projects for the downtown area that could involve changes to tree wells, pavement, stormwater harvesting practices, crosswalks and bicycle infrastructure.
One of the proposed projects would create "scrambles," or intersections where pedestrians can cross in every direction at the same time.
The projects are estimated to cost from $163,670 to $1.1 million and span most of the major downtown streets. The efforts ultimately could add 119 new trees and 115 replacement trees, a need many residents have emphasized.
The Downtown Action Plan is not to be confused with the Downtown Specific Plan, which underwent its final review by the Planning Commission in November. An introductory review by the City Council is tentatively scheduled for Dec. 17.
The first draft of the action plan is scheduled to be released in the first quarter of 2020 and include projects "consistent with the principles and ideas outlined in the [presentation]." Projects may be added in the first draft for Cliff Drive, Legion Street and Laguna Canyon Road, city staff said. It will not include the Village Entrance project where Laguna Canyon Road becomes Broadway Street at Forest Avenue.
Some residents raised apprehensions about the costs and removal and replacement of existing trees.
Councilwoman Sue Kempf requested that the new city arborist, Nate Faris, be given time to review the conceptual plans and evaluate the city's trees "so we can get a good overall baseline understanding of the health of the trees" and for Faris and SWA Group to collaborate in refining the plan.
"I do want big trees and I want healthy trees, and when we plant trees, I would rather have us do fewer projects and bigger trees," Kempf said. "I think we're working the best we can to put the trees in, but the streetscape doesn't look nearly as good as it could.
"I think our downtown is looking worn. People tell me that all the time. They think our town is looking kind of beat up, and I don't disagree with that. I'm in downtown all the time now and I really look at ... everything now with a pretty critical eye and I do think it does need refreshing."
Kempf added that she would like to see more street lights in the downtown area and to involve the Arts Commission on public art.
Councilwoman Toni Iseman raised concerns about whether implementation of the plan would require re-purposing city personnel or hiring additional staff. Iseman said the conceptual projects would be good in the long term but that many of them would have to wait.
Mayor Pro Tem Steve Dicterow said he agreed with both councilwomen, adding that "we've got to work to accommodate and get all these things done. I don't think we should be doing one or the other."
"One of the things I'm most excited about is that if ... we have these concerns with downtown and how it appears, I think you were able to do this in a way that maintained the charm and character of the downtown," Dicterow told consultants from SWA Group. "In fact, I think it enhances it."
Dicterow added that he would like to establish an ad hoc committee to work with the consultants because he felt it would result in better projects and "more public buy-in."
All the latest on Orange County from Orange County.
Get our free TimesOC newsletter.
You may occasionally receive promotional content from the Daily Pilot.