Charges being dropped against Newport surgeon and girlfriend accused of sexual assaults, DA says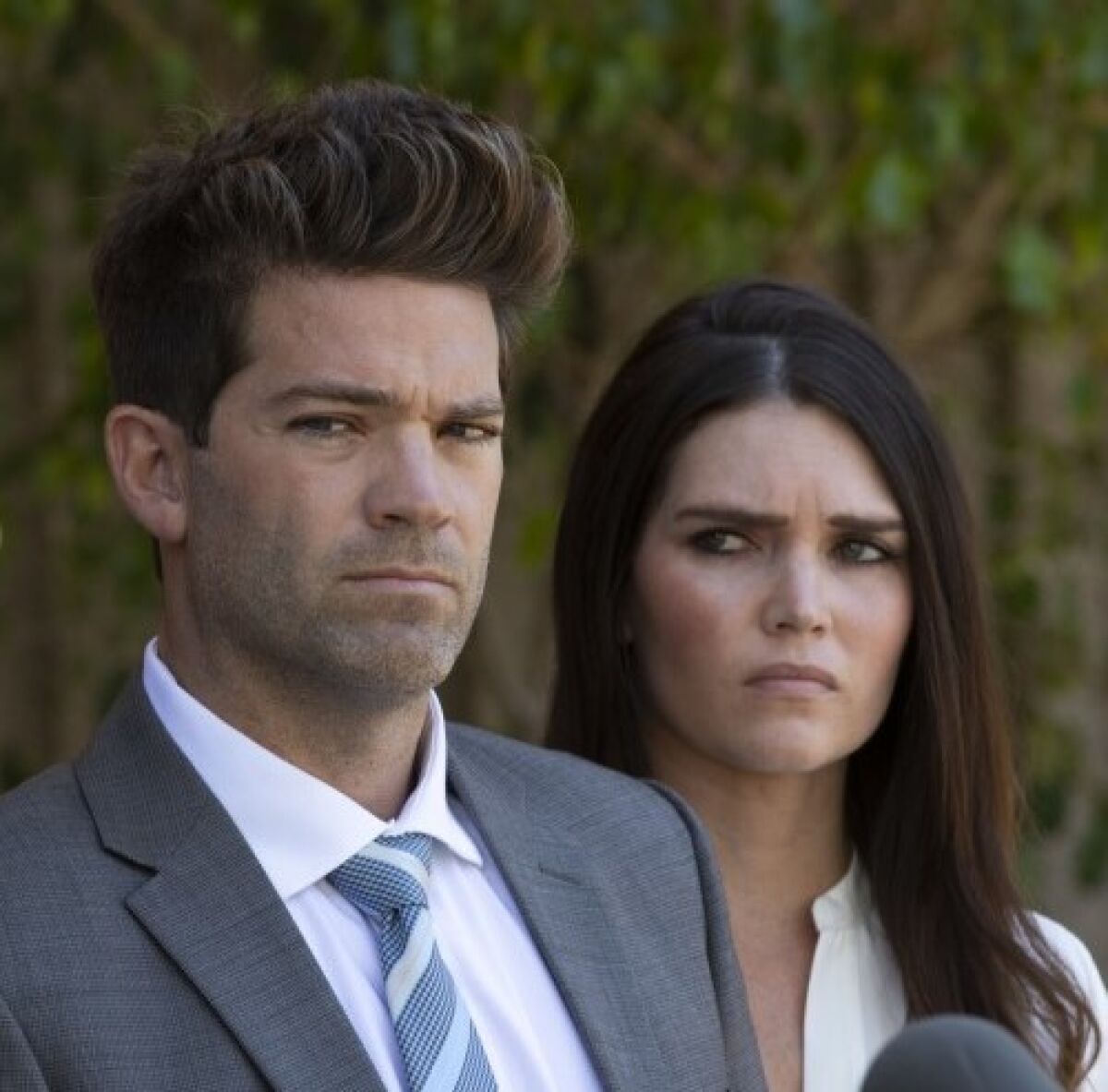 Orange County District Attorney Todd Spitzer announced Tuesday that he plans to drop all charges against a Newport Beach doctor and his girlfriend whom Spitzer's predecessor portrayed as a predatory tag team who lured, drugged and raped multiple women.
Citing a thorough review of evidence since he took office last year, Spitzer said there are no photos or videos that depict women being sexually violated.
When prosecutors filed charges against orthopedic surgeon and one-time reality TV personality Grant Robicheaux and girlfriend Cerissa Riley in 2018, then-District Attorney Tony Rackauckas claimed that investigators had "thousands of videos" in evidence that showed there could be "hundreds" or "more than a thousand" victims.
Spitzer said he and an executive management team heard the latest findings over a "mind-numbing and mind-blowing" five-hour presentation in late January, the result of three months of fresh review by two veteran sexual assault prosecutors.
"There is not a single piece of evidence or video or photo that shows an unconscious or incapacitated woman being sexually assaulted," Spitzer said at a news conference Tuesday. "Not one."
As he had argued in an attempt last fall to get the California attorney general's office to take over the criminal case, Spitzer said Rackauckas ginned up an exaggerated case to boost his chances of reelection in 2018, trampling the defendants' right to a fair trial.
Spitzer defeated Rackauckas in the election in November 2018. The state left the case in Spitzer's hands because Rackauckas was no longer the top prosecutor.
Spitzer said the evidence was insufficient to prove the accusations beyond a reasonable doubt — 17 charges, including five counts of rape, against Robicheaux, and three counts of rape among 13 charges against Riley — in connection with assaults that previous prosecutors alleged took place in Robicheaux's Balboa Peninsula home.
In a statement late Tuesday, Rackauckas defended his handling of the case and suggested the dismissal was a possible "political vendetta against me."
"Certainly, any prosecutor should think long and hard before dismissing such a case where multiple women have independently come forward and subjected themselves to the hard process of bearing their souls to the authorities," Rackauckas said. "I just hope they're not being sold down the river for some twisted political motive."
"My heart goes out to the women who had the courage to come forward with their complaint, because I believed their complaints based on the evidence I had before leaving office," he added.
Spitzer said he would meet with the defendants' attorneys and the women who brought the accusations before seeking a dismissal hearing as soon as possible.
Spitzer apologized to the women, the Newport Beach Police Department — which was first to investigate the allegations — his own office and Robicheaux and Riley, who have denied all accusations of non-consensual sex.
"I didn't create this situation, but it's my responsibility to fix it," Spitzer said.
In addition to the criminal case, one of the seven accusers filed a civil suit. The dismissal applies only to the criminal charges.
Defense attorney Philip Kent Cohen said Robicheaux has lost his livelihood and is "persona non grata" in society.
"I don't want to be overly dramatic or hyperbolic, but the mere filing of this case has destroyed irreparably two lives," Cohen said.
Michael Fell, who represents an accuser known as Jane Doe No. 4, said she maintains that she was sexually assaulted at Robicheaux and Riley's hands.
"Eighty percent of women who are sexually assaulted never report," and sexual assault cases rarely have visual evidence, said Fell, a former prosecutor in the sexual assault unit of the Orange County DA's office. "For somebody to report, for them to go through what she had to go through with the police, for the district attorney's office to file criminal charges, for her to have to be patient the last two years while the case is being prosecuted, only for it to be dropped — she's going to be devastated."
The case began to turn a year and a half ago in a setting much like the one where Spitzer gave his announcement Tuesday — a well-attended news conference at the DA's headquarters in downtown Santa Ana.
During a September 2018 news conference, Rackauckas cited "thousands" of videos and photos on Robicheaux's phone, many showing highly intoxicated women, and said prosecutors had a "substantial number" of videos depicting possible victims.
County lawyers argued last year on Rackauckas' behalf that the wording of a reporter's question had "tripped him up" and that Rackauckas' estimate of a thousand or thousands referred to the number of videos, not the number of victims.
But defense attorneys seized on the figure.
An attorney in the civil case said Rackauckas did not take steps to determine the accuracy of his statements, and defense investigators found nothing in a forensic examination of more than 100,000 videos to back them up.
Lawyers representing Robicheaux and Riley in their criminal case said Rackauckas recklessly misrepresented the videos and "destroyed the integrity of this case" for political purposes while he was running for reelection against Spitzer, who at the time was an Orange County supervisor.
Attorneys for a Newport Beach surgeon and his girlfriend who are accused of drugging and sexually assaulting several women say the allegations against their clients were misrepresented amid a "political showdown" in last year's race for Orange County district attorney.
Last summer, Rackauckas and his chief of staff, Susan Kang Schroeder, sat for depositions in the civil case. In excerpts from a deposition in June, Rackauckas acknowledged the likelihood of keen media interest in the case and that it would net him helpful publicity as he campaigned for reelection.
The county withdrew a motion in October to have the civil-case depositions sealed because the usually closely guarded transcripts had already been released to a producer from ABC News.
Fell, who is not involved in the civil case, said he would explore pitching the case for an independent prosecutorial review by an agency like the attorney general's office.
"My client knows very well what happened to her," he said.
Spitzer called the defendants' experience a "travesty" and said they "were mistreated by the system — and they didn't deserve it — because of a reelection."
"There's no winners here," Spitzer said. "There's only casualties."
Los Angeles Times staff writers Hannah Fry and Richard Winton contributed to this report.
Updates
7:07 p.m. Feb. 4, 2020: This article was originally published at 11:23 a.m. and has been updated with new information.
---
All the latest on Orange County from Orange County.
Get our free TimesOC newsletter.
You may occasionally receive promotional content from the Daily Pilot.