Newport Beach is considering subsidizing permanent supportive housing to keep the most vulnerable homeless people off the streets.
Where the housing would go and how much the city would spend on it is yet to be determined. But Newport says it is willing to help build up to 50 units and is ready to issue a request for qualifications to find a development partner.
The possibility — at the suggestion of the city's homelessness task force — plus the city's level of financial participation will go before the City Council on Tuesday.
The city could draw from about $4.4 million set aside for affordable housing and temporary shelter, plus general fund surplus and other one-time funds. The selected developer would be responsible for the balance of the project.
"In most communities, the city participates financially in the project as gap financing or provides the land," according to a report from the city manager's office. "Due to the high value of land in Newport Beach, developing a project here is more expensive than most other cities. The city's financial commitment will enhance the chances of developing a successful project."
Permanent supportive housing follows the "housing first" model, which turns on the philosophy that it's difficult for people with mental health and addiction issues to control those problems if they're living on the street. It combines affordable housing with onsite, voluntary support services to help tenants build independent living skills and connect them with social and health services.
The homelessness task force, which is a committee of the City Council, sees permanent supportive housing as a long-term solution for significantly alleviating local homelessness.
Newport Beach agreed last year to join the Orange County Housing Finance Trust, a regional funding collective that brings together the county and various city governments to secure and allocate funding for permanent supportive housing. The trust does not require member cities to take a share of housing units or chip in their own money. Newport is one of 22 cities in the trust.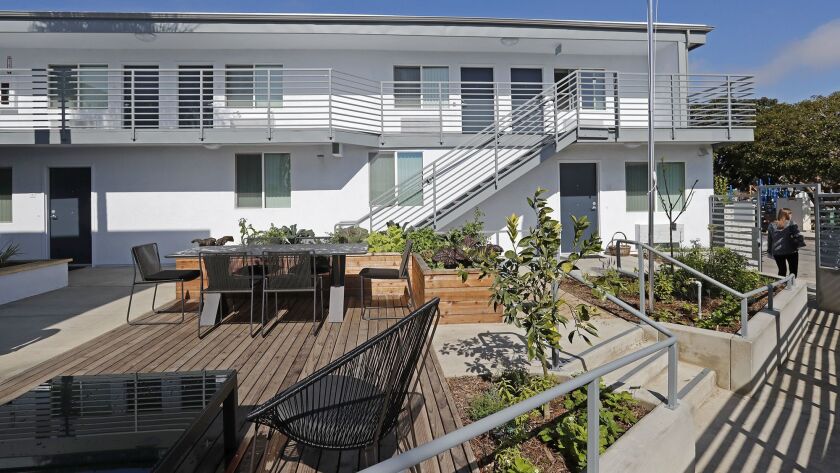 Separately — and not without controversy — the Cove Apartments, a renovated 12-unit complex that serves formerly homeless veterans and low-income senior citizens, opened on Newport's west side in 2018. A partnership between Mercy House, a Santa Ana-based nonprofit, and Community Development Partners, a Newport Beach-based affordable-housing developer, led to the Cove's opening about 2½ years after the Newport Beach City Council allocated a $1.97-million grant to Community Development Partners to help acquire and rehabilitate the building.
Dozens of angry neighbors stormed out of that council meeting; several expressed concerns about the complex's close proximity to a neighborhood park, saying the development would change the community's character.
Tuesday's council meeting starts at 5:30 p.m. with a study session. The regular session begins at 7 p.m. at City Hall, 100 Civic Center Drive.
---