Homeless vets and low-income seniors find a new place to call home in Newport Beach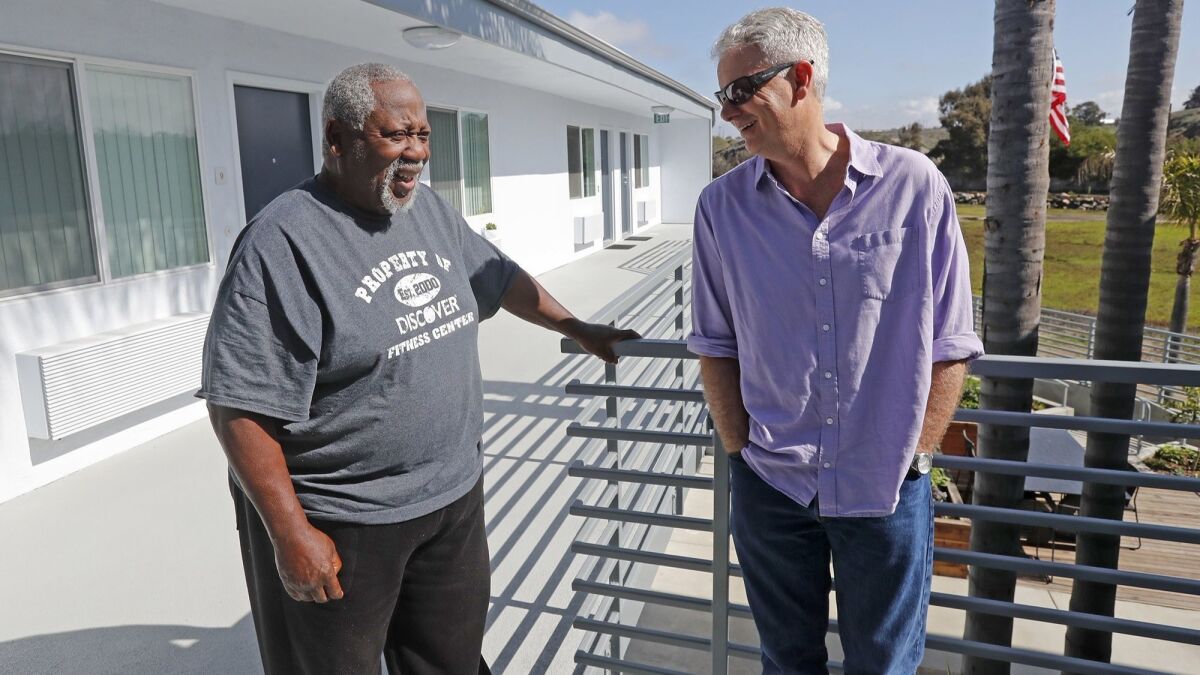 Donald Gates' exceptional stroke of luck four years ago quickly soured when he was diagnosed with prostate cancer just days after winning more than a half-million dollars in the lottery.
Doctors gave him four to six months to live. So he went on a spending spree. He bought himself a tricked-out Cadillac and cars for his ex-wife, sister, children and grandkids.
"I spent $150,000 in two days," he said. "By the time I'm ready to die, I'm broke."
His cancer responded to treatment. . His money problems, however, didn't dissipate.
Eventually he had to leave his apartment for a bed at a shelter in Santa Ana and then moved to Bridges at Kraemer Place, a homeless shelter in Anaheim.
About six months ago, Gates, 77, was approached by an employee of Mercy House, a nonprofit that operates Bridges at Kraemer Place, with a unique opportunity.
Gates has experience in property management, and a 12-unit apartment community in Newport Beach called the Cove Apartments was preparing to open. The operators needed someone to live onsite and manage it.
The Cove — created by a partnership of Mercy House and Community Development Partners, a Newport Beach-based affordable-housing developer — provides housing for low-income senior citizens and homeless military veterans at 6001 Coast Blvd. in the Newport Shores neighborhood.
The Cove, formerly an aging market-rate apartment building, hosted its grand opening this month, and Gates moved into his roughly 400-square-foot, one-bedroom, one-bathroom apartment near the beach.
"I happen to be very fortunate," Gates said.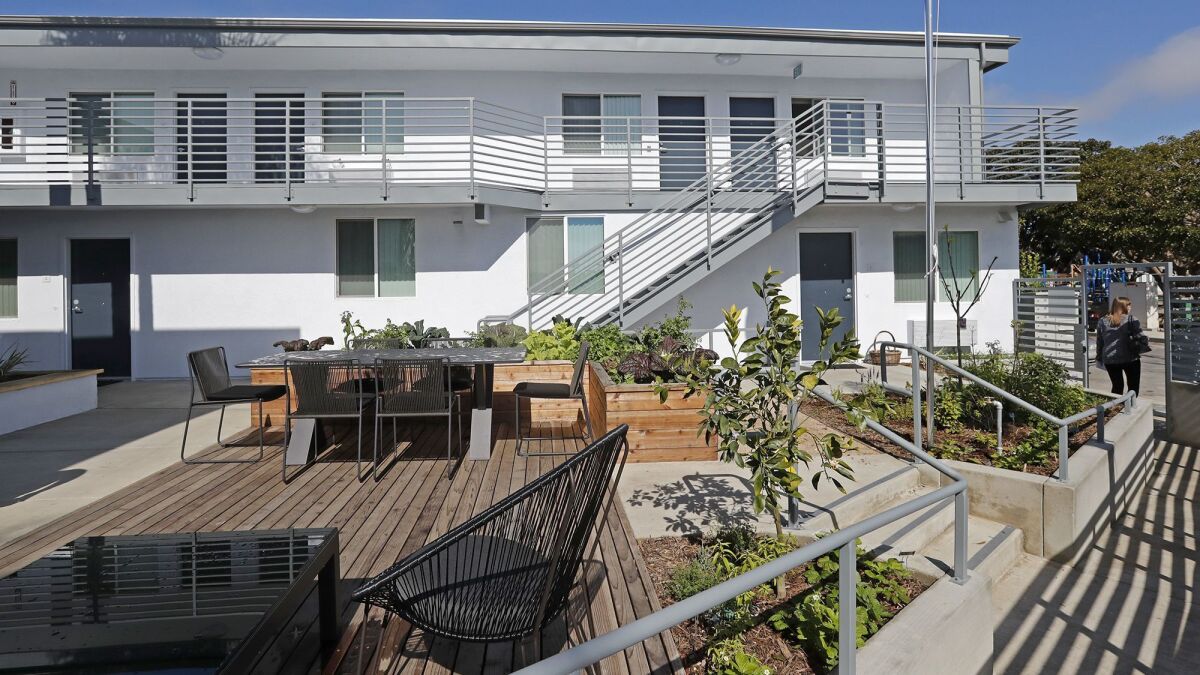 Community Development Partners bought the building in 2015 from an owner who operated month-to-month lease agreements with tenants. The organization's goal was to create an affordable, welcoming space for underserved populations.
Every resident at the Cove has a unique story. One person used to sleep in a refrigerator box on the streets. Some bounced among shelters. Others, like Glen Lipton, a 67-year-old Navy veteran who previously lived in North Hollywood, already had a home but was drawn to the property for its inexpensive rent and proximity to the beach.
"This came up and I was like 'Yeah, baby,'" Lipton said. "To get out of L.A., where I had been my whole life, and move into a brand-new building right by the beach, I couldn't wait."
The apartments' cost is based on tenants' income, but Community Development Partners President Kyle Paine said monthly rent typically runs from $500 to $900. In comparison, the average rent for a one-bedroom apartment in Newport Beach is about $2,000, according to online housing data.
The Cove's courtyard has seating areas and a community garden with lemon trees, strawberry plants, lavender, lettuce, kale and various herbs that residents can harvest and use for meals. There's also a shared laundry room and, in some units, balconies facing West Coast Highway.
Inspirational phrases adorn the stairways leading to second-story units.
"You are never too old to set a goal or to dream a new dream," one reads.
The Cove's opening comes as Orange County leaders, homeless advocates and officials from several cities struggle with where to house the area's growing homeless population.
Space in the county's existing homeless shelters is limited, and a federal judge has demanded that local governments find places for people recently evicted from encampments along the Santa Ana River trail. Irvine, Huntington Beach and Laguna Niguel are fighting to keep temporary shelters out of their communities.
"This is the other end of the rainbow," Larry Haynes, executive director of Mercy House, said of the Cove. "When people say there's nothing that works … this works."
Haynes said the idea that developing affordable housing takes time isn't a reason not to build it.
"If we simply wring our hands and say it can't be done or it'll take too long, guess what?" he said. "We'll be right."
The Cove had its own hurdles to overcome.
In November 2015, dozens of angry Newport Shores residents stormed out of a meeting when the Newport Beach City Council allocated a $1.97-million grant to Community Development Partners to help acquire and rehabilitate the building.
The money was part of a fund housing developers could pay into if they were unable to build affordable housing into their projects to comply with state mandates, city staff said at the time.
Some of the project's critics expressed concerns about its close proximity to a neighborhood park, saying the development would change the community's character.
"People have a preconceived notion, a misconception, of what this type of housing is and what's going to be next to them," Paine said. "The last thing you'd ever want to do is sell it to them in a package that looks bad. We build stuff that's just as good as any market-rate project would be, and we put as much pride into what we develop as anything else we would do."
Twitter: @HannahFryTCN
All the latest on Orange County from Orange County.
Get our free TimesOC newsletter.
You may occasionally receive promotional content from the Daily Pilot.