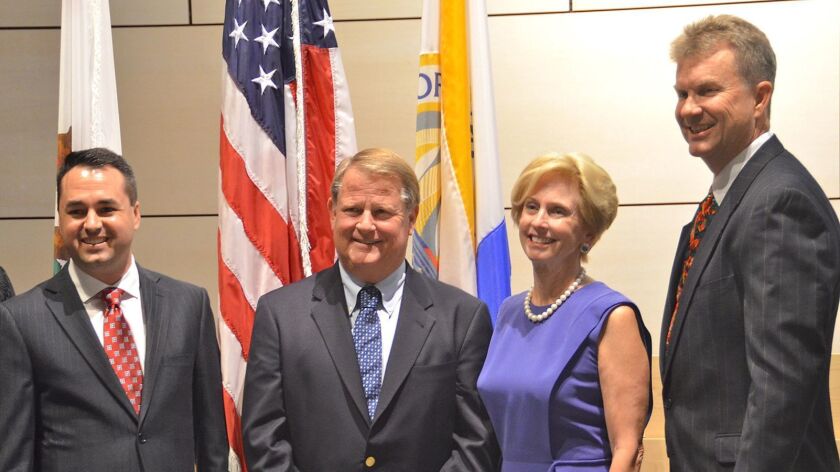 The current and former Newport Beach City Council members known collectively as "Team Newport," along with their political consultant and campaign treasurer, have paid the state $27,000 to settle a dispute over their 2014 campaign finance disclosures.
Current council members Marshall "Duffy" Duffield, Kevin Muldoon and Diane Dixon and former member Scott Peotter; Residents for Reform and the Neighborhood Preservation Coalition, local political action committees that supported them; the committees' head, longtime Orange County Republican consultant Dave Ellis; and the candidates' campaign treasurer, Lysa Ray, agreed to the figure to settle 11 counts of violations levied by the California Fair Political Practices Commission.
Residents for Reform, including Ellis and Ray, faces three counts and $7,500 in fines; Neighborhood Preservation Coalition, also including Ellis and Ray, faces three counts and $8,500 in fines. Each of the candidates faces one count and a $2,000 fine, and Ellis individually faces a single count and a $3,000 fine.
The settlement dramatically cuts the original 44 counts that commission staff returned against the group early last year. The agreement is subject to the commission's approval when it meets March 19.
All proposed penalties are paid to the FPPC before the commission votes to confirm them and are held in escrow pending that approval. Once they are approved, the fines go into the state general fund.
The allegations centered largely on how contributions for mailers and door hangers were reported.
Steve Baric, a lawyer representing Ellis, Duffield, Peotter and Muldoon, said the groups filed initial paperwork as slate mailer organizations, but after the election, the state agency said they were independent expenditure committees and thus hadn't followed the different filing regulations for financial disclosures for those committees.
An independent expenditure committee funds campaign communications such as mailings and lawn signs that expressly advocate the election or defeat of a candidate or ballot measure while not coordinated with the candidate or measure's campaigns.
A slate mailer organization produces mass mailings that support or oppose at least four candidates or measures.
Baric said the fundraising was reported, but just not the right way, according to the state.
"The original fines were greatly reduced primarily because the commission determined these were technical violations," Baric said Tuesday.
The maximum potential penalty for the 11 counts was $55,000.
FPPC spokesman Jay Wierenga declined to comment because the matter is still pending.
The tentative settlement says Residents for Reform did not report 12 non-monetary contributions — the mailers and door hangers — worth about $27,000, did not file some contribution reports in a timely manner and did not identify Ellis as being the "controlling candidate" on Residents for Reform's organizational paperwork.
It also says the Neighborhood Preservation Coalition and the four candidates failed to report receipt of contributions from the two committees on time, that the Neighborhood Preservation Coalition also did not name Ellis as being in control and that Ellis received contributions and made expenditures from multiple bank accounts of controlled committees.
The matter originated with a series of accusations by current Newport Beach Councilman Jeff Herdman in 2015, before he was elected. His allegations focused heavily on Peotter and Residents for Reform, both of whom he had clashed with in the past.
A tentative order in the case said much of the PACs' activity, "though mischaracterized," was reported on other statements.
"In this case, respondents contend they did not intend to conceal, deceive or mislead the public or evade their reporting requirements" and were unaware that Ellis' roles with multiple committees posed a violation, the order reads.
All four members of "Team Newport" ran for second terms on the council in 2018, though not as a slate. Duffield, Muldoon and Dixon were successful, while Peotter lost to challenger Joy Brenner.
Dixon is now running for state Assembly in the 74th District against incumbent Cottie Petrie-Norris (D-Laguna Beach).
"This matter arose from the activities of my campaign consultant during the 2014 campaign when I was an unopposed first-time candidate," Dixon said Tuesday. "I have been fully cooperative with the FPPC."
---