Newport Beach puts coronavirus-driven six-week shutdown on vacation rentals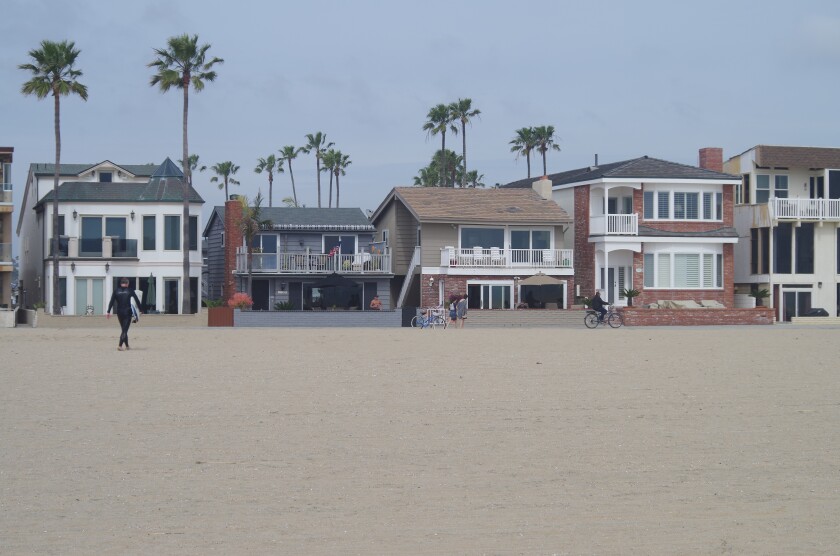 Newport Beach is placing a six-week moratorium on vacation rentals in its latest measure to tamp down on visitors during the coronavirus pandemic, the City Council decided Friday night.
Councilwoman Diane Dixon said market forces — driven by stay-at-home orders in California and nationwide intended to stem the spread of the virus that causes the respiratory illness COVID-19 — have eliminated up to 95% of local short-term rental business. But Newport is an "attractive nuisance," she said.
"What I am concerned about ... is that 5%," Dixon said. "Why are people still coming to Newport Beach?"
The council voted 6-0 at Friday's special meeting, with Councilman Kevin Muldoon absent, to enact the prohibition until May 20 or the duration of the city's local emergency. The restriction takes effect immediately, though current guests can finish their stays.
About a dozen people, some wearing masks, faced the council through web conferencing between the council chamber and the Civic Center community room to oppose suspending rentals.
The speakers, mostly owners or managers of short-term rental homes, offered some ideas — such as implementing minimum stays to discourage in-and-out visitors — as ways to hold onto their income stream as dramatic restrictions have brought life and commerce to a near-standstill.
Dozens more commenters who wrote emails also argued to keep the rentals available.
But about half the written comments supported a ban. That's how the council leaned.
"In a national emergency, a world pandemic like we have now, there is no room for compromise," Councilman Jeff Herdman said. "There just simply isn't."
More than 1,500 homes in Newport Beach hold short-term lodging permits, concentrated on the Balboa Peninsula and Balboa Island and in Corona del Mar neighborhoods. The city has a heritage of seaside vacation home rentals that predates the Airbnb era by decades.
Colleen Howes, who owns a short-term rental in Corona del Mar, said she's lost all her vacation clients. But she still has guests, like a young woman who returned to Newport after her college semester was cut short.
"She wanted to quarantine in my place for two weeks just in case she was sick, because she didn't want to infect her grandma," Howes said.
Shannon Moran, rental manager for Newport's Abrams Coastal Properties, said the firm has lost its spring reservations and is now having summer cancellations.
"Now there's such a financial impact that these people are also canceling because, guess what, they don't know whether they can afford to [come to] Newport," Moran said.
Jeff Bosson of SeaBreeze Vacation Rentals said April business is gone.
"If you vote yes and we announce to the world that short-term rentals, vacation rentals, are banned in Newport Beach ... then all of the summer bookings start canceling," he said.
Russell Adenoff of Beachview Realty said short-term rentals aren't being treated like hotels, which are still allowed to operate.
"People aren't walking over to the neighbors and sneezing on them. They're staying inside the homes," Adenoff said. "Treat them like citizens, treat them like residents."
Mayor Will O'Neill said state and county directives don't give guidance on short-term rentals, leaving it to cities.
"We have always been a city designed to bring people in and not keep people out, and trying to reverse that right now has been a herculean task," he said.
Herdman, himself a short-term rental owner, said he's canceled his reservations and refunded deposits to keep visitors from potentially spreading the virus. It's cut into his income.
"It's sacrifice time. That's where I'm coming from on this," he said. "We just need to close the industry down for as short a time as possible."
Violations of the moratorium will result in a fine of $1,000 for a first offense, a one-year permit suspension for a second violation and revocation upon a third.
The vacation rental blackout joins a list of other local coronavirus-driven restrictions, including closures of the two ocean piers and the beach parking lots, weekend closures of the oceanfront boardwalk on the Balboa Peninsula, one-way-only traffic on the Balboa Island promenade and closure of the Buck Gully hiking and cycling trail.
---
All the latest on Orange County from Orange County.
Get our free TimesOC newsletter.
You may occasionally receive promotional content from the Daily Pilot.