Costa Mesa commission approves 25-foot Randy's Donut sign for location due to open in January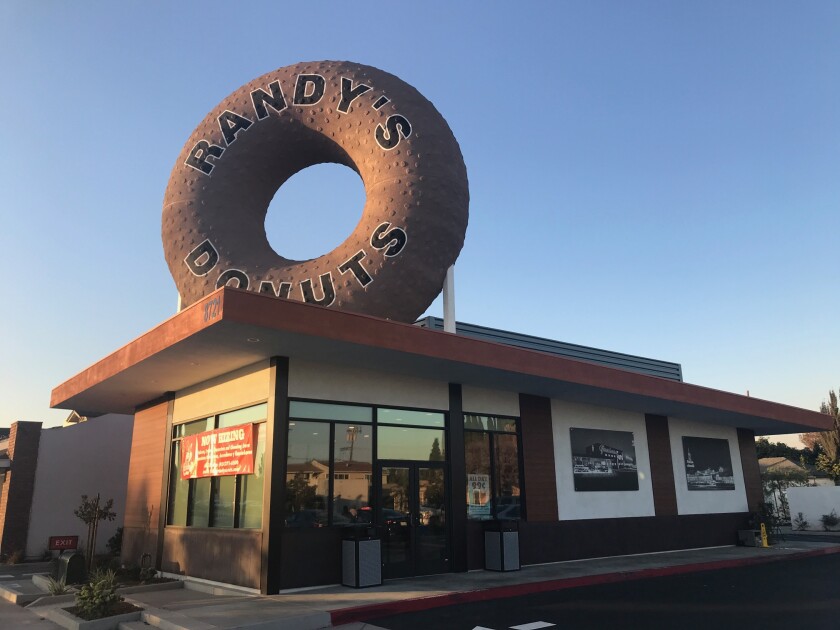 Having recently secured permission to install a 25-foot-tall doughnut sign on top of the proposed site of a Randy's Donuts in Costa Mesa, owner Mark Kelegian said Tuesday the iconic bakery is on track to open by January.
"The reason [for the delay] is the building of the doughnut. That takes over a month," said Kelegian, who'd initially hoped to open his first Orange County location around Thanksgiving.
Constructed from fiberglass with interior supports made of steel, the custom-built sign weighs about 15,000 pounds and costs around $150,000 to produce. Then there's the cost of perching the pastry atop two rectangular steel posts that run through the building itself and into the ground below.
From a marketing standpoint, it beats the heck out of a billboard.
— Randy's Donuts owner Mark Kelegian
It's a price Kelegian — who operates Randy's Donuts in Inglewood and Downey, as well as far-flung locations such as South Korea and Saudi Arabia — is willing to pay.
"We consider it money well spent, because it's part of our identity, part of who we are," he reckoned. "And, from a marketing standpoint, it beats the heck out of a billboard."
Bringing the distinctive sign to Harbor Boulevard, at the site of an erstwhile Jack in the Box, took some doing. Costa Mesa's sign ordinance generally mandates signs be no taller than 30 feet and kept to a total area of about 89 square feet.
To make the plan more digestible to commissioners, Kelegian originally proposed a 16-foot-tall doughnut mounted on poles that kept it to about 23 feet overall. Commissioners, however, didn't like the idea of a giant pastry obstructing drivers' views and cluttering up the right of way.
Director Alice Gu makes her film debut with "The Donut King," a documentary about Ted Ngoy, a Cambodian refugee whose charmed life is full of war, romance, entrepreneurship, racism and a caution about greed. Also, significantly for Ngoy, other Cambodian refugees and their children — donuts.
Feeling a roof-mounted version might work better on Harbor, where towering car dealership signs already dominate the streetscape, they approved the original sign program but added a condition that would let Kelegian come back with a modified version within 60 days.
On Monday, he returned and presented the new proposal, which sits upon the front eave of the building, comes in at nearly 40 feet and comprises 433 square feet of area. Commissioner Jon Zich said he favored the new iteration.
"I was hopeful a solution like this was possible," Zich said. "Taking on a business like the Jack in the Box location and turning it into what is really a Southern California iconic business — I think we're lucky to have that kind of business make that kind of investment here in the city."
Commissioners agreed, approving the doughnut sign and two smaller signs on the property, in a 5-0 vote (Commissioner Marc Perkins, who lives near the location, recused himself while Commissioner Jenna Tourje was absent).
Kelegian, a Newport Beach resident whose always had a fondness for Costa Mesa, said Tuesday he was excited to bring the signature sign to the City of the Arts.
"Costa Mesa is a great city," he said. "[And] Harbor Boulevard is one of those streets you want to be on if you can."
---
All the latest on Orange County from Orange County.
Get our free TimesOC newsletter.
You may occasionally receive promotional content from the Daily Pilot.