Newport Beach approves memorandum of understanding with Costa Mesa for homeless bridge shelter
Newport Beach approved a memorandum of understanding on Tuesday with the city of Costa Mesa to partner on the latter's 70-bed homeless bridge shelter, which is currently under construction.
It was approved unanimously, with Councilman Duffy Duffield absent and Councilman Jeff Herdman stepping down from the dais.
Under the agreement, Newport Beach will have exclusive access to 20 temporary shelter beds for an initial term of five years. In exchange, the city will provide $1.6 million in one-time funds to finance construction of the shelter and an additional initial $1 million annually for operational costs.
A 12,285-square-foot portion of an industrial warehouse building on Airway Avenue is being retrofitted by the Cerritos-based Cal-City Construction, Inc. to accommodate the 70-bed shelter with a full-service kitchen with office and intake space.
Construction is expected to be completed in January, which could allow for occupancy as early as March.
"This has certainly been a bit of a long journey, but I think there have been quite [a lot] of work over at least a year and a half as [homelessness] has become an issue here as well as in neighboring cities and really across the state," City Manager Grace Leung said.
City staff and the City Council looked at sites throughout Newport Beach previously, with one of the most contentious sites being at Superior Avenue, where neighboring residents argued the shelter would affect their property values, safety and quality of life. Some floated the possibility of litigation.
Other possibilities included leasing and converting part of a privately owned rental car lot near John Wayne Airport or partnering with Costa Mesa on its long-term shelter.
"But what eventually became the most viable was partnering with Costa Mesa as they're building a permanent shelter within Costa Mesa city limits," Leung said. "I think as the issue has evolved further and looking at the homeless population, it really made a lot of sense to have regional partnerships."
The new shelter will be operated by the Mercy House Living Centers — the nonprofit that also operates the Bridges at Kraemer Place facility in Anaheim. The annual $1 million contributed by Newport Beach for operating costs will cover both the beds and full-shelter services, with the full intention of helping homeless individuals to advance to the next stages of housing, Leung added.
City officials in October reported the city has reduced its homeless population by 50% or more since March. Estimates place the current population at 20 to 30 as of October.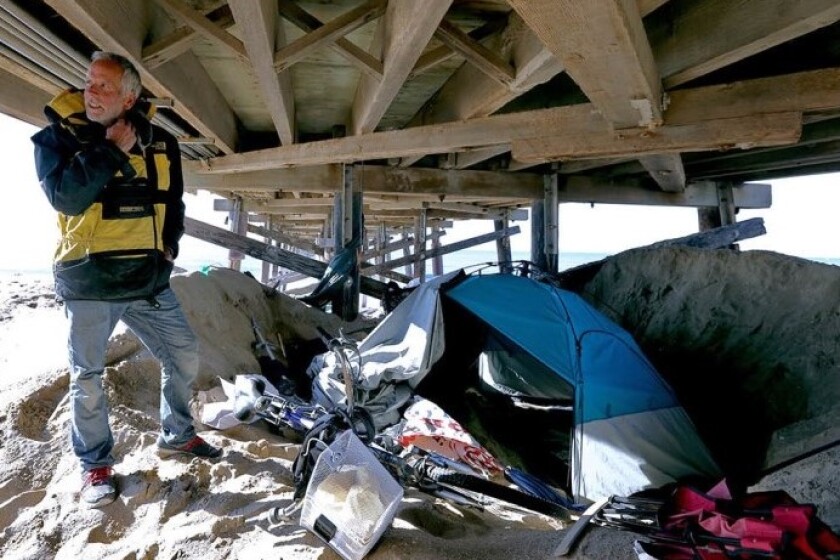 City staff said Tuesday that Newport Beach is also completing discussions with Costa Mesa on a regional partnership for shelter services.
Many were housed as part of Project Roomkey, a statewide initiative to repurpose hotels and motels bereft of visitors in light of the pandemic to serve as temporary housing for homeless individuals more at risk for contracting COVID-19. The program ended in late September and housed 33 individuals.
Councilwoman Diane Dixon said the city of Newport Beach was never involved in a lawsuit, including the federal lawsuit filed in 2018 against the cities of Costa Mesa, Anaheim and Orange, and that the city has moved along this path "to do the right thing."
"We've had homeless living in our community on our streets and they deserve better," Dixon said. "They do not need to be sleeping on our sidewalks and in our streets and they need the proper care whether it's rehabilitation, drug rehabilitation or mental health treatment."
Dixon said the homeless were in need of assistance and that joining together with Costa Mesa on their shelter made sense from a financial standpoint. Dixon said that having the city having its own shelter would have been more expensive and that Newport Beach appreciated the city of Costa Mesa for the collaboration.
"There are so many hands in this project, but we, as a city, can take pride that we're doing the right thing and we will now have a humane solution for the homeless that occupy our public spaces and that we can help them hopefully move onto a better life," she added.
Elizabeth Eddy, a professional soccer player, recorded an Instagram stories video to raise awareness for youth homelessness in Orange County.
---
All the latest on Orange County from Orange County.
Get our free TimesOC newsletter.
You may occasionally receive promotional content from the Daily Pilot.